Winning a Neighborhood's Heart, One Dish at a Time
By Wendy Swat Snyder
Photos by Aleece Sophia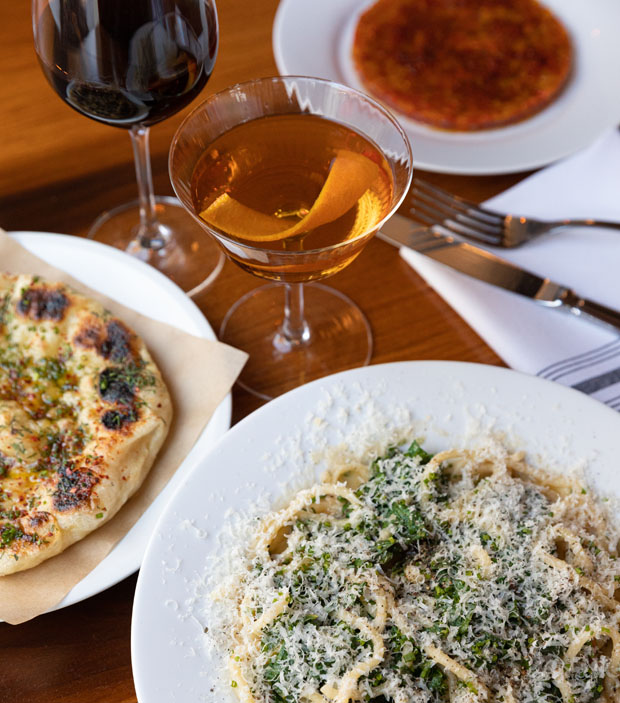 When it comes to the James Beard Foundation Awards, Charleston is no slouch. The Holy City's robust food culture has produced its share of contenders in the years since the organization established the program in 1990. But it came as a complete surprise when Vern's owners Bethany and Daniel "Dano" Heinze learned they were on the radar of the esteemed culinary standard bearer. The newcomers had only just realized their dream to own a restaurant months earlier when they got the news.
"We never thought we'd have a chance to be nominated," says Dano, who was tapped as a semi-finalist in the Best Chef: Southeast category. "When the text message came through, it made us very happy. It's really exciting that people outside Charleston are watching what we're doing."
"It's a great reward for everyone in the building," adds Bethany, Vern's general manager and the front of house face of the restaurant.
While Vern's is the couple's first foray into restaurant ownership, they are well-seasoned hospitality professionals, with careers kicking off at the renowned McCrady's in Charleston.
Bethany was enlisted to run the McCrady's bar program after graduating from the College of Charleston with a degree in hospitality and business.
"McCrady's was the turning point for me," she explains. "I saw a career path into management and ownership one day—I was drawn into the more creative chef-driven environment. It was my first time working with a team of sommeliers, being around passionate people—it's infectious."
Dano was in the McCrady's kitchen under Sean Brock and worked his way up to chef de cuisine. He earned a degree from Johnson & Wales in Miami and while there worked under James Beard Award-winning chef Norman Van Aken at his eponymous restaurant.
"In 2016, we decided to head to L.A.," says Bethany. "We wanted a change of pace, a shift out of our comfort zone, both professionally and personally, a new beginning together."
On the West Coast, the couple was enlisted by Jon Shook and Vinny Dotolo of Joint Venture Restaurant Group, where Dano eventually moved into the role of culinary development and operations chef, leading large-scale operations for the group's portfolio of restaurants. Bethany joined as general manager at Animal in West Hollywood, and also served as the wine director and manager for the group's concepts Jon & Vinny's and Helen's Wines.
The couple returned to the Lowcountry in 2021 equipped with the experience and vision to realize their dream of opening a restaurant of their own.
"We had always wanted a place connected to the local community," explains Bethany. "We never found that little pocket for ourselves in L.A. "We had a lot of deep connections to Charleston—it's a coming home for us."
One of those connections was acclaimed Lowcountry chef Ken Vedrinski, owner of Coda del Pesce on Isle of Palms and a three-time James Beard Award semi-finalist himself.
"Ken stopped operating his downtown concept, Trattoria Lucca, early in the pandemic," says Bethany. "We took over his lease and were able to talk through the details one-on-one. It
was a good pass of the torch to us."
The quaint historic property in residential Cannonborough/ Elliotborough in downtown Charleston is the quintessential corner-store model, wrapped in large pane windows for people watching. Inside, wood beamed ceilings and hand-plastered walls reflect a classic bistro aesthetic with an emphasis on cozy.
"Our friend Betsy of B. Berry Interiors consulted with us, but a lot of the renovation was self-designed," notes Bethany. "Our chef de cuisine helped us redo the tables we inherited from Ken. We sourced all the other furnishings ourselves—mismatched French bentwood chairs, the antique mirror behind the bar, pottery, plants—we wanted it to feel timeless, not new."
Dano adds, "It was also important to us when we took this space to become a neighborhood driver. We love for visitors to find us, but really wanted to be a place for locals—and it happened right away. Our staff is great about recognizing guests, which is key."
Staffer Rebecca Wallace charmed me and my guest with her enthusiasm and attentive service when we visited. Out came the bread—housemade—tender and fragrant with a toasty char, which we gobbled down with an onion-y dill sauce. The kitchen uses its own sourdough starter, playfully dubbed "Vern," a family name.
Next, tuna tartare—the best I've ever had—showcasing the day's delivery of yellowfin, very well-seasoned and blended with a condiment of roasted peppers, zingy Calabrian chili and champagne vinegar.
"We like lots of umami and acid," notes Dano. "Our approach is very technique driven, keeping preparation as simple as possible."
We refreshed our palates with a fruity salad featuring Pink Lady apple and arugula tossed with a sherry vinaigrette, toasted pistachios and feta cheese from local purveyor Counter Cheese Cave.
The kitchen tailors the menu to local produce coming in from Growfood Carolina, Kingstide, Spade & Clover, Kindlewood Farms and Lowland Farms. Trudaco on James Island supplies seafood. Pork is sourced from Peculiar and Pig, and Wagyu beef comes in from Kentucky-based Blackhawk Farms.
We couldn't resist another appetizer: Bites of ground lamb shoulder presented on skewers, hot and crunchy from the grill. Spicing up the little sausages is a blend that includes fennel seed and garlic. Cooked in their own fat, a shareable must-have.
We chose two main courses: The day's catch and a bucatini dish. The thick pasta, a perfect al dente, is extruded in house and tossed in a rich, herbaceous sauce composed of chicken stock, Swiss chard, truffle butter and lemon zest.
Our grouper filet, also perfectly cooked, floated in a butter sauce that involved a reduction of vermouth and pan-toasted pink peppercorns, presented with pan-roasted lemony shiitake mushrooms.
Over our protests, both of the day's desserts came to our table: A Satsuma orange frozen affair topped with housemade ice cream and crème fraiche, and a decadent flourless chocolate cake spiked with Cardamaro—we finished every last bite.
For its local vibe, warm hospitality and innovative contemporary fare executed at a high level, Vern's gets our vote, hands down.
Vern's
41 Bogard Street
Charleston SC 29403
Bookings via Resy
www.vernschs.com