Where to Eat Now
04 Mar 2020
Newest restaurants in Charleston's dining scene
By Bill Davis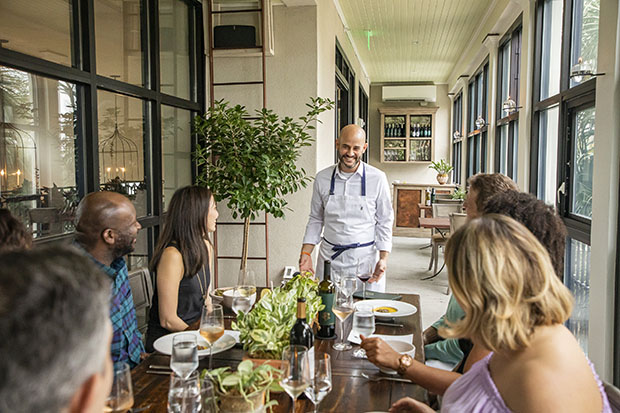 The Charleston dining scene keeps expanding like the universe, but unlike the universe, there are signs of life everywhere.
It used to be that diners had to head downtown to the peninsula to get an amazing meal experience, but as the diaspora of talent spread to fill the hungry void in the further corners of the Lowcountry, there are now great places to eat everywhere you look.
Here are some the newer places that have opened their doors to try out, support, and tell your friends about. Bon Appetit!
Baker and Brewer
94 Stuart St., Charleston
(843) 297-8233
Talk about a double barrel! This downtown casual dining spot in the ever-improving Northern Peninsula area is a combination project of both Holy City Brewing and the popular Evo Pizzeria and Craft Bakery based in North Charleston.
Craft beer and artisanal pizza under one roof without having to choose? Why, thank you very much!
Popular menu items include ones that have made it onto the menu from Evo's mothership spot in Park Circle, alongside North Chuck's Holy City's award-winning brews.
Plop down, order a Pork Trifecta pizza, which is so good it's spawned its own T-shirt, and drink it down with a Law and Order: SVU Belgian strong golden ale for a perfect pairing.
Estadio Charleston
122 Spring St., Charleston
You know a place is geared for the locals when it has a strict "no reservations" policy. Show up first and get served first, especially in a burgeoning neighborhood that people used to hustle through.
Now, diners can slow down, sample small plates of Spanish delights (like the La Abodinga—a combo of beef, pork, Manchego cheese, and saffron) or go all-in for the paella. And unlike other tapas joints, Estadio puts multiple items on a single plate, so you can get a quick sampler without breaking the bank.
Its corner spot is bathed in windows and light, and even the kitchen has an open line so you can see what your mouth is about to freak out over.
Jalisco Taqueria & Tequila
1271 Folly Rd., James Island
(843) 638-8844
Jalisco, Mexico is a coastal town that loves fresh seafood and veggies, just like Charleston. But unlike most Mexican restaurants in town, this one features over 40 different tequilas in four different styles - Blanco, Reposada, Anejo, and Mezcal.
Sippers can take breaks between scallop ceviche, tacos Al Pastor shaved in front of you to order, and roasted local fish, to choose between a short glass of high-end Patron Smokey Blanco ($61) or a $22 flight of their choosing.
This is the latest invention of Queen Street Hospitality, which brought 82 Queen and Swig and Swine to the Lowcountry. It shows the love and respect chef Michael Harvey and CEO Jonathan Kish have for the depth and flavors of traditional Mexican cuisine.
33 Spring St., Charleston
(843) 926-0475
The newest concept from a fantastic restaurant heritage, Malagón is the newest sister restaurant to Chez Nous, the stunning French downtown restaurant.
But Malagón is also a "Mercado," so you can shop this Cannonborough- Elliotborough area market and pick up many Spanish items not available anywhere else in South Carolina. Look for plenty of canned Spanish meats, wine, and hams, which are literally hanging in front of you.
Diners can wolf down small and large plates ranging from a variety of meats, veggies, and desserts, all prepared with same skill as what you'd expect from the kitchen at Chez Nous.
Delaney Oyster House
115 Calhoun St., Charleston
(843) 594-0099
Here's a perfect opportunity to sit on the piazza of a real Charleston single home a block off Marion Square, sip gorgeous wines and pour yourself into fresh-shucked oysters and premium seafood.
Sounds good, right? To satisfy oyster connoisseurs, chef Shamil Velasquez has sourced the briny bivalves from seven unique spots along the Atlantic coast, from Massachusetts to South Carolina.
If wine isn't to your taste, select "una bibeda" from the extensive Delaney House Martini Program, or something from its marine influenced drinks menu.
Augmenting the traditional oysters and peel-and-eat shrimp plates, you will want to indulge on the caviar with cornmeal blini or the octopus escabeche with caviar puff.
Wild Common
103 Spring St., Charleston
(843) 817-7311
Wild Common is more proof that luxurious dining is popping up in more unexpected places in the Lowcountry. The sister venue to the established Common Green, this is the latest venture of a national group with spots throughout the Mid-Atlantic.
Daring combinations dot the pared-down and focused menu like the agedashi tofu, which combines oyster mushrooms and jicama kimchi. Local fare is featured in dishes like the Anson Mill verde arancini (think: a risotto-stuffed hushpuppy) served with a preserved Meyer lemon aioli. Okay, stop drooling; that's enough.
Kwei Fei
1977 Maybank Hwy., James Island
kweifei.com
It's no joke: Kwei Fei is easily the "hottest" restaurant on this list. Featuring fine-dining spins on classic Sichuan spicy dishes, Kwei Fei was named Restaurant of the Year by a local food website last year.
And with good reason. Your endorphins will spill forward after you bite into seemingly innocuous dishes, like the Dan Dan noodles, and then get hit with a wave of deep, almost fermented flavors that have been spiked with fire-y chilis.
Co-owner Tina Schuttenberg says they can back down the spice upon request, but not at the expense of the dish's integrity. Should you? No, go for the full effect and reap the full benefits, including topping the meal off with a one-of-a-kind sundae made of housemade vanilla ice cream, "angry lady sauce" and sichuan candied peanuts
The real test of a restaurant in mainland China is how well the chef prepares mapo dofu, and this place crushes it. And it comes with a side and a soundtrack of punk rock attitude. Go. Now.
The Grit Counter
320 Wingo Way, Suite 101, Mt. Pleasant
(843) 352-9736
This diner caters to its Southern audience with its build-a-bowl program that lets you choose from nine different grits recipes (traditional to apple pie); throw some fixin's on top (fried Brussels sprouts to Kalamata olives); sauce it how you like it (red-eye gravy to she crab); and then top it off with a protein of your choice (from ubiquitous chicken to house-made chorizo sausage).
The lunch spot is located next door to its flagship restaurant Grit and Grace.
Yes, there are a wide variety of other Southern fare, including sammies, soups, and salads with traditional sides. But go for the grits. And when you waken from your food coma, it'll be dinner time.
Vicious Biscuit
409 W. Coleman Blvd., Mt. Pleasant
(843) 388-7362
It's the biscuit that eats like a meal at this breakfast and brunch-only spot that resides in the old home of Boulevard Diner.
You can get any kind of biscuit you ever wanted here, from build-your-own plates to house standards like the Vicious – a cheddar and jalapeno biscuit adorned with a fried chicken breast, maple sausage, cowboy candy and a drizzle of maple syrup.
Health nuts who wander in will have a chance at lighter fare in this shined up diner, with choices like an oatmeal power bowl or fresh baked granola and Greek yogurt.
Or splurge on a one-of-a-king experience and go for the $100 Say What?!?! - breakfast for two that includes a bottle of Veuve Cliquot Champagne, Now, you're living!
1802 Crowne Commons Way, Suite C3, Johns Island
(843) 737-4071
A great modern wine and cocktail bar with small plates on Johns Island?!? Yep, and an excellent one, according to super-fan Kristin Eddy.
Eddy lives around the corner on the water with her family and loves that she doesn't have to make the haul downtown to have a glass of wine and a nibble with her friends.
Eddy recently visited with seven girlfriends and found the menu, atmosphere, and selection impressive. But what really got her, she says, is the attention the staff pays to the customer.
"When the owner found out we were locals, the next thing you know she brings out crème brulee desserts," delights Eddy.
There's also a full wine and beer menu, with a cheese board, charcuterie, and adult grilled cheeses. Apparently, the shishito peppers are not to be missed.
Dalila's
441 Meeting Street Suite F, Charleston
dalilasonspring.com
Timur Dmitriyev likes the gamble he and his partner are taking with opening Dalila's in a town replete with generic and Caribe knock-off bars. These two have gone upscale 1950's-inspired cocktail bar and lounge to offer a more refined evening to fun-lovers.
"We take pride in that we are not just another 'rum bar,'" says Dmitriyev. Yes, there is rum, but there are a host of other liquors, spiked with fresh coconut, pineapple juices and purees.
They even feature an authentic mulled wine called Swedish Punsch – where else are you going to find that?
To complement the cocktail program, pop-up restaurant Spanglish Cuban Kitchen is offering a limited version of their menu from their flagship restaurant in West Ashley.
Tucked away in the Elan Midtown apartment complex, its quickly becoming seen as a standalone destination.
KISS Café
1802 Crowne Commons Way #C1, Johns Island
(843) 405-8808
Every egg, every serving of house-brined corned beef hash, every pancake that comes out of KISS' kitchen is handmade by owner and chef Kim Wickey.
An egg's throw from both the Fat Hen and the Royal Tern, Wickey has plenty of competition for his lunch, brunch, and breakfast spot. So, it's no surprise that everything is made fresh and to-order with a few surprises, like a Bloody Mary with sake.
For those who miss the cold and snow of their previous homes, you can tuck into a Nor'easter hardroll as part of the New Yorker breakfast sandwich. That is, if your eye can make it past the open-faced Reuben. Or the pancakes with orange infused maple syrup. Okay, you get the point.
Coastal Crust
979 Harbor View Road, James Island
(843) 576-4562
Where else can you get a wood-fired pizza that was inspired by a vintage 1950's food truck, but at Coastal Crust?
The Coastal brand has expanded into Mount Pleasant, Greenville, and James Island locations with a family-friendly neighborhood restaurant concepts. In addition to top-notch Neapolitan (thin crust) pizza, they also offer traditional crowd-pleasing Italian fare including antipasto, soup, sandwiches, salads and pastas. They also offer a kids' menu and delectable desserts like a skillet cookie.
Or, for the ultimate in "delivery," they can wheel their "mobile eatery" to your house, and feed and serve beers to your party's content.