Winemaking Artistry
18 Sep 2014
Local restaurant owner Justin Croxall steps into the winemaking business with his new venture Aurox Cellars
By AMY KEHM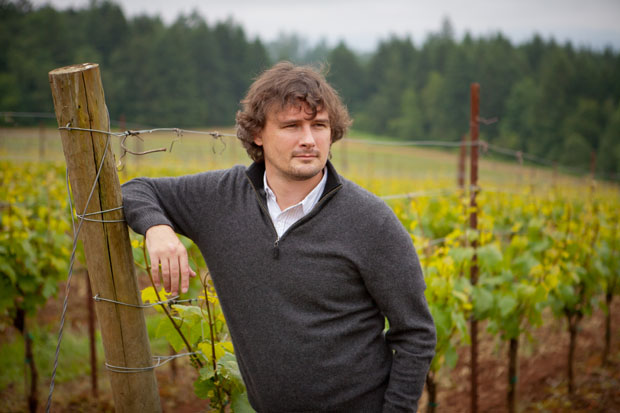 From the sandy Lowcountry to the lush Willamette Valley of Oregon, Charleston restaurateur Justin Croxall is now paving his way as winemaker – traveling from coast to coast in the name of fine taste.
Croxall, owner of Charleston's Bull Street Gourmet & Market, is also owner/ operator of Aurox Cellars in Oregon's Amity-Eola American Viticultural Area (AVA), or wine-grape growing region. The name of his winemaking venture is a tribute to his Holy City eatery, which helps to finance his west coast passion.
"The Aurox is the common ancestor of the modern bull," said Croxall. "We are seeking to create an old world, un-manipulated style of wine, and I felt that the Aurox represented that as an image."
Croxall brings the literal fruits of his Oregon labor to the Lowcountry, offering Aurox almost solely in Charleston-area eateries and markets.
Aurox includes both Croxall and head winemaker Darcy Pendergrass – a native of Oregon who after studying Microbiology switched gears into winemaking. Croxall, like Pendergrass, completed formal schooling in unrelated fields, including biology, before discovering how he could apply his education to winemaking. While studying at the College of Charleston, Croxall received his informal education.
"My first really good restaurant job was at a fine dining restaurant," recalled Croxall. "They had a really fine wine list."
The wine director took him under his wing and while friends and colleagues took the sommelier route, Croxall's biology education nudged him elsewhere. He became intrigued by the process of turning grapes into bottles of wine.
"For me, the science of wine is so encompassing."
While he continues to call Charleston his home base, Croxall has adopted Oregon's Willamette Valley as a second locale. The region is home to more than two thirds of the states wineries (about 300), according to the Willamette Valley Wineries Association.
"It's extremely diverse. I think that's probably my favorite part about it," Croxall said.
The Willamette Valley is most notable for its Pinot Noir which is also currently Croxall's focus. Aurox released a 2011 and 2012 vintage, and plans for a fall 2014 release of its latest vintage. Why Pinot Noir? It is due to the valley's longer growing season with cool evenings which, Croxall maintained, helps to create his wines with lower alcohol and more acidity. This is ideal for Aurox, which strives to avoid any unnecessary influence of its grapes.
"We want to let the terroir, the fruit and the vintage create the wines," he explained. "We want to avoid manipulating the wine as much as possible, and we want to produce wines with balance."
That balance is what really fires up Croxall as he makes the trek to Oregon for harvesting and blending.
"We'll get the test tubes out where everything is measured to the exact degree, and we'll do trials for a few days," he explained. "Really for me when we get down to doing the blending, [it] is really the fun part."
Unlike many mass produced wines whose makers strive for absolute consistency, Aurox sippers find that bottles vary from release to release depending on a year's climate, coupled with Croxall's blending processes.
"The different vintage is kind of what makes it exciting. It kind of creates identity in the vintage," he said. "For me, the most important aspect of a good wine is balance. And much with the the same way a wonderfully complex dish is developed, between the balancing of components like sweet, spicy, savory, sour, etc., a wonderfully complex wine has to have nice balance between acid, fruit, tannins, etc."
Currently Aurox purchases its fruit from different vineyards each year, but Croxall looks forward to a day when he could own his own vineyard and grow his wine from the vine up.
"There's just so much you can do to a vineyard to produce the fruit you want it to produce. It would give me a little bit more control over the final product, in a sense."
For now, Croxall is content offering small batches of Aurox wine to his Lowcountry neighbors and creating wine that, simply put, he likes to drink.
"I obviously won't fight growth, but just to be able to partake in the process, is all the reward I need. There are so many people out there that want to produce wine because it is the hip thing to do. I do it simply because I love the process, and there is nothing better than sharing a bottle with someone that appreciates what goes into, not just mine, but any bottle of wine."