Your Charlotte
07 Sep 2019
Your next big adventure is only an hours away
By KRISTIN SCOTT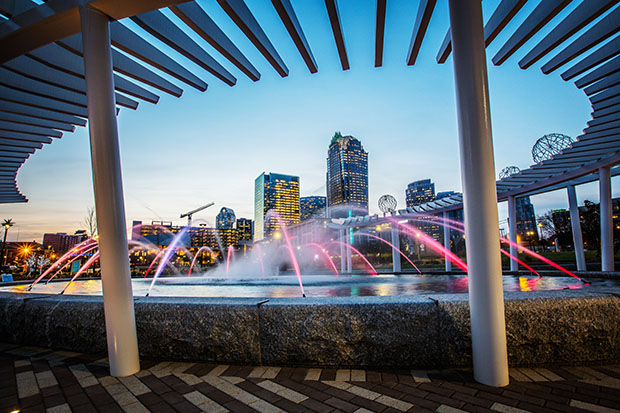 If you're a resident of the Lowcountry, you are probably very familiar with the Charlotte area. Or are you? If you think of Charlotte, NASCAR, shopping, travel, concerts and sports probably come to mind. While these things are parts of what make Charlotte worth visiting, this 250-year-old city has so much more to offer.
Charlotte is home to the one-of-a-kind U.S. National Whitewater Center. The 1,300-acre center holds the largest man-made whitewater rapids in the world, where Olympians train and you can feel the rush of being whisked away by one of the most exhilarating outdoor sports.
If rafting isn't your thing, you can spend the day on the trails hiking or biking, on the river with a paddleboard or kayak, zip lining, on rope courses, or even dining. The center has a restaurant to satisfy the hunger after a day and a biergarten. The facility also holds special events, live music and festivals. It's a must-go-to location for people of all ages and fitness levels.
If you have children, Discovery Place needs to be on your to-do list. It's a collection of interactive museums encompassing science, nature and kids. In the science museum you can learn about physics by lying on a bed of nails, you can visit the rain forest in the nature museum or even visit an aquarium. All locations are family friendly and are sure to entertain children while exploring the fascinating worlds of science and nature.
If you enjoy local history and art, you can visit Levine Museum of the New South. The exhibits encompass the history of post-civil war Charlotte and chronicle Charlotte's history to present day. You can visit the hands-on "Cotton Fields to Skyscrapers" exhibit, talk with the historian, attend a program and more. Other museums you should visit include the Levine Center for the Arts, the Mint Museum Uptown, Bechtler Museum of Modern Art and Gantt Center for African-American Arts + Culture.
Charlotte has also had a recent growth spurt in the food and beverage scene, with new, local restaurants popping up all over the greater area. "The city has evolved and become a haven for foodies in the south east. It took us a while to find our identity, but we've found it in stride. We have so many young, inventive chefs, well-established restaurants, James Beard Award nominees and others who are making our food scene dynamic," says Laura White, director of brand marketing at the Charlotte Regional Visitors Authority (CRVA). The Johnson & Wales University in Charlotte is also increasing the caliber of food coming out of the region.
A noteworthy restaurant includes Haberdish, a local restaurant located in mill town (also known as NoDa), worth visiting with southern American cuisine. Add Kindred to your list as well. It's located in Davidson, and the chef is a James Beard nominee. You can also end your night at Dot Dot Dot, Charlotte's speak easy-style cocktail lounge. Membership is required, but affordable. The lounge prides itself on being "inclusively exclusive."
There is a 600 percent growth in breweries since 2012. NoDa Brewery won an award for Hop, Drop, and Roll IPA. Olde Mecklenburg Brewery is a unique German-style brewery and Sycamore Brewing in South End has an amazing lager called Southern Girl Blonde. These are just a few of the 45 breweries in the Charlotte area making it a notable brew scene worth experiencing.
A great way to get all this in, is to take a tour or travel the Charlotte light rail line. You can spend the day hopping off and on the rail and visiting the shops, breweries and restaurants in the districts along the rail, including NoDa. Most of the places at each stop are in walking distance, making it a fun way to experience the city.
Lastly, it wouldn't be Charlotte without NASCAR. "It's all things speed in the month of May," says White. The All Star Race is on May 18th and CocaCola 600 is on May 26th. NASCAR roots run deep in Charlotte, and spring is when it really shows. The CocaCola 600 always falls on Memorial Day Weekend and celebrates our military and veterans. This will be the 60th anniversary of the race, which is called "the toughest test of man and machine," says White.
If you want to experience the speed yourself, visit the interactive NASCAR Hall of Fame, where you can take part in a pit crew experience, or get behind the wheel of an exhilarating racing simulator.
You can find out more about these places and discover even more to do at charlottesgotalot.com to plan your trip today.