Youthful Impact
10 Nov 2016
Charleston Young Professionals' director is guiding the region's young leaders
By HOLLY FISHER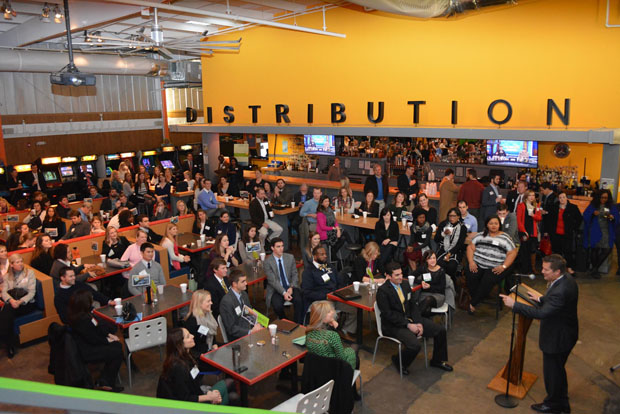 When Erica Wright returned to her native North Charleston with a fresh degree in integrated marketing communications from Winthrop University, she wasn't happy to be there.
"I was ready to conquer the world, but I couldn't find my fit," she said.
Wright met Kellee McGahey, a fellow young professional active in what was then a newer initiative of the Charleston Metro Chamber of Commerce, Charleston Young Professionals ("CYP"). Wright recalls meeting for coffee at Kudu, where McGahey invited her to join CYP, an organization aimed at providing social and career development opportunities for young people starting their careers in Charleston.
Wright was skeptical. She didn't want to "do happy hour," she wanted to grow professionally. But she took the plunge and joined. Wright signed up for CYP's mentoring program and was matched with Steve Warner, an executive at the Charleston Regional Development Alliance.
For Wright, it was more than a simple mentoring program. She said, "That was God showing me this is where I'm supposed to be."
The two met each month to talk about Wright's goals and ambitions. Warner exposed her to new ideas and local business initiatives, inviting her to serve on the 2011 Regional Economic Scorecard task force. And Warner encouraged her to identify someone in Charleston business whose career Wright would like to emulate.
She selected Pennie Bingham, now the executive director of World Trade Center Charleston at the chamber. When the two sat down to talk, the conversation morphed into an informal job interview that led to Wright's hiring as business development coordinator in 2011. She was promoted to CYP director in 2013.
A Change of Heart
Since then, Wright's had a change of heart when it comes to her hometown.
"I love Charleston now," she said. "I needed help exploring Charleston."
Now, it's her turn to give Charleston's young professionals that same guidance and experience as they grow and develop in their careers.
Earlier this year, CYP celebrated its 10th anniversary. Founders and past chairs attended a celebration, marveling that the program had reached such a milestone and praising its impact on the Charleston business community.
In her three years as director, Wright has witnessed that impact first-hand, and she knows just how much young professionals are contributing to the region.
Millennials – projected to make up to 75 percent of the U.S. workforce by 2025 – are moving beyond an attitude of "what can I get?" and into a mindset of "how can I contribute?" Wright said. "We always want a seat at the table, but we have to come to the table."
Young professionals are sitting on boards, starting companies and investing heavily in the future of Charleston. People often talk about young professionals as "future" leaders, but, Wright said, "We're already leading."
That integration, that blending of young professional and seasoned professional is important to Wright and an area of her focus. "We're starting to see both sides recognize we need each other," she said.
The Next 10 Years
With a decade of successes and more than 1,000 members strong, Wright is looking ahead at the next 10 years for CYP. She's realized how much the needs for young professionals change with their season of life. What a newly minted graduate in their 20s needs can be vastly different from what 30-something young professionals face, as they move into a phase of starting a family or advancing in their careers.
Those under 30 need professional development and they want to connect, she said. Those in their 30s are getting married and having children. They don't identify themselves as "young," Wright said. So the challenge becomes how to keep them engaged.
So how does an organization meet the needs of both groups? That's what Wright is working on with plans to unveil some possible changes to CYP in early 2017. She wants to be intentional in offering young professionals exactly what they need in different life seasons and career stages.
Wright is also focused on sharing her city with young professionals and diving in to tackle the issues of the day.
"Coming back to Charleston, I see so much I want to roll up my sleeves and do," she said. "It's a beautiful place to live, but you have to get out of your comfort zone."
Wright shares that message in her work with the chamber, at her church and in speaking to groups of young people.
"I'm on a mission. I want to see more diversity and I want to see it naturally so we don't have to champion to see people under 40 elected or on boards," Wright said. "If I'm going to a town council meeting, I'd be the youngest person there. There has to be a move toward greater diversity."
Lead by Example
Wright isn't just talking about what she'd like to see, she's leading by example. Wright is in the community, involved and active in demonstrating the important impact of young professionals in Charleston.
She recently joined the board of the Coastal Crisis Chaplaincy, which provides chaplains during times of tragedy. And she's active in her church, New Jerusalem Church in North Charleston.
In 2015, Wright was honored as one of Forty Under 40 by the Charleston Regional Business Journal. And that same year she was a recipient of one of the Sister Summit Legacy Awards in the category of Rising Star. The award is given out by the Sister Summit Foundation, a nonprofit empowering girls and young women of color.
One of Wright's most important roles is as an example to young girls in North Charleston. In December, Wright will speak to sixth to 12th grade girls at the second annual Dream. Sparkle. Shine. Conference. Wright knows what it's like to face challenges as a child. She grew up with a single mom, who made sure her daughter stayed in school and did her homework.
Those challenges don't have to define you, Wright said.
"I love life now," she said. "I don't know if I would have seen it this way if I hadn't left."
Erica Wright
Hometown
North Charleston, SC
Education
Bachelor's degree from Winthrop University; MBA from The Citadel
Hobbies
Board member, Coastal Crisis Chaplaincy; active in New Jerusalem Church in North Charleston; Carolina Panthers fan