'Fall' for Year-round Color
06 Sep 2023
Tips for making your autumn brighter
by Denise K. James
Photos by Charlene Moore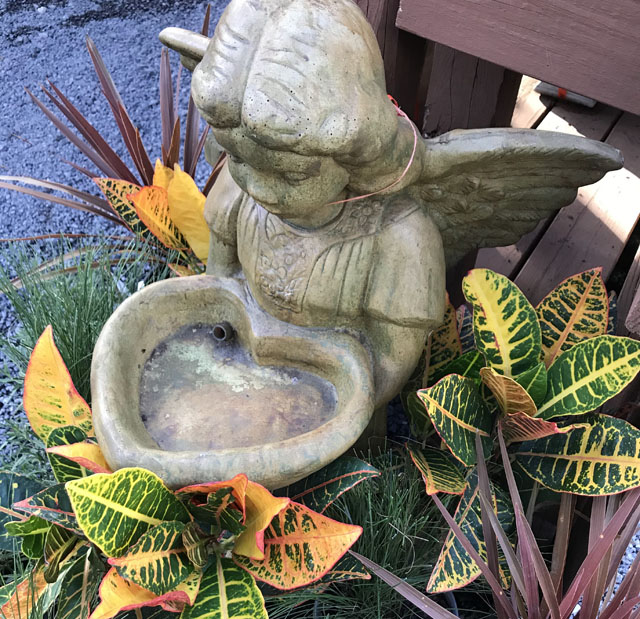 You might suspect someone green thumbed like Charlene Moore prefers the warm months of the year—but you'd be incorrect. As the co-owner of Flowertown Garden Center in Summerville, Charlene is ready to welcome both novice and seasoned gardeners, no matter the calendar month and she's full of bright ideas of what to plant for a beautiful outdoor space year-round.
"It's a common thought that spring is the time to plant," she said. "However, autumn is the prime planting season of the year. When they're planted in autumn, plants are given the opportunity to rest in the cooler weather and take root before they are expected to perform the following spring. Many seasoned gardeners know they should get all of their perennial, tree and shrub planting done in autumn for optimal year-round results."
Charlene points out that the Lowcountry's mild climate is a large part of the reason autumn and winter is kind to flora and fauna. The lack of harsh, snowy months and a frozen ground means a longer, better planting season for us fortunate Southerners — but even during the rare cold snap, plenty of plants are hardy enough to persevere.
"Spring and summer annuals can last well into October or November before they are presented with nights that are too cold for them to survive," she said. "Autumn and winter annuals, such as calendula, dusty miller, violas, ornamental kale and cabbage, to name a few, can be planted around mid-September and last as long as six months. Pansies and snapdragons are extremely cold-tolerant winter annuals and provide an abundance of color throughout the whole season."
Stroll into the Flowertown Garden Center and let a member of their knowledgeable staff be your guide to figuring out what colorful, flowering plant or lush greenery is ideal for your home. The favorites, Charlene says, are mums, crotons and grasses for autumn, followed by pansies, snapdragons and violas for winter.
"We try to find interesting varieties and unique colors so our customers have different options to choose from," she said.
Curious and interested about starting a fall garden venture of your own? Don't wait. Visit the garden center now.
"Our advice to new customers in autumn is to start planting!" she said. "Don't wait until spring, as now is the time to get those plants in the ground. We get hot fairly early in the year, so give your plants a better chance to thrive by allowing them to get established before the heat arrives."
She offers a few additional tips on cultivating a long-term, year-round garden.
Plan ahead — then wait.
"To have the best autumn and winter garden, simply plan ahead and be patient. Beautiful gardens don't happen overnight," Charlene says. "Any shrubs, trees or perennials that are expected to bloom to their full potential in autumn should be in the ground for at least a year."
Look forward to years two and three.
"The first year they are planted, plants may yield some blooms . . . but the second and even third years are when they will really shine," Charlene notes.
Mix up your garden for best results and optimal beauty.
For more enjoyment, mix plants with different bloom times in your garden," Charlene advises. "For example, depending on the sun-to-shade ratio, try camellias for winter color; daylilies, roses or azaleas for spring and summer; then mahonias or mums for autumn. These are just a few choices. There are numerous, beautiful annuals and perennials for abundant color for every season, so be creative! Mixing varying textures and heights also adds interest for the most eye-catching gardens."
For more floral inspiration, visit the garden center at 410 E 5th N. St., Summerville and visit www.flowertowngardencenterllc.com.