Relaxing Resort in the Upstate
06 Sep 2023
Stay put in Greenville's new Hotel Hartness
By Katie McElveen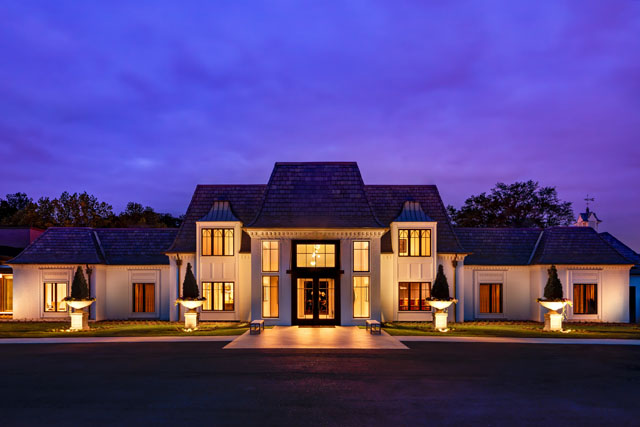 From the moment I had decided to visit Greenville's new Hotel Hartness for a bit of mother-daughter R&R, I was excited about roaming through Greenville's shop-lined streets and dining at cozy downtown eateries. But that all changed when I checked into the brand-new property. I didn't want to leave.
One reason is the hotel's openhearted atmosphere. No matter where I rambled as I explored, I felt free to go where I wanted. No one asked either of us for our room numbers at breakfast or required us to use valet parking or made us feel in any way like we shouldn't be where we happened to be standing at that moment. Instead of feeling like a resort guest, I was treated as if I was a guest in someone's home.
Technically, I was. The centerpiece of the Hotel Hartness is the Hartness family home, a white stucco chateau-style structure that was built in 1979 and houses the lobby, great room, breakfast room and a few other public spaces. The 73 hotel rooms, restaurants, banquet facilities, spa and pool are all new construction.
The resort hotel sits on a more than 400-acre parcel of land that the Hartness family has been acquiring, bit by bit, for decades. Dotted with lakes, meadows, old barns and a working farm connected by 15 miles of trails, 180 of those acres have been designated as a private nature preserve open only to hotel guests and residents of the Hartness-developed residential communities within the parcel.
Rain was in the forecast the day we arrived, so after dropping our luggage in our room, Kiki and I hopped aboard a pair of free bikes and set out to explore the trails. Some are paved, most are not and, as they wound through hilly meadows that resemble the English countryside, I found myself wishing for gears to help me through the boggy parts. Still, the landscape is stunning, with gorgeous creeks and shady woods. We had them mostly to ourselves, too, save for a few walkers with friendly dogs, joggers and kids with fishing poles. Later, as Kiki worked a bit by the pool, I wandered through the hotel proper with General Manager Albert Mertz, who pointed out original fireplaces, artwork and other details. The décor is mid-century, low-slung and sophisticated, with pops of rich color amid the burnished brass and dark wood. Even better, the landscape is never far away, thanks to oversized windows and a plethora of doorways that allow easy access from nearly every public space.
We dined one night at Captain, a clubby but mod bar located at the end of a hallway in the hotel's main building that's named for patriarch Tom Hartness. Though the menu is small, it offered plenty of variety for large and small appetites. As we dined, we chatted with other guests, many of whom lived nearby and were thrilled to have a luxury resort in the neighborhood.
Located across a landscaped terrace from the original Hartness home is Patterson Kitchen + Bar, the resort's fine dining restaurant. Though just a few yards from the hotel, the rear of the restaurant is tucked so deeply into a grove of hardwoods that the view from the floor-to-ceiling windows was nothing but shards of sunlight illuminating a thousand shades of green.
Guests are invited to arrive early to have a pre-dinner cocktail on the terrace and we're glad we did: it's a beautiful spot, with pretty benches, plantings and a fountain. We enjoyed it so much that, after dinner, we finished our wine as we watched the moon rise over the tips of the trees. In between, we savored the flavors of chef Tanner Marino and chef de cuisine Gianna Smutzki's seasonal menu, which had been introduced just that day.
Local corn, peaches and tomatoes are summer stars in South Carolina; the challenge for a chef is transforming them into a dish that's better than they are on their own. Team Marino/Smutzki did all that and more with dishes like a remarkably balanced peach salad with burrata and a sprinkling of pecans and homemade honeycomb. We thought the cavatelli pasta with duck would be rich and savory; instead, thanks to the addition of a garden's worth of vegetables and a dash of light but flavorful sauce, it filled my pasta craving without weighing me down.
Set in a separate building, sunny Spa H looks out into the forest, where trees, strong, stoic and calming, take the place of the usual water feature. Though a full range of massages and facials are available, there are a number of specialty treatments as well, including a Bourbon-infused body polish, a magnolia-scented body wrap that uses honey to sooth and moisturize and a rotating ritual that takes its cues from the season.
Kiki and I were so relaxed after our adventure that, instead of fighting our way home on the highway, we would meander along the back roads, taking our time and reveling in our memories. We arrived almost as untroubled as we'd felt when we'd left, a nod to both country roads and the power of two nights of pampering.