10 Ways to Have Fun This Summer
18 Sep 2014
With summer heating up, we've compiled a list of fun excursions right in your own backyard ― well, you may need to get in your car and drive a short distance
By DENISE K. JAMES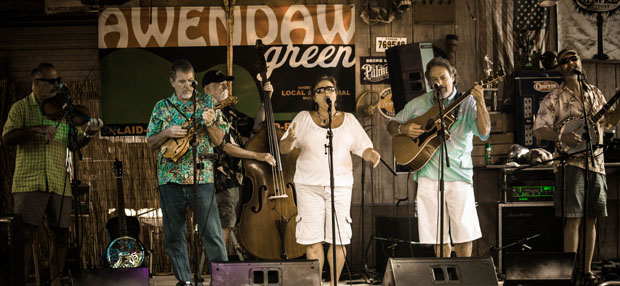 We aren't saying that the old summer standbys of reading thriller novels on the beach and cooking hot dogs on the neighbor's grill aren't good enough, but, here in the Lowcountry, we have the resources to step our summers up a notch or two. So why not promise yourself and the rest of the family that you will try something new and fun this summer? We listed a few of our favorite ideas here; hopefully they will inspire you too.
Find a fresh vegetable and cook it. There are a few different ways we can enjoy the fresh bounty of the earth this year. One is to visit the Charleston Farmer's Market, which happens each Saturday in Marion Square. Or you might elect to grow your own vegetable garden in the backyard. You can even visit one of our neighboring farms; some, such as Ambrose Farms and Boone Hall Plantation, allow you to pick veggies yourself, while others provide an on-site market of the season's best growth. Put something delicious on that grill to go with those hot dogs.
Go to a game. There's a reason why your friends all want to go to a Charleston Riverdogs game. In addition to offering the opportunity to enjoy some baseball, it's a great way to get everyone out of the house, kids included. Some nights include fireworks as a finale, and special events such as Watermelon Day and Big Splash Day mean a bonus of excitement. For an adults' night out, try Thirsty Thursdays, when Budweiser draft beers are discounted. Word to the wise ― buy your tickets ahead of time.
Cool off and learn something. Some days, you just want to be inside and escape the Lowcountry heat. When that happens, gather everyone up and visit one of our indoor attractions. Museums such as the Children's Museum of the Lowcountry or the Gibbes Art Museum are always popular, and the South Carolina Aquarium is a way to escape the weather while learning about aquatic life. Try a group tour, or drop the kids off for a workshop or special demonstration.
Sample a local brew. In case you haven't noticed, Charleston is a beer snob's paradise, particularly in recent years. A few places to enjoy craft beer have emerged on the scene, ensuring that this summer will be an optimal time for sampling every IPA and shandy you can think of. A few of our favorites include Edmund's Oast on Morrison Drive, The Frothy Beard on Peppermill Parkway in North Charleston and Westbrook Brewing Co. in Mount Pleasant.
Spend the day at a county park. It's no secret to the rest of the world that we Charlestonians are fortunate to live in such a beautiful place, and our county parks are a good way to take advantage of the natural beauty in different parts of the Lowcountry. Visit the beach parks on the Isle of Palms and Folly to frolic the day away in the surf, or pack up your lunch and a change of clothes to enjoy water attractions at Palmetto Islands County Park, James Island County Park and Wannamaker County Park.
Listen to music outside. Summertime means outdoor concert time, and there are more than a few venues to enjoy music in the great outdoors. For larger national acts, check the schedule for Daniel Island's Blackbaud Stadium and Family Circle Tennis Center. You can also take your music-loving family to the Awendaw Green, where they have local music every week at the "barn jams." Of course, countless outdoor bars and restaurants host bands on their porches. We're partial to the Pour House on James Island.
Take your pup on an outing. Charleston is dog friendly, and your family's furry member deserves a day in the sunshine. Even though there are plenty of dog parks for hanging out, why not try something new and bring your pup to a canine-cool establishment? Some of our favorites are Triangle Char + Bar or Taco Boy on the peninsula and Lost Dog Cafe on Folly. Dogs are also welcome at 2nd Sunday on King Street. Just don't forget a leash.
Sleep under the stars. We highly recommend selecting a slightly cooler night and pitching a tent with the family to enjoy some old-fashioned stargazing. If your backyard isn't up to snuff, don't worry – there are other options. Check out the KOA campground in Mount Pleasant; it's conveniently located near Blackbeard's Cove, a fun park to keep everyone entertained until bedtime. James Island County Park also offers camping facilities; you can either bring a tent or rent one of the cottages. And Oak Plantation Campground, located on Johns Island, offers amenities such as cable and a swimming pool. You know, in case your wife doesn't like roughing it.
Visit a neighboring town. For those rare occasions when everyone has the entire day free of obligations, a day trip or overnight trip to a neighboring town is the perfect way to bond. If you're heading north on Highway 17, McClellanville is a charming seaside village with local flavor – and, if you continue driving, you'll hit Pawleys Island, Murrells Inlet and the rest of the Grand Strand. Or head south and hit up Beaufort, another beautiful harbor town with plenty to see and do.
Get on the water. This would not be much of a Lowcountry summer list if we didn't tell you to get out on the water. And sure, you can swim in the ocean any time you want, but how about a little more ambition? Instead of nagging your "boat friends" and inviting yourself on their yacht, plan your own adventure. You can rent a boat for some leisure time on the water – try Charleston Powerboat Rentals – or engage the family in water activities such as paddle boarding, water skiing, kayaking and canoeing. We recommend Charleston Outdoor Adventures and Flipper Finders on Folly Beach, and Nature Adventures Outfitters in Mount Pleasant.