Finest of Charleston 2014
18 Sep 2014
You might call them the class of 72: the winners of our first annual Finest of Charleston poll in (almost) six dozen categories. Our invested Charleston readers picked their favorites in everything from golf courses to shoe stores, chefs to plastic surgeons, burgers to caterers. And the winners are...
By STEPHANIE HUNT and WENDY SWAT SNYDER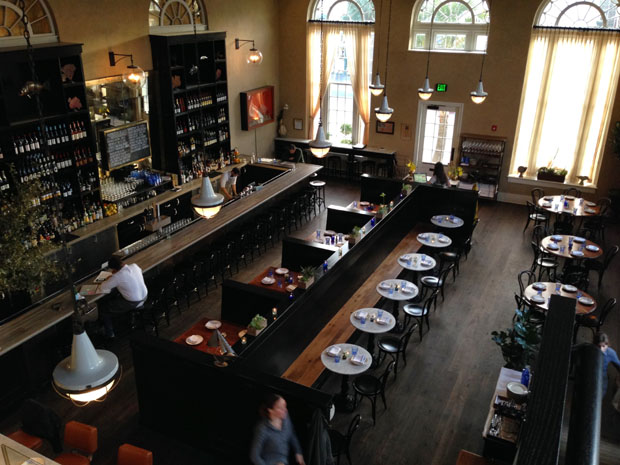 Best Dining
Authentic American
Rutledge Cab Co.
843-720-1440, rutledgecabco.com
All-American standards prepared under the direction of chef/owner Robert Carter of Peninsula Grill fame. His foray into casual dining draws crowds with classic sandwiches, burgers, kabobs, and entrees like pork schnitzel with herb and mushroom spaetzle, braised local greens and balsamic brown butter.
Authentic Asian
Basil
Multiple locations, eatatbasil.com
Cambodian brothers Henry and Chai Eang were among the first to bring Thai food to the Asian-starved Charleston peninsula back in 2002. Fans of their refined cuisine now can enjoy Basil's authentic dishes and upscale ambiance in Charleston, Mt. Pleasant, Columbia, and Charlotte.
Authentic Italian
Wild Olive
843-737-4177, wildoliverestaurant.com
Traditional flavors combine with local fish and produce for a fresh spin on Italian cuisine at this Johns Island "green restaurant": local shrimp with nduja, oven roasted tomatoes, spinach, Geechie Boy polenta cake. House-made pasta and house-cured salumi are also focal points for Chef Larson and his team.
Authentic Mexican
Santi's
Multiple locations
Mexican standards from Santi's hometown of Puerto Vallarta like hearty tripe soup, guisado de puerco, and chili rellenos coexist with American favorites in the taco and enchilada categories. Solid margaritas, mojitos, and classic Mexican beers round out the authentic experience.
Bakery
Normandy Farm Artisan Bakery
843-769-6400, normandyfarmbakery.com
Normandy Farm bakes crusty artisanal loaves of bread so good they can be found on the tables of several local restaurants. The kitchen also crafts inspired sandwiches using house roasted meats, and both sweet and savory pastries like the excellent ham-gruyere croissant.
Breakfast Spot
Early Bird Diner
843-277-2353, earlybirddiner.com
Early Bird is among the new breed of diners, drive-ins, and dives serving great made-from-scratch eats. The homey joint serves breakfast items like the legendary pecan encrusted fried chicken atop a cinnamon waffle drizzled with honey mustard and syrup all day. The kitchen gets creative with lunch and dinner diner standards as well.
Burgers
Sesame Burgers & Beer
Multiple locations, sesameburgersandbeer.com
We love the burgers here—sourced from hormone-free, pasture raised Angus beef, and cage-free chicken and turkey—plus a black bean version for non-meat diners. From the inventive "Napa Valley" with fig and bacon jam, blue cheese and red wine reduction, to a build-your-own burger, environmentally friendly Sesame has something for everyone.
Candy/Chocolate
Christophe Artisan Chocolatier-Pâtissier
843-297-8674, christophechocolatier.com
From exotic hand-painted truffles—bleu cheese, strawberry marshmallow, mango rum—to custom made chocolate sculptures, expect the extraordinary at Christophe Artisan Chocolatier-Pâtissier. Third generation French chocolatier Christophe Paume brings a special aesthetic to his artisanal sweets that renders them almost too beautiful to eat.
Caterer
Cru Catering
843-534-2433, crucatering.com
From innovative box lunches for business meetings to sit down dinners for a formal affair or wedding, Cru Catering offers options to suit every gastronomical need. Cru's culinary team includes bar tending services and will create a signature cocktail for your special event.
Crab Cakes
Hyman's Seafood
843-723-6000, hymanseafood.com
A Charleston institution recognizable by the lines of hungry folk spilling out the front doors onto Meeting Street, Hyman's has been pleasing crowds for over two decades. The winning lump crab cake can be consumed solo with a side or as an appetizer, in a salad, or part of a combo.
Desserts
Kaminsky's
843-853-8270, kaminskys.com
Dreamy confections like black forest cake, bourbon pecan pie, berry cobbler, and tiramisu rotate all day through Kaminsky's desserts only menu. Pair with a Kahlua espresso martini or Irish coffee for a match made in heaven. The brandy Alexander with copious scoops of ice cream is a dessert in itself.
Family Restaurant
Kickin' Chicken
Multiple locations, kickinchicken.com
THE place to kick back for a night out with the kids or watch a game with pals: think "kickin' nuggets" with jerk rub, and something frosty to wash 'em down. The chicken is the star of the show with tasty flatbreads, burgers, sandwiches, and wraps rounding out the crowd-pleasing menu.
Fine Dining
McCrady's
843-577-0025, mccradysrestaurant.com
Located in a sophisticated space on the National Register of Historic Places, McCrady's appeals to the most well-heeled gourmet's sensibilities. Chef Sean Brock celebrates the cuisine of the new South with the inventiveness for which he is famous. Emphasizing local, artisanal and sustainable products, dishes vary from day to day depending on availability.
Healthy Fare
Black Bean Co.
Multiple locations, blackbeanco.com
Local. Healthy. Fast. Owner Ellis Grossman's answer to the ubiquitous fast food joints clogging the nation's arteries. Energizing made-to-order wraps and salads are packed with locally grown produce and a variety of proteins—meat and meatless—to suit every palate.
Ice Cream
Ye Ole Fashioned Ice Cream and Sandwich Café
843-766-4854, yeolefashioned.com
A Charleston institution, Ye Ole Fashioned has been a magnet for kids of all ages for over 40 years, serving old school ice cream cones, sundaes, splits, and shakes. Famous for their super-sized portions—the 10-bacon strip BLT is unforgettable.
Lunch Spot
Hominy Grill
843-937-0930, hominygrill.com
A little oasis in Charleston's bustling business district, chef /owner Robert Stehling's renowned Hominy Grill features an all day menu of mouthwatering Lowcountry staples. Order to go or sit down and feast on classics like chicken country captain, shrimp and grits, a catfish po' boy or fried green tomato sandwich.
Outdoor Dining
Red's Ice House
843-388-0003, redsicehouse.com
Once a fish packing house servicing local trawlers, Red's Ice House sits little changed from its former days overlooking historic Shem Creek. Both the dinner and bar crowd flock to its open decks for down to earth eats like burgers, sandwiches, and seafood done every way—grilled, fried, combos, and in baskets.
Pizza
Steel City Pizza
Multiple locations, steelcitypizza.com
A lively neighborhood place to sit down and enjoy pizza Pittsburgh style with family and friends. Choose from a hefty list of menu favorites or build your own. The stuffed pizza tops your pie with another crusty layer bathed in EVOO, garlic, and parmesan.
Raw Bar
Pearlz Oyster Bar
Multiple locations, pearlzoysterbar.com
Pearlz reels 'em in with a decadent bounty of oysters fresh from regions up and down both coasts. On the half shell is the star of the show: house oysters from local waters, and imported specialty varietals available that day. Don't miss the oyster shooter to set the right tone.
Romantic Atmosphere
Fulton Five
843-853-5555, fultonfive.com
Tucked away behind a wall of vines a block off historic King Street, Fulton Five has been voted Charleston's sweetheart for romantic dinners for nearly two decades. Authentic Northern Italian fare shines in the perfectly lit, rustically elegant ambiance reminiscent of the Continent.
Salads
California Dreaming
843-766-1644, californiadreaming.co
Popular with locals and visitors, California Dreaming dishes up signature salads from a perch overlooking the harbor of Charleston. Crowd pleasers include the broiled salmon, breast of chicken, hot vegetable, and steak. Pair with a bowl of she crab soup for a winning dinner.
Seafood
Hank's Seafood Restaurant
843-723-3474, hanksseafoodrestaurant.com
Executive chef Frank McMahon has been at the helm of Hank's since its 1999 opening in a renovated turn of the century warehouse overlooking historic Market Street. Top quality seafood, an old fashioned ambiance, and exhibition raw bar work to create a modern interpretation of the classic Charleston fish house.
Seafood Market
Crosby's Seafood
843-577-3531, crosbysseafood.com
This family operation has been providing Charleston residents and restaurants with top quality local and domestic fish for over 30 years. The retail shop at the intersection of Spring Street and Lockwood Boulevard is a downtown landmark.
Service
Halls Chophouse
843-727-0090, hallschophouse.com
It's evident from the moment you step through the doorway of this upper King Street favorite that high standards in food and service are the linchpin of the Hall philosophy. There's always a Hall in the house—ready to share a warm greeting or handshake.
Steakhouse
Halls Chophouse
843-727-0090, hallschophouse.com
The Hall family prides itself on the quality of its steaks—all selected personally by executive chef Matthew Neissner from the renowned Allen Brothers in Chicago. Steaks and chops share the menu with all the great chophouse classics and a few twists from the Lowcountry.
Sushi
O-Ku
843-737-0112, o-kusushi.com
A see-and-be-seen night spot on upper King Street, sushi mecca O-ku features the whole spectrum of the Japanese delicacy. The Omakase, a multi-course tasting of chef's selections, is a gastronomical adventure. Fine libations include craft cocktails and a deep list of sakes.
Sunday Brunch
Fat Hen
843-559-9090, thefathen.com
On the well traveled path to Kiawah, Fat Hen chef-owner Fred Neuville delivers French classics with a Lowcountry twist in the cozy ambiance of a country house. French onion soup, steak tartare, crème brulee French toast, and shrimp and grits coexist happily on his rich and savory menu.
Vegetarian/Vegan Options
Five Loaves
Multiple locations, fiveloavescafe.com
With practically as many vegetarian dishes as meat in some menu categories, diners who choose to eat meat-free don't have to order from the list of "sides" at the innovative Five Loaves. Don't miss the "flight" of three of the daily soups. All chicken is free-range and the meat is grass fed.
Water-view Dining
Fleet Landing
843-722-8100, fleetlanding.net
Overlooking Charleston harbor on prime downtown waterfront real estate, Fleet Landing boasts one of the best views thanks to wide decks and banks of oversized windows. Enjoy the stunning scenery with Lowcountry influenced seafood, steaks, and pastas.
Wine Store
Bottles
843-849-9463, shopbottles.com
With a selection to rival some of the national "big box" shops, Bottles has everything going for it: convenient to East Cooper and downtown Charleston, plenty of parking, knowledgeable wine and liquor staff, and great prices. Best of all—its locally owned.
Best Nightlife
Appetizers
The Ordinary
843-414-7060, eattheordinary.com
Much lauded and for good reason, Mike Lata's oyster hall The Ordinary delivers the freshest fruit of the sea in an old bank turned eatery on upper King Street. Simple preps like SC peel and eat shrimp, and local oysters and clams on the shell join fancy starters like smoked mahi mahi paté.
Bar
The Belmont
thebelmontcharleston.com
Craft cocktails and upscale liquors flow in this drink-centric establishment on upper King Street. Artisanal charcuterie and cheeses for nibbling are served in the no-fuss comfort of exposed brick under old tin ceilings, low lights, and a silent movie running for extra effect. Follow @thebelmontchs on Twitter for new drinks like a Negroni slushi.
Cocktail Selection
The Gin Joint
843-577-6111, theginjoint.com
It really is all about the liquor at The Gin Joint, a throwback to per-Prohibition style cocktail making. The adventurous may bypass the two dozen drinker's drinks on the craft menu, and go for the Bartender's Choice—one that is custom tailored to the flavor profile of your choice. A few to mull over: tart, herbal, smokey, fruit, bitter, savory.
Coffeehouse
Kudu
843-853-7186, kuducoffeeandcraftbeer.com
A coffeehouse for drinkers ready to kick it up a notch, Kudu whips up all the usual java variations with blends from Counter Culture Coffee. And with over twenty beers on tap, mixing and matching is the name of the game. Edibles are out-sourced, but from the notable bakeries of Normandy Farms, Wild Flour & Saffron.
Craft Brewer
Holy City Brewing
843-225-6089, holycitybrewing.com
Bowens Island oyster stout. In a food town like Charleston, a stroke of genius—borrowed from European brewers who've enjoyed the silky mouth feel imparted by the briny crustacean for decades. Holy City pumps out an impressive range of year round, seasonal, and occasional brews. And don't miss the bacon porter.
Happy Hour
Fish
843-722-3474, fishrestaurantcharleston.com
In the heart of the upper King Street dining district, sleek, contemporary Fish has the hottest happy hour deals in town—food and drink specials seven days a week. Monday through Sunday, $4 well liquor and house wines, plus daily-changing small plates like moules frites and dim sum for $6.
Late-Night Menu
Butcher & Bee
843-619-0202, butcherandbee.com
A food and bev biz favorite, the eclectic and innovative menu at Butcher & Bee satisfies early morning munchies on both sides of the clock, and everything in between. Kabobs, kale slaw, fried chicken, pork cheek torta, beef tongue, and a grilled cheese sandwich, for example.
Pub/Tavern
The Tattooed Moose
843-277-2990, tattooedmoose.com
Situated in the Neck of peninsular Charleston, this beloved joint caters to the craft beer crowd and fun-loving folks of all kinds. The Tattooed Moose features live music and pub fare outstanding enough for a spot on Guy Fieri's Food Network show Diners, Drive-ins and Dives.
Wine List
Social Restaurant + Wine Bar
843-577-5665, socialwinebar.com
The wine list at Social has garnered plenty of attention, including the Wine Spectator Best of Award of Excellence 2012. Owner Brad Ball supports small artisanal producers, introducing their product with food pairings and flights designed to allow patrons to sample small pours of three or four wines from themed groupings.
Best Shopping
Art Gallery
Halsey Institute of Contemporary Art
843-953-4422, halsey.cofc.edu
Edgy art has had to fight for local turf amidst ubiquitous marsh landscapes and duck prints, but the ballsy Halsey doesn't mind edging in. If the spectacular Shepard Fairey show is any measure, the CofC gallery seems on track to meet Mark Sloan's "year-end goal of world domination" for its 30th anniversary.
Bridal Boutique
Maddison Row
843-720-7979, maddisonrow.com
Italian silk. French lace. Decadent cascades of creamy white organza. Charleston's Bride-to-be's looking for the be-all in gowns don't have to go to Madison Avenue anymore to find one-of-a-kind designer dresses. From Vera Wang to Monique Lhuillier, Maddison Row offers rows and rows of sophisticated elegance.
Bridal Registry
Belk
Multiple locations, belk.com
If you can't find it (china, silver trays, linens, Keurigs, omelet pan, lingerie…) at the South's venerable department store, then the bride and groom probably don't need it. Belk's makes it easy to register for, and maybe more importantly, return, wedding gifts. Crystal butter dish, anyone?
Car Dealership
Baker Motor Company
843-852-4000, bakermotorcompany.com
When status and luxury rev your motor, accelerate on over to Baker Motor Company. Whether you are looking for a Smart Car or a smart-looking Mercedes, the excellent service, wide selection and personal attention at Baker makes car buying (almost) a pleasure.
Clothing, Kids
Southern Belles
843-881-1741, southernbelleschildren.com
For occasions when Target's $8 kids' cut-offs just don't cut it, Moms around the Lowcountry say "thank God" for Southern Belles, where Peter Pan collars and black patent Mary Jane's still prevail. The (not "Thee"!) go-to shop for sweet smocked dresses, itty-bitty overalls and baby gifts galore.
Clothing, Men
843-723-8603, mdumasandsons.com
The colorful walls of M. Dumas & Sons are a familiar sight to the men (and the women who clothe them) of Charleston. The King Street institution has outfitted the prepsters, bubbas and khaki'ed lads of the Southeast (and probably the cast of Southern Charm) for generations.
Clothing, Women
843-849-9667, gwynns.com
Despite tough competition in the women's wear category, locally-owned Gwynn's got our voters' nod. Owner Marshall Simon offers the gamut, from dresses to designer jeans to couture gala gowns (and fab shoes, but that's another category). Gwynn's variety and personable service makes this Mt. Pleasant landmark seem more like a New York specialty store, with Southern accent.
Furniture Store
Celadon
843-884-7354, celadonathome.com
We're not sure if it's Celadon's eclectic fun or its attractive, affordable pieces that makes it the go-to shop for Charleston Living furniture buyers. We guess both. Either way, the Mt. Pleasant home decor emporium never fails to delight our eye and inspire some nesting.
Garden Center
Hyams Garden Center
843-795-4570, hyamsgardencenter.com
Hyams gets our voters' green thumbs up for its Eden-like array of horticultural bounty. Whether you need boxwoods or basil, azaleas or orchids, lemons or liriope, or just someone to explain pruning basics, Hyams has you, and your garden, covered.
Gift Store
Palmetto Moon
Multiple locations, palmettomoononline.com
When in doubt, go for the Clemson Koozie, or Carolina – depending on which side of the SC aisle you are on. With gifts for grads, or dads, or for the Lilly lover – Palmetto Moon is one full moon, with lots of happy shoppers in its orbit.
Home Accessories Store
GDC Home Interiors
Multiple locations, gdchome.com
When a Charleston Living home story inspires you to perk up your abode, where do our readers go? GDC – in Mt. Pleasant or West Ashley, the one-stop shop for all things fabric or for the floor, for the bed or tabletop, for wall or window, and more.
Jeweler/ Jewelry Store
Croghan's Jewel Box
843-723-3594, croghansjewelbox.com
A Charleston icon for more than a century, Croghan's is a treasure chest of keepsake jewels, sterling whatnots and impeccable customer service. Jewelry almost always tells a story, marks a milestone, expresses passion; over and above their to-die-for inventory, the family-run Croghan's gets this.
Shoe Store
Phillips Shoes
Multiple locations, phillipsshoes.com
There are shoe people, and there are people with shoes, but we all (mostly) are shod somehow. Lucky for us, the Phillips folks keep our footsies comfortable and stylish, with more than 60 brands, from clogs to heels and sandals to boots.
Surf Shop
McKevlin's
843-588-2261, mckevlins.com
Smack on the forefront of Folly Beach, McKelvin's also leads the forefront of surfing innovation and change. This family-owned surf mecca has been a local landmark since the 1960s and continues to hang-ten with the latest epoxy surfboards and a call-in surf report.
Swimwear
Salty Girls
843-388-7379, shopsaltygirls.com
Salty Girls of Mt. Pleasant wins "Best Of" for, arguably, one of the most critical categories on our list: bikinis and beachwear. With brands like L*Space to Billabong, your search for a flattering or fun suit ends here.
Best Services
Day Spa
Urban Nirvana
Multiple locations, urbannirvana.com
Nirvana: (noun) "a state of perfect happiness." They got that right. With five locations offering a full menu of indulgent, luxurious spa services, Urban's urbane oasis transports you to an uber relaxed, pampered place. Hey, you deserve it.
Florist
Tiger Lily Florist
843-723-2808, tigerlilyflorist.com
FTD this is not. Short on carnations and long-stemmed on artfully arranged exotic blooms, Tiger Lily is no stranger to "Best Of" lists. From their apropos storefront/studio on Spring Street, these floral fashionistas do everything from wedding bouquets to your ticket out of the doghouse.
Golf Course
The Ocean Course at Kiawah
800-774-444, kiawahresort.com/golf/the-ocean-course
This one was a hole in one. It's hard to argue that the legendary Pete Dye design, with its wind-buffeted ocean front greens, unpredictable play and breathtaking beauty doesn't earn top local ranking. Golf Digest crowned it "America's toughest resort course." We won't argue.
Gym
East Shore Athletic Club
Multiple locations, eastshoreac.com
Looking to lift, sweat, spin and squat alongside friends and neighbors? With 12 locations across the region, ESAC is there to help you reach or maintain your fitness goals. A fun staff, group classes, as well as weight and cardio areas (and easy-to-benchpress prices) make ESAC Charleston's most high-fived gym.
Home Audio/Video
Audio Warehouse
843-571-0535, theaudiowarehouse.com
Now hear this: the ol' home stereo has gone high tech, and Audio Warehouse has the integrated know-how to get you fully wired. They call it "connected lifestyle engineering" – i.e. touchscreen everything, from lighting to security to home theaters. Pass the popcorn.
Home Security Provider
Sonitrol
843-747-0904, sonitrolsc.com
Sonitrol gets the secure vote. Locally owned and regionally respected, they offer electronic security systems for home or business. Don't know about you, but things can get a little iffy in the Holy City, and we sleep better knowing Sonitrol's got our back.
Hotel
Charleston Harbor Resort
843-284-7026, charlestonharborresort.com
This was a toughie…Charleston's got so many choices—swanky boutique hotels, grand ol' dames, mod mid-town digs, but the panoramic harbor view, "beach" front bar and proximity to the water taxi and Patriots Point make Charleston Harbor Resort our readers' choice.
Insurance Provider
C.T. Lowndes
843-763-0120, ctlowndes.com
Here in hurricane alley, we don't mess around with insurance, although plenty of carriers mess around with us (who hasn't been dropped?). The agents at C.T. Lowndes have been around since forever, keeping the Lowcountry covered with no-nonsense advice, products and good-neighborly service.
Kitchen/Bath Remodeler
Classic Remodeling
843-763-3297, classicremodeling.com
Let's face it—by the end of a kitchen/bath renovation, the contractor crush is long over and civility is about all you hope for. The guys at Classic Remodeling, though, must be doing something right. Here's to new sinks, custom cabinets, fresh grout, and no grumbles.
Pool Company
Blue Haven
843-552-6000, bluehavensc.com
When summer sizzles, a cool blue backyard oasis is heavenly, unless, of course, it morphs into a green algae stew. Our mermaid readers turn to Blue Haven Pools to create their watering holes and keep 'em clean and refreshing.
Salon/ Barber for Men
Broad Street Barber Shop
843-723-6533
Straight razor neck shave and hot towel– need we say more? An old school barber shop with new fangled pampering, right in the thick of downtown's lawyer/business district. If you need a tidy trim before your next meeting, walk-ins are welcome.
Salon for Women
Stella Nova
Multiple locations, flagshipstellanova.com
Stylists at Stella Nova make you feel like a star (alongside celebs like Reese Witherspoon). The King Street salon (also in Mt. Pleasant Towne Centre) has garnered ink in national mags (Lucky and Elle), but locals know that beauty is as beauty does, so we applaud Stella for going glam by giving back to organizations such as Crisis Ministries and HALOS.
Wedding Reception Venue
Boone Hall Plantation
843-884-4371, boonehallplantation.com
Boone Hall made the cut for Hollywood "It-Couple" Blake Lively and Ryan Reynolds, so no surprise that it wins for chic Charleston's weddings. The rustic Mt. Pleasant venue, with its romantic oak alley and waterfront Cotton Dock, offers moss-draped Southern ambiance for tying the knot.
Best People
Chef
Sean Brock
843-577-2500, huskrestaurant.com
A huge tip of the hat to executive chef Sean Brock for all he has done to elevate Lowcountry cuisine and Southern ingredients in the kitchens of Husk. Winner of the 2010 James Beard "Best Chef Southeast" award, his lifelong passion for seasonal ingredients and heritage products is evident in every dish on the daily-changing menu.
Pediatrician
Coastal Pediatrics
843-573-2535, cpakids.com
Open wide, say "ahhh," or "Ahh-alright!" for the team at Coastal Peds. Parents of ailing kids are a tough crowd, so getting their nod is saying something. This practice has a deep bench, with 11 pediatricians and 8 nurse practitioners, and plenty of patience, wisdom and superhero Band-Aids.
Personal Trainer
Leslie Savage
843-764-9349, chucktownfitness.com
Need some motivation? A little kick in your could-be-firmer backside? Checkout fitness guru Leslie Savage's workouts at Chucktown Fitness. You may be sore, but you won't be sorry.
Plastic Surgeon
Dr. Patrick O'Neill
843-881-2130, oneillplasticsurgery.com
Triple board certified surgeon Dr. O'Neill nips, tucks, enlarges, reduces, tweaks, lifts, lowers and works all sorts of other magic on Lowcountry bodies. We wouldn't know (or admit it if we did), but our voters evidently don't get any unwelcome frown lines over his work.
Real Estate Agency
Carolina One Real Estate
843-202-2100, carolinaonerealestate.com
Location, location, location. With their highly visible headquarters at the foot of the Ravenel Bridge, Carolina One proves they've got lesson #1 in real estate down pat. According to our voters, they get other things (service, attention, listings, sales) right, too.