Italian food and wine
By WENDY SWAT SNYDER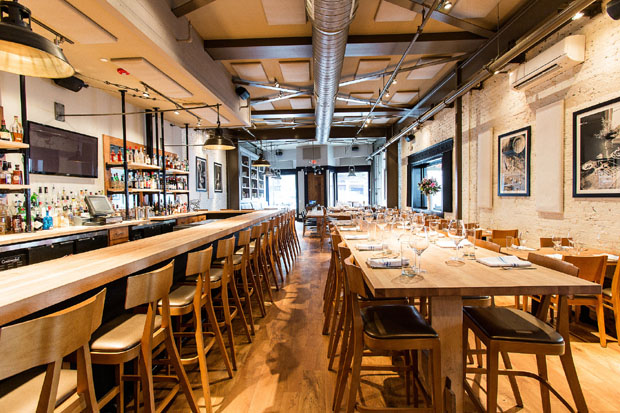 In a town like Charleston, known for its food and hospitality, it's not always easy to stand out in the crowded restaurant scene. But in the heart of the Upper King Street dining district, Indaco is making its name serving rustic Italian fare delivered with an intense focus on over the top service. The restaurant is the vision of managing partner Steve Palmer of The Indigo Road group—from whence the name came. Indaco is Italian for indigo, a natural blue dye cultivated in South Carolina and once a major colonial cash crop.
The standards in the kitchen are over the top too, set by a young executive chef whose biography contains a stint with chef / restaurateur Scott Conant of Food Network fame. In the short time since Indaco's Michael Perez graduated from the Miami Johnson and Wales University in 2005, he's worked aboard cruise ships, moved to Oregon where he cooked at the Timberline Lodge, and followed a brief interest in French cooking. As a sous chef at Portland's Tabla Mediterranean Bistro, he learned to make pasta from a Michelin-trained chef who had studied in Italy. He says it was then that he changed course and embraced Italian cuisine.
"There's a history behind almost every shape of pasta," explains Perez, referencing the creste di gallo—a pasta shaped like the crest of a rooster—and cornetti, or "little horns". "It's a gateway cuisine into fine dining—your average diners can relate the pasta dishes to their past, and they become more user-friendly. That's what I love about Italian cooking—it's not intimidating. It helps you order outside your box."
Perez had moved to Los Angeles for a job that didn't pan out when he got the call from Conant, who owns a string of upscale restaurants in the United States and Canada. "He was looking for a pasta maker for the Beverly Hills Scarpetta. It was a highly coveted position, so he was doing the interviewing himself. We talked for 30 minutes on the phone, and he said to come for an interview—right now!"
Describing the veteran chef as one of the most distinguished palates in the business, he vividly remembers the meeting, conducted poolside with a batch of margaritas. "After Scott hired me, he said when you're done working for me, you're going to know how to make 200 types of pasta."
Perez recalls a drill at Scarpetta that he's replicated at Indaco: Conant would routinely visit the kitchen, challenging him to create ten new pasta dishes, each of which he summarily critiqued. Sometimes one made it onto the menu. "Our kitchen is also a learning institution," explains Perez. "Every cook who works here wants to become a chef, so part of my culture is to give them the opportunity to create a new dish for their station. It pushes them to do more."
Perez rose to sous chef and went on to help start up the next Scarpetta in Las Vegas. He eventually made his way back to the East Coast and cooked for several notable restaurants in Charleston before being tapped by Palmer to lead the culinary program at Indaco.
"I think the most important decision I make is who I choose to work with," muses Palmer, whose string of local eateries—Oak Steakhouse, O-Ku, The Macintosh, The Cocktail Club, and Indaco—number among some of the best in the city. "I saw in him a great cook, and he has the heart for hospitality."
"Steve talks about the difference between hospitality and service," notes Perez. "Service is knowing your menu and presenting it at the table, while hospitality is walking a guest to the valet, or calling them a cab. We nurture that culture by creating a positive experience with our employees, and mutual respect in the kitchen."
Palmer says it's an approach he's adhered to since his days at Magnolias restaurant. "A group of us developed it—The Fourteen Elements of The Guest Experience—and I used it to train staff for the opening of Blossom: follow the guest from the minute they walk in until they leave, and the guest will always have a good time."
Inside the restaurant, clean lines, pale wood and brick, and industrial fixtures reflect the concept of the menu—a blend of rustic and modern. Seating choices are diverse: cozy banquettes opposite a wide window front, single tables or family style, chef's table, and outdoor patio.
"Steve and I believe in the concept of sharing Italian food at a big, communal table with platters of food being passed. We tried to create an environment that reflects that home feeling and a forward, but accessible, menu."
Pasta is the heart and soul of a menu anchored by classics like the cornetti, brimming with clams, Calico scallops, squid, basil, and parsley. Perez elevates a carbonara by topping the dish with a fresh egg yolk tossed in table side along with a grating of cured egg yolk that acts like a finishing salt. The agnolotti—a meat-filled pouch of pasta—is a Perez favorite. "We use short rib, and toss the pasta in the braising liquid with mint, pickled shallots—it's decadent, but without the heaviness you associate with short rib. He believes that showcasing a few choice ingredients and letting them shine is what it's all about.
A wood-burning oven in the exhibition kitchen produces delicately crusted pizzas such as one featuring cerignola olives, mozzarella, Calabrian chili, and basil. A vegan version can be made, sans cheese.
"We want every guest to have a great dining experience with us," notes Perez. "Our cooks are always thinking creatively, so it's really easy for us to accommodate vegetarian and vegan requests."
The four-course family style dinner is a good way to sample most of the menu. The table shares larger portions starting with an antipasto such as baccala, or a salad, a pasta and pizza, and then a whole fish or roasted chicken with one of the vegetable dishes.
Menu questions are adeptly handled by staffers like Griffin, who will expertly guide you through the entire list of choices with the enthusiasm of a foodie. Looking for a new Italian wine pairing, or a novel dessert? Just ask.
Indaco
526 King St., Charleston
843-727-1228
indacocharleston.com