2021 Holiday Gift Guide
03 Nov 2021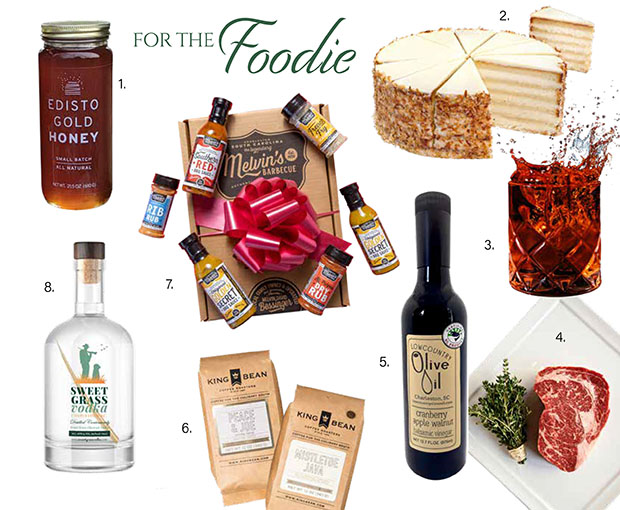 1. Local Edisto Gold Honey - Pure, local South Carolina honey raw and unfiltered, harvested from bees near the Edisto River. 11 oz, $12 online at www.edistogoldhoney.com 2. Peninsula Grill's Ultimate Coconut Cake - The Ultimate Coconut Cake® from Charleston's own Peninsula Grill is a 12-layer masterpiece, available to be shipped across the United States via overnight delivery. $130 plus tax and shipping. Call 843-723-0700 to order. 3. Private Mixology Class - The ultimate gift for cocktail lovers—a private cocktail class with The Gin Joint's bartenders at their downtown location at 182 E Bay St. $100 per person for up to 12 guests. Email drinkproper@theginjoint.com to schedule. 4. Oak Steakhouse at Home - Chef-selected PRIME Certified Angus Beef—the same type used at Oak Steakhouse—can be shipped nationwide. Culinary director Jeremiah Bacon hand-selects meats, roasts and assortment boxes that are vacuum packed, boxed on dry ice and delivered to your doorstep. www.oaksteakhousemeat.com 5. Cranberry Apple Walnut Balsamic Vinegar– A seasonal batch of Cranberry Apple Walnut Balsamic vinegar is hand-blended in Lowcountry Olive Oil's kitchen. $17. Lowcountry Olive Oil, 272 Meeting St. and online at www.lowcountryoliveoil.com 6. King Bean Holiday Coffee - Brew some Christmas cheer with local freshly-roasted holiday coffees and ready-to-gift seasonal bundles. Starting at $13.49 plus shipping. King Bean Coffee Roasters, www.kingbean.com 7. "Pitmaster's Secret" Six-Pack Gift Box. Ship to the BBQ lover in your life. Select three bottles of sauce and three rubs to personalize a box for a true Southern treat. $49.99 plus tax and shipping, at www.melvinsbbq.com/collections. 8. Sweetgrass Vodka – This local award-winning vodka makes for the perfect holiday gift. Three times global masters winner in 2021: Best Micro-Distillery, Best Organic Vodka, Best Smooth Vodka. $24.99. Find at your local ABC store.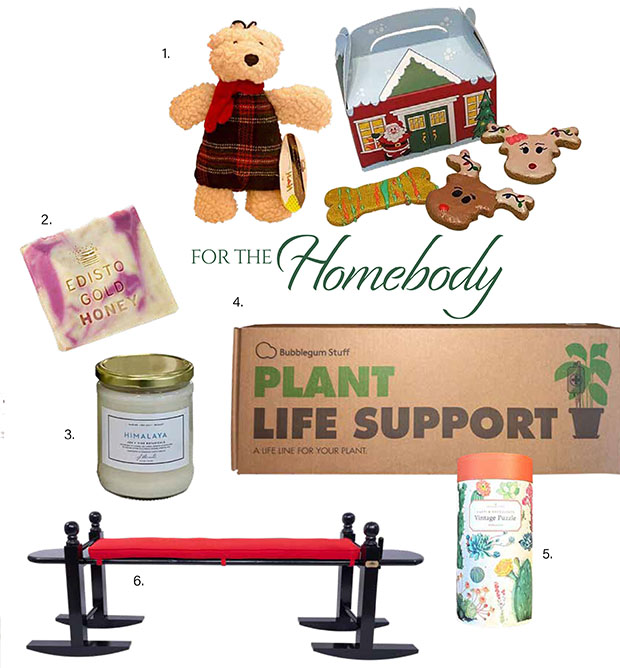 1. Holiday Dog Treats & Toys – Spoil furry friends this holiday season and create your own festive dog cookie box or holiday-inspired plush toy. $14 & up at Michael's Barkery Pet Spa & Boutique, 864 Island Park Dr., Suite 103, Daniel Island. 2. Edisto Gold Honey Soap - Natural, hand-crafted, skin-nourishing Edisto Gold Honey peppermint soap uses local honey from near the Edisto River. Comes with gift box. $10, online at www.edistogoldhoney.com 3. Ash + Vine Botanicals Candle - Locally-made Ash + Vine Botanicals soy wax candles are made with the purest essential oils and cotton braided wicks. $38 at Jolie Luxury Consignment, 2114 SC-41 Suite 103, Mt. Pleasant. 4. Plant H20 – For every green thumb, a self-watering system for happy indoor plants, $24.99 at Flowertown Garden Center, 410 E 5th N St, Summerville. 5. Cavallini Paper & Co. Vintage Puzzles – These adorable puzzles come packaged in a tube and muslin bag for pieces and have various designs from dogs to national parks. $24 at Charleston Flower Market, 1952 Maybank Hwy., James Island. 6. Joggle Board – A front porch favorite! The Joggle Factory produces a timeless, sustainable joggling board that helps keep the joggling tradition alive. Handcrafted with pride in Edisto, SC. Prices vary. www.thejogglefactory.com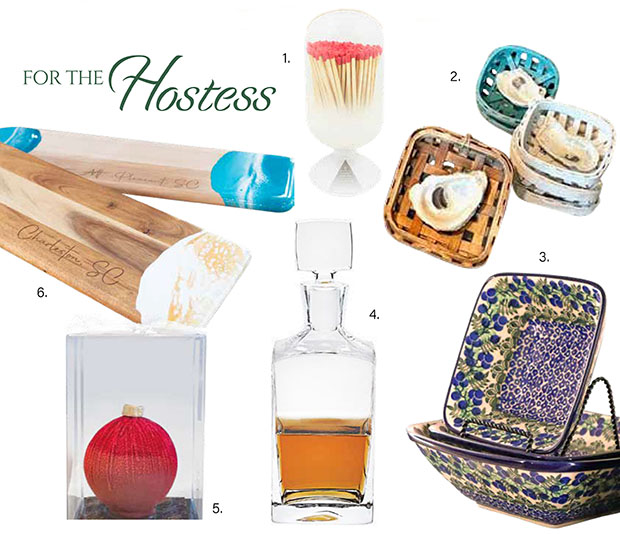 1. Glass Match Cloche– This hand-blown glass match cloche features a soft ombre finish and festive red tip matches. With a striker on the side and cork stopper bottom, this piece is the perfect accessory for any home. $36 at Nellie & Lo, 976 Houston Northcutt Blvd Ste B, Mt.Pleasant. 2. Handmade Oyster Baskets– Handmade oyster basket décor with an oyster is made by a local artist. $43. There are unique items from more than 20 local artists at Paisley of Daniel Island, 194 Seven Farms Drive # 600A. 3. Blueberry Square Serving Bowls - Beautifully hand-painted and microwave, dishwasher and oven safe, serving bowls add color and festivity to any holiday side dish. $146.85 for the set; individually starting at $41.95. Polish Pottery Gallery, 180 King St., Charleston. 4. Crystal Decanter - The Enzo crystal scotch or whiskey decanter by Badash is European crafted with environmentally-sustainable materials. $75, at Rhodes Boutique, 92 Folly Rd., Charleston and online at www.rhodesboutique.com 5. Chocolate Ornament - Renowned French Pastry Chef Rémy Fünfrock is bringing back his highly-anticipated handcrafted chocolate ornaments filled with pralines, chocolate truffles and mendiants. $20. La Pâtisserie at Hotel Bennett, 404 King St. 6. Local Serving Boards - Serving boards are perfect for breakfast in bed, an overflowing charcuterie spread or a gorgeous focal point to any tabletop event with the words "Charleston" or "Mt. Pleasant" emblazoned on the board. Available exclusively at Bubbles Gift Shoppe, 2118 SC-41 STE 104, Mt. Pleasant.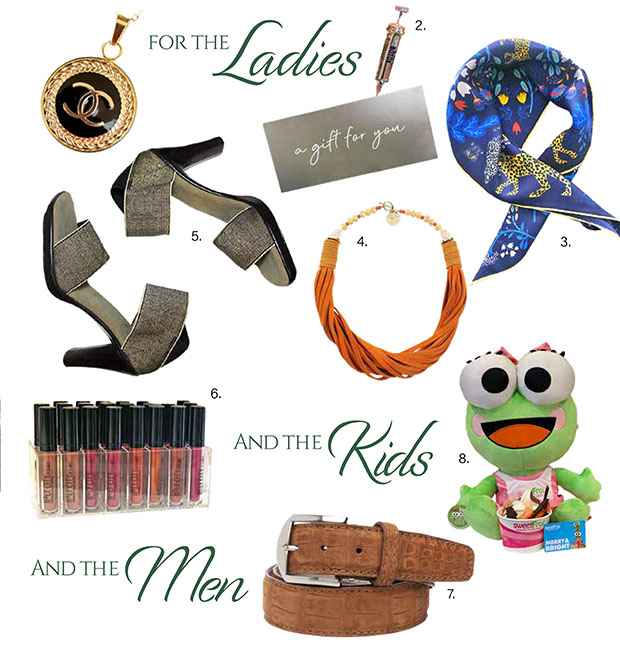 1. Chanel Repurposed Button Necklace - Several styles available, as well as coordinating earrings and bracelets. $120, at The Finicky Filly, 303 King St. www.thefinickyfilly.com 2. Gift Card to Charleston Medical Spa - Charleston's award-winning medical spa offers the most advanced treatments to help you look and feel your best, from HydraFacials to massages and more. Complimentary consultations. www.charlestonmedicalspa.com 3. Silk Scarf - A one-of-a-kind 100% silk 21 x 21 scarf, inspired by scenes of rural landscapes. $58 at contemporary boutique Julep, 57 Queen Street. 843-724-9144. 4. Orange Leather Necklace - The Laurens Necklace is a statement-making accessory featuring hand-cut draped leather fringe and bead detailing. $275 at Jahde Leather Atelier, 68 Queen Street. 5. Telfair Heel – The 3 1/2" Telfair heel provides support and comfort with a square toe and stacked heel. $135, at Charleston Shoe Company, 161 King Street & The Charleston City Market and online at www.charlestonshoeco.com 6. Holy City Lip Gloss – These beautiful and whimsical Lowcountry-inspired colors include "Kiawah Island," "James Island," "Folly Beach," "East Bay Street" and more. $25 each at Jolie Lux Consignment, 2114 SC-41 Suite 103, Mt. Pleasant. 7. American Alligator Belt. This custom-fit buffed American alligator belt in chestnut from L.E.N. has been tanned and finished in France for a velvety soft, exquisite detail. $695. M. Dumas & Sons, 294 King St., 843-723-8603. 8. Plush Stuffed Animals – Delight children with "Scoop" and "Cookie" the official frog brother and sister mascots for Sweet Frog premium frozen yogurt in Mt. Pleasant. Get 10% off your bill when the kids bring them in! During November and December, enjoy $1 off yogurt when you purchase any size plush animal. $11.99-$19.99. Gift cards also make a delicious treat. 2114 Hwy 41, Suite 102, Mt. Pleasant.