Mirror, Mirror
01 Dec 2021
Deck out your mirrors for the holidays
By Shelby Simon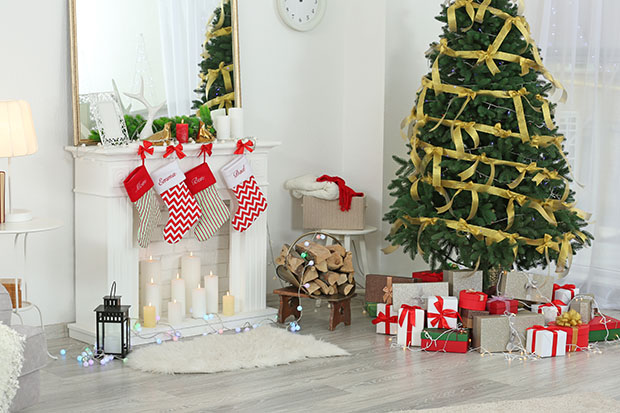 'Tis the season for decorating anything and everything to bring the holidays closer to home. Amplify the celebratory spirit even more with the strategic use of mirrors.
Decorating the mirrors in your home for the holidays and optimizing their placement can add limitless value to the look and feel of your festive display.
Niki Miller, owner/decorative painter at Charleston Fine Finishes, shares her expert tips and tricks on how to make mirror magic in any room and style them for the season.
Mirrors can be expensive, but finding the right ones for your home décor doesn't have to break the bank.
"Quality always holds its value and good taste is timeless. For those reasons, I love antique stores. There's an attention to detail expressed on older finishes that I respect and admire," says Miller, who appreciates the masterful mix of old and new.
If a vintage find doesn't quite match the finishes of other parts of your home, professionals like Miller, who specializes in solving decorative challenges with furniture, walls, ceilings and beyond, can help masterfully mix the old and new to create a cohesive look. For example, a new mirror that looks "too new" can have the mirror and metal antiqued, or the frame of a mirror can be refinished to match the walls.
When deciding where and how to place mirrors in your home, "keep in mind that you will see two of whatever that mirror reflects," says Miller, so make sure you like the view. "Be sure to notice the reflection from every direction… sit on the chairs and the sofa to see what it reflects." Large mirrors placed opposite windows will bring in twice the light, while strategically-placed mirrors can create the illusion of more space.
One benefit during the winter holidays? "Twice the Christmas!" says Miller. "Place that tall mirror adjacent to your tree—now it looks like two trees, and you'll get to enjoy it from another angle and possibly room."
For a large floor mirror, add dimension and adapt according to your style or holiday of choice. For an optical illusion Christmas tree, Miller suggests stacking several boxes wrapped in green paper, graduating in size from largest (on the bottom) to smallest, leaning against one side of the mirror. Add lights, a large bow and a garland, and the reflection will look like a tree!
Many homes have an entryway featuring a hanging piece of art and a small table. Instead, Miller suggests replacing the art with a mirror and using small tabletop trees or other thematic decor for a touch of whimsy. A DIY holiday mirror decor idea that Miller loved creating with her kids was the creation of a Candyland tree: she took an old mirror and painted it pink, then glued on a ton of fake glittered gumdrops. They loaded their white bottlebrush tree with lights (on a white cord), lollipops and gingerbread men. Their DIY holiday mirror bounced the light and made the glittered ornaments extra sparkly.
You can think of your home's windows as mirrors and vice versa and apply the same decorating approach to both, according to Miller.
Her pro tips:
For a glowing effect, use sticky strips to attach small fairy lights to the back of your mirror.

Hang a boxwood or frasier fir wreath with a wide ribbon right onto the mirror, the same way you would windows. Make sure the wreath is in proportion to the mirror — the bigger the mirror, the bigger the wreath should be!

Floral arrangements in front of mirrors are twice as impressive. Using easy-to-find foliage such as cuttings off the tree and magnolia garlands that adorn the historic houses of the Lowcountry is a great way to add local flair!

Evergreen fronds are perfect vase fillers for clove pierced oranges or pomegranates on green floral sticks. Vary the height. Big, clear cylinder vases filled with shells or pecans are beautiful and accessible local elements to display.

Use dried fruit, pinecones, pheasant, guinea hen or turkey feathers in a premade garland and hang it above the mirror. (Remember that fresh fruit is heavy to use in arrangements.)

Mirrors placed in front of a fireplace opening or over the mantle can make the room feel larger.

Window film in red or green can temporarily tint the mirror.

Let it snow with a holiday stencil and apply artificial snow spray on the mirror. Use a razor blade to clean.
Whatever your choice of mirror style or placement, the options for creativity are endless. With well-placed mirrors and the extra sparkle, lights and reflections they provide, they are sure to make a statement and a stunning display at home for the holidays.