2023 Best of the Holy City Food and Drinks
04 Jul 2023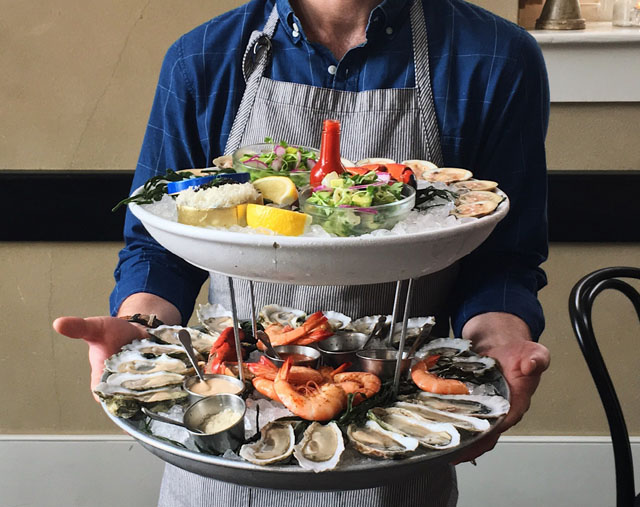 Food & Drinks
By Sophia Rodriguez
Appetizers
The Ordinary
This King Street establishment's menu reads like an international seafood paradise. The raw bar features local briny oysters, local peel-and-eat shrimp, minced cobia seasoned with spicy chile crisp and a luxurious caviar service. Vegetarian delights include the nutty, minty zucchini carpaccio and golden beets paired with tahini and fennel pollen. But the true stars of the menu are the seafood towers, layered with oysters, clams, Japanese-inspired snapper marinated in zesty citrus, and smoked tuna paté.
Authentic American
Lenoir
Lenoir features an elevated collection of dishes that proves classic Southern fare can be reimagined. Chef and venerated PBS star Vivian Howard has a flair for creating playful pairings, such as fried collards with savory-sweet furikake seasoning, catfish with charred lemon and sage pesto and roasted radishes with creamy hollandaise. The blueberry BBQ chicken wings are an enduring favorite, while the grouper plate is gussied up with pickled and confit tomato and BBQ shrimp.
Authentic Asian
Osaka Asian Bistro
When Lowcountry locals get a hankering for top-notch Asian fare in a comforting setting, this is where they go. Osaka's menu features both beloved staples and the unexpected, like peanut avocado rolls, tempura sweet potato rolls, and the mix of textures in the spicy tuna cracker. The Hanoi Noodle Soup and light curry soup both hit the spot, while the hibachi dishes satisfy both your stomach and your soul. Complete your meal with a delicate, rose-scented hot tea.
Authentic Italian
Amici's Italian Bistro
Amici's is a hidden gem tucked behind North Charleston's Northwoods Mall. This cozy, family-owned bistro serves up the kind of authentic comfort food that evokes your (or someone's) Italian grandma cooking Sunday supper. Favorites include veal piccata cooked in white wine, eggplant parmigiana and an array of antipasto. The sweet citrus limoncello martinis make an ideal aperitif. Dinner wouldn't be complete without an order of their velvety tiramisu or deep-fried Nutella ravioli drizzled with chocolate sauce and powdered sugar.
Authentic Mexican
Maya
Maya elevates Mexican fare with distinct, bold flavors. Whether you drop in for happy hour or linger for dinner at this King Street locale, you're sure to appreciate the relaxed vibes as well as the food. A fresh pineapple-ginger margarita pairs perfectly with yucca fries, spicy skillet queso and top-shelf ceviche. Maya also has superb meatless options, plancha-grilled filets of locally-caught fish and an agave list that will (mentally) transport you south of the border.
Bakery
Kudzu Bakery & Market
"Simply divine" is Kudzu's slogan, and for good reason. It's nearly impossible to step inside this Mount Pleasant bakery and not bring home a caramel pecan cake or a lemon chess pie. Chocolate lovers swoon over the rich chocolate raspberry brownies. And locals will happily make a detour during their morning commutes for a ginger lemon muffin. Kudzu's makes their own preserves and sauces and tasty frozen entrees to make weekday dinners a little easier.
Bar
Reds Ice House
Reds is a place to grab a drink and enjoy the view. Whether you have a hoppy local brew, a rich, frozen Irish coffee, or the crisp, fresh cucumber-lime margarita in your hand, you'll immediately feel at ease on the deck that overlooks Shem Creek in all its shrimping glory. Reds 20th Anniversary Rum Punch is made with locally distilled Red Harbor Rum and is sure to be a summertime favorite.
Barbeque
Melvin's Barbecue
Melvin's has consistently topped "best of" lists for their burgers, their mac & cheese, and, of course, for their barbeque. This meat lover's paradise dates back to the late 1930s. You can easily feed your family with the Pit Master Combo, which contains pulled pork, pulled chicken, smoked turkey, USDA prime brisket, wings, and ribs. Don't forget the sides, like the sweet potato souffle and fried okra and homemade lemonade. It doesn't get more Southern than that.
Breakfast spot
Sea Biscuit Café
This charming seaside café is beloved by island residents and tourists alike. The dishes are unpretentious and rooted in traditional Lowcountry favorites, such as shrimp and grits, crab cake Benedict, and biscuits sopped in sausage gravy. Sweet tooths can indulge in the buttermilk pancakes topped with fresh fruit or brown sugar cinnamon French toast. The menu also boasts 10 kinds of omelets, including vegetarian ones. Just make sure you bring cash; no cards accepted here.
Burgers
Sesame
Sesame is not your run-of-the-mill burger joint. Customers can choose between 100% grass-fed beef, antibiotic-free chicken, turkey, elk, or seasoned black bean patties. You can build your own burger with toppings like sesame aioli, homemade dill pickles, smoked ham, and a fried egg. Or you can enjoy a specialty burger like the Greek, topped with whipped feta and olive tapenade. If you're feeling particularly zany, the Memphis burger has peanut butter, bananas, and bacon, a clear nod to Elvis.
Caterer
Cru Catering
Cru's extensive catering menu's hors d'oeuvres list includes lobster and granny smith apple with avocado mousse, beer-battered jalapeño rock shrimp, mini tomato pies, and roasted grape-and-brie tartlets. Don't skip their award-winning four cheese macaroni with scallions and crispy apple-smoked bacon. The honey-bourbon BBQ glazed quail with spiced chili-whipped sweet potatoes and bourbon pepper jelly glaze is a standout, along with vegetarian delights like the ricotta gnocchi and chickpea tagine.
Club
Republic Garden & Lounge
If you're looking for the VIP experience, look no further than Republic, located smack dab in the middle of the peninsula. The outdoor patio is dotted with banana leaf plants and chic patio furniture that invite people passing by to grab an afternoon cocktail with friends. The indoor lounge is a plush, modernistic space where DJs spin tunes until the wee hours of the morning, and patrons can request bottle service. Republic is a place to see and be seen.
Cocktail
The Gin Joint
The Gin Joint's tagline is "proper nights call for proper cocktails." The drinks are blessed with incredibly imaginative names, like Thunder on the 307, Somewhere in Tulum, Kaleidoscope Kid, Lucia's Love, Nona's Mixup and Lady Danger. But the fresh, seasonal ingredients and unexpected additions like rice wine vinegar and walnut oil are what truly set these cocktails apart. And watching the bartenders carefully craft them in the bar's close, cozy quarters elevates the experience.
Coffeehouse
The Daily
This Upper King coffeeshop is proof that the neighborhood hangout is still alive and well in Charleston. Go to The Daily for a midday breather and enjoy a decadent Israeli Upside Down Latte with cardamom syrup and dried roses or an avocado loaded with golden beet chili crisp, pickled onions, crisp market greens and an over-easy egg. If you pop in on a weekend, you might even encounter some black-and-white cookies from Butcher & Bee's bakery.
Crabcakes
Hyman's Seafood
Hyman's is basically a Charleston institution. A lot of ink has been dedicated to reviewing everything from its oysters to the po' boys to the she crab soup to the Chilean sea bass croquettes. But the one dish you want to make sure you try at Hyman's are the lump crab cakes. Whether you get them fried or broiled, they're all killer, little filler, and seasoned to perfection. Enjoy two in a po' boy or three as an entrée.
Craft brewer
Revelry Brewing Co.
This upper peninsula spot with a rooftop provides a spectacular view of downtown Charleston—which just happens to pair perfectly with the light, Lazy Day summer ale. Or the Achtung berry fruited sour. Or any Revelry beer, to be honest. If you can't choose, split your loyalties among four beers with a flight. Their Trivia & Taco nights and music bingo events are the perfect excuse to pop in for a brew or two.
Desserts
Carmella's Café and Dessert Bar
This dessert bar offers patrons a taste of Italy with its rich cannoli cake, the smooth espresso gelato, and the zest of lemon sorbetto. If you're craving sweets from this side of the pond, try the key lime pie and double-stuffed candy cookies. Carmella's also offers more adult fare, like drunken shakes, specialty martinis, and fruity frosettos. Bonus: the café is close enough to the Pineapple Fountain and White Point Gardens to walk off the calories.
Family restaurant
Acme Lowcountry Kitchen
While the under-12 menu has classics like grilled cheese and chicken fingers, it also offers a bridge into more adult fare, such as short ribs, shrimp and grits, and collards. Seafood lovers will appreciate the shrimp- and crab-laden Acme Islander omelet. The braised corned beef in the Holy City Hash can hold you over all day. And if you're looking for something fresh and satisfying, try the avocado toast, which includes pastrami, smoked salmon, fried eggs, capers, and onions on rye.
Fine dining
Charleston Grill
Eating dinner at this award-winning restaurant in the Charleston Place hotel isn't a matter of just enjoying good food. It's an experience in refined elegance. Enjoy the bounty of the sea with an order of briny oysters with merlot mignonette and shallots or fish a la plancha in brown butter with capers and lemon. The Palmetto pigeon breast is complemented with Carolina Gold Rice, bacon, turnips and a cognac sauce. Or get a variety with the six-course tasting menu.
Happy hour
Estadio
This modern Spanish bistro has the most eclectic drink menu in Charleston. After all, what other place offers 10 types of vermouth on the rocks, a 50-year aged sherry, and the famously strange red wine mixed with Coca-Cola kalimotxo cocktail? Of course, you could always go with the standards, like garnacha and tempranillo. It wouldn't be an authentic Spanish happy hour without tapas, like their summer squash croquetas or the snack bowl with white anchovies and pickled peppers.
Healthy fare
Kairos Mediterranean
If you're looking to maintain a heart-healthy diet that doesn't skimp on flavor, head over to Kairos. The Love Triangle Pita blends spicy harissa and tangy tzatziki on a bed of lamb, feta, and olives. You can even build your own bowl and incorporate everything from power greens, grilled red peppers, chicken, tabbouli, lentils, falafel, basmati rice, red pepper feta, baba ghanoush — the possibilities are endless. Top it all off with a turmeric tea or a lavender lemonade.
Ice cream
Ye Old Fashioned
Ye Old Fashioned 's seven Lowcountry locations offer burgers and fries and triple-decker sandwiches. But most people make a beeline for the ice cream. Nothing beats a waffle cone on a sweltering summer day. With 32 flavors ranging from triple chocolate to lemon bar cheesecake to rainbow sherbert, there's something for everyone. Ye Old also has sundaes drizzled in fudge, butterscotch, airy whipped cream and wet walnuts. And their banana splits and milkshakes will ruin your diet in the best possible way.
Late night menu
Bumpa's
This Irish gastropub serves food late and the layers of the Scotch egg make for a great post-drink plate, as does the "Beer, Cheese, Meat" plate. But the best dish to absorb the night's activities is Jo's Disco Fries, which are decked out with short rib, caramelized onions, thick beef gravy, and mozzarella. And hey, if you want a nightcap, well, you can get one at Bumpa's, too.
Liquor
Pence's Liquor & Wine
pences-liquor-wine.business.site
Pence's has been a longtime favorite for downtown Charleston residents to stock their home bars with quality spirits. The 3,000 square-foot shop is well-organized with a large variety of both wine and liquor, including many local spirits. Pence's staff is well-known for their excellent customer service. They are extremely knowledgeable and can offer helpful recommendations so you can find what best suits your needs.
Lunch spot
Magnolias
Magnolias has been elevating the midday meal for decades. Nibble on a Down South Egg Roll or the Pan-Fried Chicken Livers. For a lighter lunch, the prosciutto and apple grilled cheese with sweet potato fries will hit the spot. The Original Simmons is a fried chicken sandwich with pimiento cheese and jalapeño-peach coleslaw. Magnolia's Lowcountry Bouillabaisse has the perfect mix of shellfish and veggies, while the filet of beef is complemented with melted pimiento cheese and an herbed potato cake.
New restaurant
Laura
Located in the heart of Summerville, this restaurant is self-described as "a love letter to Romo's storied Italian family recipes." The Laura Salad is a smorgasbord of prosciutto, soppressata, radishes, pickled peppers and more. There are six kinds of customizable Neapolitan pizzas. Or you can go for a more decadent meal, such as the lobster gnocchi or the swordfish, paired with squid ink tagliatelle. The Italian Benedict and ricotta omelet are two of the stars of the Sunday brunch menu.
Organic food
Sorghum & Salt
Sorghum's "farm and sea to table" menu is an ever-evolving organism that is hyper-focused on utilizing local ingredients and bringing together unexpected elements. The potato gnocchi is plated with the sweet, peppery nasturtium plant, while the spade-and-clover potatoes incorporates rich coffee crema and the salty, mineral edge of botarga. Most of their dishes are vegan or can be made so when requested. And Sorghum's chef tasting menu with wine pairing makes for an excellent meal.
Outdoor dining
The Watch Rooftop Kitchen & Spirits
Located atop The Restoration hotel, this restaurant gives customers Instagram-worthy views of the city and major foodie pic potential. Enjoy a crisp tomato and watermelon salad or delectable crispy honey buffalo shrimp at lunchtime, or share a plate of grilled chicken and pimento cheese nachos during happy hour. The Watch is a popular Sunday brunch spot. The caramelized bread pudding French toast with berry compote and pecans will satisfy any sweet tooth.
Pizza
Wood & Grain
Just because you're craving pizza doesn't mean it can't be fancy. Wood & Grain in Mount Pleasant has upped the ante with their carefully crafted wood-fired pizzas. Chef Patrick Owens uses many seasonal items from area farms and sellers to ensure the highest quality. There's a margherita and prosciutto-tomato pizza as well as an adventurous blend of smoked duck ham, tangy goat cheese and arugula. Or enjoy the intermingling of melted leeks, fig, mozzarella, and truffle honey on the Bacon-Gorgonzola.
Pub/Tavern
Moe's Crosstown Tavern
Moe's Crosstown is exactly what you want from your neighborhood watering hole: very little sunlight, a row of TVs with various sports playing on them, and cold beer to sip on. The friendly staff and stellar food make this one of the best reviewed spots in downtown Charleston. Wash down their quality burgers with a Lagunitas IPA. Or try an order of pierogies while you sip on a Westbrook White Thai.
Raw bar
Rappahannock Oyster Bar
Located in the nineteenth-century Cigar Factory, this restaurant's raw bar offers two kinds of oysters. The Rappahannock River oysters have a low level of salinity, which produces sweet, almost buttery oysters. Their Olde Salt oysters, on the other hand, hail from a coastal island community with a distinct brininess. The ceviche has a delightful citrus-ginger taste with a jalapeño kick. Or tackle the Everest of seafood, a tower that includes oysters plus clams, mussels and an ounce of paddlefish caviar.
Romantic atmosphere
Peninsula Grill
This award-winning restaurant isn't just known for the spectacular food. It also has an impeccable reputation for ambiance and service. The courtyard's carriage lanterns are lit every evening to create a romantic glow for al fresco customers. Peninsula's decadent Champagne Bar has oysters on the half shell, three types of caviar and seared foie gras. The wine and champagne menu has been expertly curated to pair with its resplendent fine dining Southern dishes.
Salads
Caviar & Bananas
The Levant salad is a Greek vegetarian dream with two kinds of greens, falafel croutons, kalamata olives, feta and a zesty lemon-dill dressing. The Lowcountry Shrimp Caesar is topped with "crab-spiced" shrimp, cornbread croutons, roasted corn, pickled okra, and a creamy tomato Caesar dressing. Customers can also create their own salads. The possibilities are endless between toppings like golden beets, shaved fennel, crunchy jicama and cold smoked salmon.
Seafood
Amen Street Fish & Raw Bar
In a town like Charleston, it can be hard to differentiate one seafood restaurant from another. But Amen Street stands apart by blending classic seafood with modern twists. The crispy calamari steak slices are topped with fresh tomato, scallions, cherrywood bacon, and lemon aioli. The baked oysters are stuffed with spinach, parmesan, and tasso Rockefeller sauce. And don't miss out on the shrimp corndogs: four shrimp dipped in corn meal paired with spicy mustard and lemon pepper ketchup.
Seafood market
Mt. Pleasant Seafood on Shem Creek
While it's fun to restaurant hop, there's no feeling quite like preparing a dinner in your own kitchen with the freshest seafood available. This market has just about every kind you can think of, including shrimp of various sizes, snow crab legs, clams, lobster tails, mussels, cleaned squid, so many fish, three types of roe — you get the picture. They also sell prepared items and ingredients for sides, like crab cakes, bacon-wrapped scallops, and okra soup.
Service
Slightly North of Broad
S.N.O.B.'s menu draws from the fields and waters of the Lowcountry. This is a great time of year to enjoy their fresh gazpacho or the triggerfish crudo with naval orange, peppers and basil oil. The lunch menu contains some nice midday treats, like flavorful steak frites with caramelized onion jus and pan-roasted local swordfish paired with corn, orzo, grilled asparagus, and pesto. Locals and tourists alike value S.N.O.B.'s presentation, service, ambiance, and timing. The servers can offer educated recommendations to the clientele, including for those with food restrictions.
Steakhouse
Halls Chophouse
When you have a hankering for a good steak, look no further than Halls. Their exceptional cuts of beef are cooked to your exact preference. The 14-ounce bone-in filet mignon is tender and hard to find elsewhere. Both Wagyu choices contain intricate, buttery marbling. Like any steakhouse worth its salt, Halls offers classic sauces like béarnaise and red wine bordelaise, as well pairings like lobster tail, foie gras, and Oscar-style. Top off this decadence with a Manhattan or a hot pepper martini.
Sunday brunch
Miller's All Day
The light, airy setting and welcoming vibe makes Miller's the go-to for weekend brunch. Grab your peeps and share a plate of deviled crab fritters with pimento cheese and remoulade. Or revel in the mix of savory, sweet, and spicy with a hot honey chicken donut. And if you're looking for a mix of healthy with a dose of traditional Southern, try the Braised Okra & Tomatoes stew bowl, complemented with benne seeds and micro greens over unicorn grits.
Sushi
Locals Sushi & Sports Pub
Most sports bars don't have sushi on the menu. Suffice it to say Locals is a rare breed. The nigiri, sashimi, and maki rolls are excellent, but it's the signature rolls that really shine. The Holy City Roll is a multi-textured mix of spicy krab, cream cheese, and tempura shrimp wrapped in soy paper and topped with three kinds of fish, three condiments, and tempura flakes. Enjoy the culinary creativity with a cocktail and whatever game is on.
Vegetarian
Basic Kitchen
Basic Kitchen promotes cleaner food choices with dishes that only use sustainably raised meats, wild-caught seafood, legumes, whole grains and a veritable spectrum of vinegars and spices. Their covered courtyard houses many of the herbs they utilize. The veggie soba noodle salad will bolster your energy with its buckwheat noodles, crisp veggies, peanuts and ginger dressing. Or enjoy the tofu, market veggies, and Carolina gold rice in the yellow coconut curry bowl.
Waterview dining
Tavern & Table
Tavern & Table has developed a reputation over the last decade for great food and craft cocktails. Share a smorgasbord of small plates like crab-and-artichoke dip, fire-roasted oysters with bacon, garlic, and parmesan, and Nashville hot wings. The savory cashew-miso mushroom flatbread and grilled swordfish with olive relish are also local favorites. Regardless of what you order, it will be enhanced with the view from the deck overlooking Shem Creek. Call it "sunset therapy."
Wine list
The Establishment
@establishmentchs
The Establishment brings together a group of seasoned Charleston restaurant veterans to do what they do best: deliver an incredible food and wine experience. The Establishment is a sophisticated restaurant and wine bar with a curated wine list offering unique and interesting varietals. By the glass or bottle, enjoy Old and New World wines, international rose and bubbles to go along with its refined Southern fare with fresh, sustainably-sourced seafood.
Wine store
Bottles
With multiple locations in the Lowcountry, you'll be hard-pressed to come up with an alcohol that this beverage superstore doesn't carry. The wine selection is no exception. Bottles carries a huge array of reds, whites, rosés, champagnes at various price points and from vineyards the world over. Anything you need to stock your home bar, throw a boozy brunch, or host a dinner party with expertly paired vintages can be found at Bottles.