A Christmas Tradition
10 Nov 2016
Made from our native wax myrtle shrubs, bayberry candles became the most popular for their aroma, and were considered a luxury item
By SUZANNAH SMITH MILES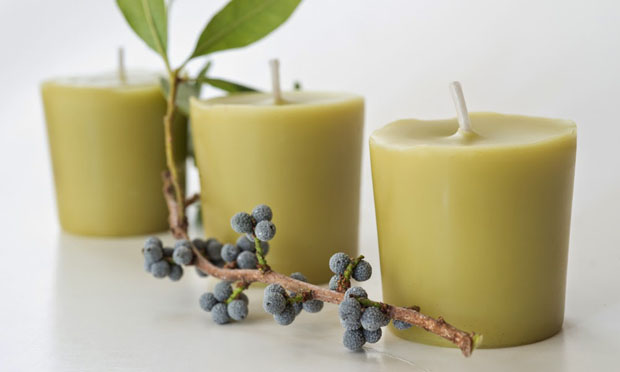 One of the Lowcountry's most prolific shrubs is the wax myrtle (Myrica cerifera.) It is found everywhere—in the dunes, in woods and alongside marshes—and since it is unusually hardy and heat and salt tolerant, it has become a popular ornamental for the landscaping around shopping centers and parking lots.
It is also a plant of many names—sweet myrtle, sweet bay, bayberry, waxberry, tallow bush, mucklebush, mickleberry and, last but not least, candleberry tree. The name "wax" myrtle is apt, for it is from the wax produced by the tree's berries that the aromatic bayberry candles are made.
In the dark days before electricity, except for the light of the sun or the glow of the fire, candles were the primary source of lighting, one of the necessities of everyday living. Yet not all burned the same, nor did they smell the same. Tallow candles made from rendered animal fat were the least expensive, but they often reeked of disagreeable odors. They burned faster, smoked, dripped, and required constant tending. Preferred candles were those made from beeswax and with what they called "myrtle wax" in early days. These bayberry candles burned clear and clean, and produced a lovely aroma.
Candles were necessary but they were expensive. Just as we pay for the electricity that lights our homes today, in earlier times the cost of keeping the home lights burning could be dear. An average home could use as many as 400 candles a year. A grand Charleston mansion might go through twice that number or more, depending on the lavishness and frequency of their entertainments.
Of course those who lived in luxury could easily afford as many luxury candles as they wanted. Yet with almost unlimited stands of wax myrtle at hand, even those on a limited budget could have fine candles just by harvesting the berries from the myrtle tree and making the candles themselves.
The actual process was relatively easy, but time consuming. In 1731, when English naturalist and artist Mark Catesby was visiting the Carolinas, he wrote about the annual fall ritual of harvesting bayberries and how the colonists made wax from what he called the "Narrow-leaved Candleberry Myrtle."
Wrote Catesby, "In November and December, at which time the berries are mature, a man with his family will remove from his home to some island or sandbanks near the sea, where these trees most abound, taking with him kettles to boil the berries in…. The man cuts down the trees, while the children strip off the berries into a porridge pot; and having put water to them, they boil them until the oil floats, which is skimmed off into another vessel. This is repeated until there remains no more oil. This, when cold, hardens to the consistency of wax, and is of a dirty green color. They then boil it again, and clarify it in kettles which gives it a transparent greenness." Catesby added that these candles burned a long time and yielded a "grateful smell."
Thirty years before Catesby's visit, when John Lawson explored the Carolinas in 1700, he also praised the wax myrtle, writing, "the Berry yields a wax that makes candles the most lasting and of the sweetest smell imaginable… these are fit for a Lady's Chamber."
Writers of early American lighting note that because of the abundance of wax myrtles growing along the entire Atlantic seaboard, bayberry candles were probably the most commonly used candle in colonial times.
Ah, but colonial Charleston, with its wealth and elegant ways, was a wee bit different than the colonial farmsteads of Maine or Massachusetts. One doubts that any of the families residing in the gracious, spacious homes of the old city ever went on family jaunts to the seacoast to strip wax myrtles of their berries. Their servants may have. They also had numerous sources from which to buy a box of ready-made luxury candles.
Early Charleston newspapers are filled with advertisements for candles sold by shopkeepers reflecting a litany of "assorted goods recently imported on vessels from London," offering everything from fine silk, Madeira wine, Spanish Segars to, of course, "myrtle berry" candles. There were also a number of tallow chandlers who worked right in town.
Buying local had its benefits, according to Richard Woodcock, whose chandlery was on Meeting Street between Broad and Tradd. Woodcock advertised that he had some of the "finest mould candles made in this state," adding that his candles were "far preferable than those made in the northern states or England, as when they come into warm climates they soon turn soft and rancid; he will warrant his candles to keep firm and smell sweet throughout the summer."
Tallow chandlery was apparently a good business and one that did not require much overhead. When Woodcock died in 1791, a sale of his estate listed "quantities of tallow and tallow candles, pewter moulds in stands, a crackling press, large iron kettle, brass working utensils and wearing apparel." However one wonders if his location on lower Meeting Street was entirely suitable. In 1808, when John Glen advertised the sale of a parcel of land in Hampstead, he noted that its location was perfect for a tannery or candle manufactory. In other words, the site was removed enough for working with the animal parts used in tanning or for making tallow candles.
Candles required candle holders, and the candlesticks, chamber sticks, sconces and candelabras favored by wealthy Charlestonians provided a lucrative business for the many iron mongers, blacksmiths and silversmiths who plied their trade in town. In 1760, John Robertson, "Brass-Founder on King Street," advertised that he made "in the neatest manner, all sorts of brass candlesticks" for home and church use. Likewise, in 1783 Joseph Dulles at 8 Elliott Street advertised "ironmongery and cutlery" items that included everything from frying pans and mousetraps to brass candlesticks.
While the candle holders used in kitchens and lesser areas of the house may have been of wrought iron, tin and pewter, those found in the living areas of a Charleston society dwelling followed the English tradition of gleaming brass and polished silver.
The "plate" on the wealthy Charlestonian's sideboard far surpassed daily utilitarian use. This was silver that represented wealth, social standing and the ability to hire someone with superb artistic talent to create a one-of-a-kind piece for the owner.
Approximately one hundred silversmiths worked in Charleston during the 18th century, artisans who came from England, France, Baltimore, New York, Philadelphia and Boston—all eager to participate in the city's booming trade. These included John Paul Grimke, who had the "Sign of the Hand and Ring" on Elliott Street. Alexander Petrie worked from his shop "on the Bay." Thomas You worked under the "Sign of the Golden-Cup." Jonathan Sarrazin's "Sign of the Kettle and Lamp" was at the corner of Broad and Church streets. Daniel Carrell had the "Sign of the Silver Coffee Pot" at 129 Broad.
As master craftsmen in a very specialized trade, the silversmith was proud to put his name onto a piece. His signature was a hallmark, usually found on the bottom or side of the piece. A pair of candlesticks made by Thomas You, Grimke, Carrell or any of the colonial silversmiths was expensive even in their day. But now? Because of the rarity and fine artistry of their work, the price on today's market could easily be in the five figures.
Whether the candleholder was a simple chamber stick or an elaborate candelabra, whether it was made from brass, iron or the finest silver, one was sure to find a bayberry candle in place—if not on a regular basis, for certain during the holidays. In a custom brought from England that hearkens back to the ancient Celts, the lighting of a bayberry candle at Christmas and New Year's was thought to bring luck for the coming year. The slow-burning candle was to stay alight until after midnight and burn out all on its own.
An old saying about this tradition is as good now as it was in the days when the only light in the room came from the bayberry candle glowing in the window. "On Christmas night, a bayberry candle, burned to the socket, brings luck to the house, food to the larder, and gold to the pocket."