Yadkin Valley
10 Nov 2016
In the rolling foothills of North Carolina's Blue Ridge mountains, Yadkin Valley has become the East Coast's emerging wine country with more than 40 wineries
By WENDY SWAT SNYDER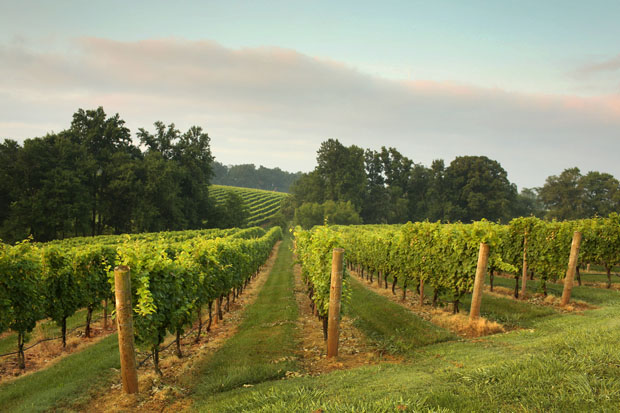 The lure of sunny slopes lush with fruit-bearing vines is bound to spark wanderlust in the heart of any Lowcountry wine enthusiast. Everyone knows the Carolina coast supports a long growing season and abundant crops, but Napa it is not. You may be surprised to discover, however, that a trek to Tuscany or Bordeaux is not the only way to experience the heady delights of prime wine country. Less than five hours from Charleston, in the foothills of the Blue Ridge Mountains, is Yadkin Valley—the home of over three dozen vitis vinifera wineries and barreled bliss.
Located in western North Carolina near Winston-Salem, Yadkin Valley's 1.4 million acres of wine-producing land is similar in climate and growing season to some of the best wine-growing regions in Europe. Spanning an area once dominated by tobacco farms, the region was federally designated in 2003 as a new appellation—Yadkin Valley American Viticultural Area (AVA)—recognition of the region's terroir that appears on winemakers' labels. Varietals typical of the region include Cabernet Franc, Cabernet Sauvignon, Chardonnay, Merlot, Pinot noir, Petit Verdot, Sauvignon blanc, Syrah, and Viognier. We sampled some of the region's award-winning wines at a handful of select establishments.
JONES VON DREHLE VINEYARDS AND WINERY
Family owned and operated by the Jones and von Drehle families, Jones von Drehle planted its first crop in 2009 and began harvesting in 2011, producing estate wines ready for tasting in a stunning setting overlooking rolling hills, a lake, and of course, vineyards. Since then, the winery has won 23 medals in the Indy International Wine Competition, and its Viognier was ranked "Best of Class" in 2015 and 2016. The winery's approach includes handpicking of grapes and a light hand with the oak. "We want you to taste the fruit," says Chuck Jones. www.jonesvondrehle.com.
BRUSHY MOUNTAIN WINERY
Located in historic Elkin, Brushy Mountain Winery delivers a hip downtown experience in a wine bar-like setting with live music on weekends. Owner Jason Wiseman produces wines on-site with grapes sourced from local vineyards, and pays homage to the property's predecessor, the Elkin Canning Company—established in 1899—by offering specialty wines pressed from the fruit of local farms. www.brushymountainwine.com.
JOLO WINERY AND VINEYARDS
JW and Kristen Ray have parlayed a love for wine and hospitality into a sprawling estate overlooking Pilot Mountain. Steep slopes—many of which require hand farming—form a picturesque backdrop for outdoor events and dining in the rustic elegance of their End Posts restaurant. The property also boasts a lavishly outfitted cottage perfect for a romantic tryst. The winery's 2015 Pilot Fog—a red produced from the Cynthiana (Norton) grape—was a gold medal winner in the 2016 Winemakers Challenge International Wine Competition. www.jolovineyards.com.
SHELTON VINEYARDS
Founders Charlie and Ed Shelton spearheaded the effort to bring AVA recognition to Yadkin Valley in 2003. Shelton Vineyards is one of the largest on the East Coast—the ambitious operation includes an educational tour of the wine-making facilities, dining at the Harvest Grill, and events such as an ongoing concert series. To enhance wine quality, the winery employs a gravity flow system that eliminates the need to pump product, thus reducing the chance of contaminants entering the process. www.sheltonvineyards.com.
HERRERA VINEYARDS
Founder Javier Herrera inherited his passion for the grape from his mother, growing up in San Pedro, Coahuila, Mexico. What began as a small backyard planting has evolved into a 140-plus acre estate overlooking vineyards and waterways, anchored by a tasting room and restaurant filled with Old World charm. Herrera Vineyards introduced the first bottled red Sangria from the Yadkin Valley in 2012, and has since added a white variety to the specialty line. www.herreravineyards.com.
SPECIAL EVENTS
Winter Wine Passport
Yadkin Valley celebrates the region's harvest with a Winter Wine Passport event now in its seventh year. From November 25 through March 19, wine lovers may tour cozy tasting rooms sampling vintages of 10 of the region's wineries. The passport can also be used for discounts at 18 area businesses. For more information on the Winter Wine Passport program call (336) 366-3301 or visit www.surrywineries.com.
Yadkin Valley Wine Festival, Elkin NC
Now in its 16th year, the family friendly Yadkin Valley Wine Festival pairs wine tastings with local food, crafts, and live music at the Elkin Municipal Park on Saturday, May 20, 11am – 5pm. For more information call (336) 526-1111 or visit www.yvwf.com.
THINGS TO DO
Mount Airy Squad Car Tours
Discover Andy Griffith's hometown of Mount Airy and the inspiration behind the town of Mayberry and the characters of "The Andy Griffith Show." www.visitmayberry.com.
Rocky Forest River Run
Enjoy the North Carolina countryside from the water. This Elkin-based outfitter has everything necessary for a relaxing paddle on the Yadkin River. Rocky Forest River Run will design a trip tailored to your needs and supply kayaks, canoes, life vests, and shuttle service. rockyforestriverrun.com.
Surry Sonker Trail
Explore the culinary heritage of Surry County by sampling local sonker—a fruity dessert with a devoted following of both locals and visitors. The annual Sonker Festival has been held the first Saturday in October since 1980. The trail includes Miss Angel's Heavenly Pies, The Living Room Coffeehouse, Roxxi & Lulu's Bakery, and Southern On Main. www.sonkertrail.org.
PLANNING YOUR VISIT
The Yadkin Valley Visitor's Guide provides an overview of the Surry County towns of Mount Airy, Dobson, Elkin, and Pilot Mountain. Wine destinations are noted on an area map and in the listings of area attractions. www.yadkinvalleync.com.
The Hampton Inn and Suites at Shelton Vineyards is located directly off Interstate 77 in Dobson, NC. Nestled at the foothills of the Blue Ridge Mountains, it is two miles from Shelton Vineyards and 15 miles from Civil War Trails and Cross Creek Golf Course. It is the only hotel in the chain that features a wine bar, open Monday - Sunday 5 p.m. to 10 p.m. Other features include free hot breakfast, free high-speed internet, free coffee and tea in the lobby, heated pool, and fitness room. (336) 353-9400, www.sheltonvineyards.com/hampton-inn-at-shelton-vineyards.
As they say in France – a votre sante! Cheers!