A New Twist on Styling Your Southern Porch
06 Mar 2017
By TERI ERRICO GRIFFIS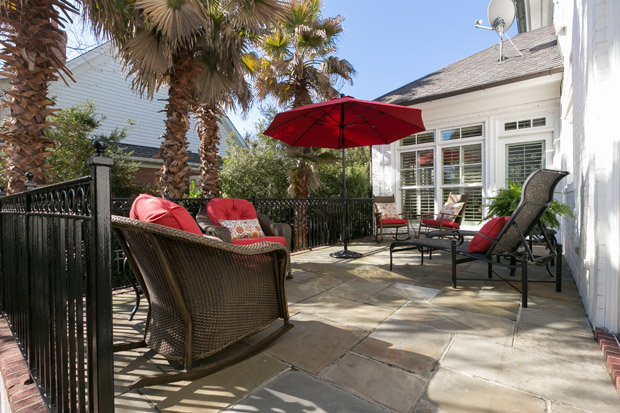 Sea Island Builders
843-883-7430
seaislandbuilders.com
Jason Fowler's role with Sea Island Builders is to ensure clients are completely satisfied and that projects are successfully delivered, from inception to move in day. He certainly delivered on the Gordon Residence in Awendaw, one of his favorite outdoor projects ever. From the travertine decks to the ultimate outdoor grill, this patio was a successful collaboration between his company, the client and the architect.
"The coolest thing about this project is we used materials for the deck that we've never used before and put down a travertine stone," Fowler says. Since the homeowners had a dog, the material offered numerous benefits. "It's really cool to the touch, much more so than any kind of wood. It's also very resistant to scratching and durable. Plus it just looks great!"
Homes today, Fowler notes, are veering away from wood decking and more towards composites and stone instead. While some may still choose composites, those materials are softer and easily scratched. In the summer, they tend to get much warmer, too, as they absorb more radiant heat. Another downfall, Fowler notes, is that those materials wear out over time while travertine will maintain its look forever.
In addition to the decking, Sea Island Builders ensured all the materials utilized for the Gordon's backyard would withstand the outdoor weather. "The materials that you use need to be selected carefully. You want to use things that aren't going to warp, rot or decay," Fowler says.
It seems Fowler thought of everything! They even built a full outdoor kitchen and grilling area, taking into account Charleston's southwesterly winds. "We located the grills so that the prevailing wind would take the smoke away from the recreation areas―the porch, the deck, the pool, the spaces people will be using," he notes. "I love this particular set up because this owner is a grilling fanatic. He has a Green Egg and a gas infrared grill, both of them built into the counter tops. It has a sink so you can do all your prep outdoors. And there's even a burner built in if you want to make your sauce outside. It's the ultimate grilling deck."
The outdoor space also includes a fireplace, TV, radius porch and an elevated infinity pool. The pool won a PRISM award for Best Pool Area of 2016 by the Charleston Home Builder's Association. It is designed with a radius wall and bench running the entire length on the porch side, so it faces out, looking over the water.
"There's a trend today to create nice, livable outdoor spaces and take advantage of beautiful views and climate we live in," Fowler says.
Backyard Retreats
843-856-0049
backyardretreatsinc.com

The Lowcountry is known for its Southern porch living and residents move here for the year-round enjoyment of it. That's why Sharon Campbell, owner of Backyard Retreats, loves working with clients to transform their backyards into a patio that perfectly fits their needs and lifestyle.
In one of her favorite projects, Campbell worked with a client who was new to town. They didn't have anything on their patio, so she relished the clean palette while also having the opportunity to work in some items the client brought down in the move, such as the pillows. Campbell had her own custom fabricator refurbish the cushions to freshen them up and make them durable for outdoor Southern exposure.
"I try to make sure that I use the quality fabric and outdoor materials," Campbell says. "There's a reason they make outdoor threads and zippers. Our Lowcountry sun is extremely hot, and we have the salt air. When you choose to buy a better, durable product, it's going to last longer and withstand the weather longer." Campbell also highly recommends covering your outdoor furniture. While outdoor fabrics will dry just fine, the covers keep them safer and cleaner, especially as the pollen season arrives.
For the colors of this project, Campbell used soft shades to incorporate the pool area and make it feel like the outside was an extension of the client's porch and living space. When she comes up with a design, Campbell says, "I look at what they're going to be doing in that area, because I want it to be their design as well as my design. I want it to be something they're going to use."
This client in particular wasn't looking for a casual pool feeling, but rather a classier, more dressed up area reflecting her porch and home. "If you look at this patio, there are chaise lounges, and she wanted those for her family to be able to lay out and enjoy the sun—but she still wanted it to be the design that worked well with the style of home she had," Campbell explains.
Anyone can find the perfect balance of comfort and quality—within their budget. Campbell's biggest suggestion is never to skimp on the quality, though. With a mild winter like the one Charleston is experiencing, it's a luxury to have a backyard you can enjoy almost all year. So decorate yours with materials that last.
Palmetto Outdoor Kitchens
843-216-0006
palmettooutdoorkitchens.com
Ken Good saw a need in Charleston, and he and his partner Scott Hunter decided to take on the task of filling it. Co-owners of Palmetto Outdoor Kitchens in Mt. Pleasant, they offer full service outdoor living design and installation—and primarily focus on designing outdoor kitchens.
"People are moving the indoors to outdoors," Good says. "They're spending more time at home and spending more time outdoors today." That's why he and Hunter love creating these master outdoor kitchens for their clients.
Both have a background in construction and real estate development, and four years ago they opened Palmetto Outdoor Kitchens when they saw a niche in the Charleston market. No one was selling for outdoor kitchens, so they jumped in. As licensed builders, they can pull permits to construct a client's space as well as sell them everything from tiles to Green Eggs. They're a "one-stop shop" Good says with a laugh, noting clients just need to write one check and let them do all the work.
"We're full service outdoor kitchen providers," he says. "We give a free design consultation. We'll come out, look at the space, give some ideas and we'll design it for them." Best of all, they build from the ground up, literally from the pavers to the pavilion you want surrounding your outdoor kitchen. And you can even peruse their showroom to see the countless options.
The outdoor kitchens they create have it all: grills, power burners, side burners, ice chests and refrigerators. Power burners and side burners are some of the most exciting features clients request. And Good and Hunter design with everything from pavers to stucco to granite and more, all materials that are durable in the outdoors.
Creating an outdoor kitchen is perfect for the homeowner who loves to dine al fresco and entertain outdoors. There's no more running inside every few minutes to check on the meal―it's cooking just a few feet away. Even better, with a full-working kitchen, there's cabinets for your utensils, sinks to wash off the food or your dishes—and less stress over splatters.
The one caveat to be careful of is properly cleaning your grill and outdoor kitchen, but luckily the professionals at Palmetto Outdoor Kitchens provide monthly and quarterly deep cleaning services. Just like your car, while your outdoor kitchen and grill are meant to be outdoors and can stand up to the weather and dirt, they need to be serviced and cleaned. Take care of them and they will take care of entertaining your guests for years to come.