Craving Tacos
06 Mar 2017
Next time you dine, shell out for one of these spicy, mouth-watering Mexican dishes
BY HELEN MITTERNIGHT
Photo below by FERRIS KAPLAN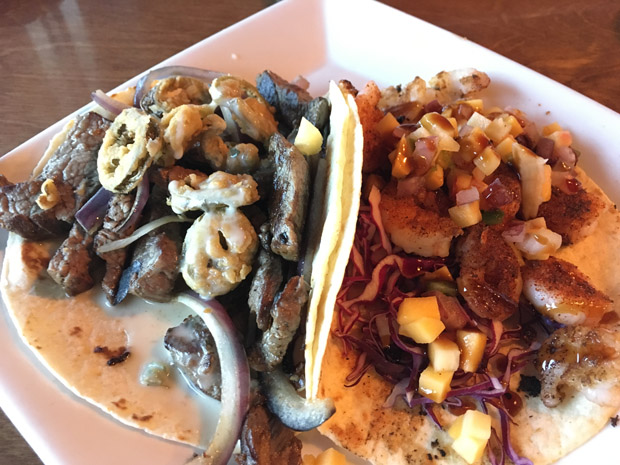 A taco historian (yes, there is such a thing) told the Smithsonian Museum that tacos were likely invented in the 18th Century by Mexican silver miners, and then reinvented by Mexican Americans in the Southwest.
Whatever their history, we know tacos as the go-to food when we want something crunchy, spicy and juicy all at once.
Here are some top locations to go when you're craving tacos.
3 Matadors Tequileria
This restaurant bills itself as family-friendly, but if you want to work your way through the 60 different tequilas, you might want to leave the kiddies at home. Either way, you can get your tacos on flour, soft corn, or hard corn shell, and the tacos range from fajitas tacos to fried shrimp to vegetarian. Try the Matador, which comes with chorizo, carne asada, pork, queso and pico de gallo. 843-414-7894, lucky17restaurants.com
Bon Banh Mi
You might not expect to get tacos at a Vietnamese sandwich bar, but you'd be overlooking one of the main menu items that packs this Spring Street restaurant every day. The warm corn shells are filled with the crunch and heat of cucumber, pickled carrots, pickled daikon radish, cilantro, basil, shallots and sriracha-lime cream. You decide which Asian-inspired filling comes next. Red curry beef? Lemongrass ginger chicken? Five-spice pork or tofu? Whatever you decide, the service is prompt and there is likely someone waiting for your table at this popular place. 843-414-7320, bonbanhmi.com
Cannon Green
Executive chef Amalia Scatena is making a name for herself at this architectural gem on Spring Street. You wouldn't expect to find tacos here, but stop by for happy hour on Tuesdays and get some gourmet tacos that change with the season. Pair them with one of the artisanal cocktails on order during happy hour and continue the theme with an order of Chilaquiles, masa tortillas with salsa roja, chorizo, crema, queso and lettuce. 843-817-7311, cannongreencharleston.com
Carmen y Juan
Sometimes you want your tacos fast, and Carmen y Juan in Mt. Pleasant provides fast and good soft or crispy tacos with your choice of meat. If you have a little more time, stay for the Wet Tacos, three chicken taquitos topped with beans, green salsa, cheese, onions, tomatoes and cream. Margaritas are generous and inexpensive, with the most expensive being $10 for 27 ounces of mango or hibiscus margarita. 843-856-0805
Chico Feo
This Folly Beach purveyor takes the laid-back beach attitude toward its menu, but in a good way. Tacos include the mahi taco with a house-made Trini sauce, smoked pork with pico and garlic-cilantro aoli, and a Filipino chicken, cooked with coconut vinegar and spices. Or, as Chico Feo says, order the Taco Special because, "if deciding is a real pain in the behind, get all three!" 843-906-2710, chicofeos.com
Ellis Creek Fish Camp
You can sit inside or you can sit outside, but you won't get fresher seafood on your tacos than at Ellis Creek Fish Camp, located on James Island off Harbor View Road. Order the shrimp or fish blackened, grilled or fried and on corn or flour tortillas. The shrimp comes with yum yum sauce and cilantro lime slaw, and the fish with pickled cabbage, pico and remoulade. 843-297-8878, elliscreekfishcamp.com
Fuel
An old gas station converted to a restaurant that Food Network's Guy Fieri named as one of his favorites, Fuel offers a big outdoor patio that's the place to be. The patio also makes this one of Charleston's most dog-friendly restaurants, and it offers lots of welcome shade on sunny days. Fuel has a Caribbean influence and that may not make you think of tacos, but you'd be wrong. Try the braised pork tacos or the fish tacos and be sure to order some fried plantains to go along with them. 843-747-5959
Juanita Greenberg's Nacho Royale
Whether you go to the spot on upper King Street or in Mt. Pleasant, Juanita Greenberg's is serving "Mexican-ish" with lots of energy and televisions to keep you cheering for your team when you stop cheering over the food. The chips are plentiful and good, and the tacos traditional. The spot on Upper King is open late, so it's the perfect place to go when the munchies hit after wandering downtown. Or, just park yourself there and forget the wandering, since there is live music and, on Mondays, $3 Margaritas. juanitagreenbergs.com
Locals
Tucked away in a retail oasis off Ann Knapp Drive in Mt. Pleasant, Locals is known for its sushi, but try the tacos, especially on "Triple T Tuesday" when you get tacos, trivia and tequila. The Caribbean Jerk Pork Taco is filled to the brim with slow-roasted pork, fried plantains and a jerk marinade over slaw and topped with pickled onions. Of note is the Hangover Taco, served with sweet potato chorizo hash topped with queso and a sunny-side egg on top. It might be a good idea to take that taco to go after the tequila Tuesday. 843-388-5114, localssushi.com
Poe's Tavern
People will tell you to head to Poe's for the burgers, but less well known and just as good are the tacos. As you might expect from a tavern steps from the beach, the tacos are seafood. Choose from mahi-mahi in a citrus marinade, yellowfin tuna with a pineapple relish and chipotle sour cream, and a buffalo shrimp with a bacon-bleu cheese coleslaw. 843-883-0083, poestavern.com
Rutledge Cab Co.
Rutledge Cab Co. is so retro, you'd expect to see the Rat Pack sitting at the bar. You certainly wouldn't expect tacos, but tucked within a menu of burgers and breakfast any time are two tacos, the baja fish with blackened Mahi, avocado cream, cabbage, pico de gallo and a touch of sweetness from peach chutney, and the steak taco with queso fresco and chile crema. If you long to participate in the retro vibe, order a spiked milkshake to accompany your taco. With the Rutledge Russian (Stoli vanilla vodka and Godiva chocolate liqueur) and a taco, you can be multi-national. 843-720-1440, rutledgecabco.com
Taco Boy
You can get a Taco Boy taco either downtown or on Folly Beach, and both will be set in beautifully colorful Mexican décor. The downtown Taco Boy has a pet-friendly and kid-friendly patio, and the crowd ranges from the reality show wealthy to frugal families. Taco Boy lets you have it your way with either corn or flour tortillas, and the choice in tacos ranges from the tempura-fried mahi mahi in the Baja Fish Tacos to the spicy chorizo and potato. Vegetarians have plenty to choose from too, with Tempura Avocado, roasted cauliflower, or portabella mushroom. For those watching their waistlines, be sure to order the skinny versions of the margaritas—they sure don't taste like diet drinks, especially the second or third! tacoboy.net
The Americano
Choose from fish or fowl, or just go carnivorous when you order your tacos at The Americano. The fish is seasonal and crusted with plantains with an avocado crema, blood orange, red cabbage and jalapeno. And the jerk chicken has a pineapple relish and crispy chicken chicharrones, i.e., chicken cracklings. A unique taco is the Buffalo Oyster. The Americano houses the oysters in a homemade Guajillo buffalo sauce, celery leaves and a Spanish blue cheese dressing. 843-352-2641, theamericanomp.com
The Taco Spot
The Taco Spot bills itself as "East Coast Tex-Mex with a Lowcountry Twist" and you get to choose whether you want your tacos with a flour tortilla, a corn tortilla, or a house-made crunchy corn shell. In addition to the requisite ground beef, steak, chicken or fish taco, there are nods to the South with pulled pork and blackened chicken and even a mouth-searing Memphis fried chicken. You can bypass the "regular" tacos and go straight to the Mexican street tacos, small soft corn tortillas filled with slow-roasted brisket, pork carnitas or chipotle chicken thighs. The street tacos are $2 each or $5 for three. The Taco Spot also goes international, with Cuban-style tacos, Thai, and Teriyaki, among others. 843-225-7426, thetacospot.com
Tiki Taco
You can choose from among 14 different kinds of tacos at this Summerville spot or its newer North Charleston sister. All of the tacos at both locations come swaddled in corn tortillas. Ranging from the Cecina, thinly-sliced beef marinated in lemon juice, to the Pescada, grilled or fried flounder. There is the standard Carne Asada or, for those who want a higher flavor and fat profile, there is the Cabeza, beef cheeks. Chicharron tacos are fried pork skins in a green sauce, and tripa is, well, tripe―seasoned and grilled beef intestines. If all of that sounds too exotic, you can always fall back on the Americano, the standard ground beef with the fixings on a hard-shell taco. Summerville 843-695-1177, North Charleston 854-999-1852
Torres Superette
Nothing fancy here, and nothing expensive either. Just tacos with ground beef, chicken or pork. You can get some extra tortillas on the side, or go for beans, rice or fries. You place your order at the front of this convenience store and then hand your receipt to the cooks in back for a generous serving of tacos to go. 843-937-0707
White Duck Taco
Why White Duck, you may ask? Well, apparently the chef would get excited and talk too much to the kitchen staff, so they called her "La Plata Blanca," or the white duck. We assume it was meant with affection. The Charleston outpost is on Folly Road on James Island. Many of the tacos have an Asian influence, with Banh Mi tofu, Bangkok Shrimp, Korean Beef Bulgogi, and Thai Peanut sharing the menu with Jerk Chicken and Lamb Gyro. Try the duck molé if it's on the menu, but know that the menu changes frequently and your taco choices won't be made until you walk in the door. 843-640-3008, whiteducktacoshop.com
YoBo Cantina Fresca
If your idea of Mexican food is greasy, diet-busting fare, YoBo is out to change your perception. The restaurant, which has two Charleston locations, caters to dietary restrictions, such as vegetarian, vegan or gluten-free. The beef, chicken and pork are all antibiotic-free, the produce is local, and nothing is microwaved. When you order tacos, you pick your casing first (flour or gluten-free corn) and then your style, ranging from Gringo, which has the usual salsa, cheese, lettuce and sour cream that you'd find at a chain restaurant, to the spicy Diablo, with green cabbage, spicy jalapeno-lime sauce, and crumbly cotija cheese. Then you pick your protein, which can be animal or not. Wash it all down with a Mason Jar, a double shot of tequila with Margarita mix. yobocantinafresca.com
Zia Tacqueria
Tucked into the little strip beside the best place in Charleston to see all the coolest art films (Terrace Theatre), Zia's offers sustenance for when you want to talk with your date about what the heck that art film was about. You can order at the bar and then order the special taco of the day, served on corn tortillas. On Mondays, try one of the two fish tacos; Tuesdays is pork; and Wednesdays is chicken. If you're in the mood for breakfast for dinner, try the scrambled eggs and chorizo on a flour tortilla. In addition to the traditional beans or rice as sides, you can lighten up with a side of Mexi-slaw, a tangy combination of cabbage, green onion and cilantro. 843-406-8877, ziataco.com