A Passion For Vintage
05 Jul 2020
Unique Treasures Abound at Vintage Mercantile
By Allison Bolt
Photos by Paula Moland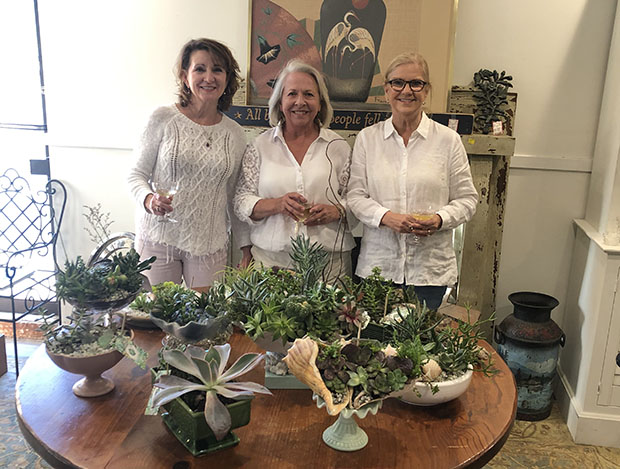 Almost three years ago when Paula Moland lost her son and husband in the same year, her dear friend told her she had an idea.
Moland had always loved antiques and vintage furniture so, her friend suggested an exciting new venture might be just what she needed and planted the idea of opening an antique and vintage furniture consignment stop.
"Within two weeks I had leased a building and there began The Red Dresser," says Moland.
The first location of The Red Dresser, at 510 Mill Street on Shem Creek in Mount Pleasant, was "tiny," according to Moland. Yet, "people kept calling to consign with us," Moland says. The calls were frequent and often came from Charlestonians who were at a new phase in their life and downsizing to smaller homes.
"Each person brought in fabulous, interesting and high-quality pieces. So, we grew and grew until you couldn't get into the shop anymore."
Along the way, "I found these wonderful ladies to work with me," says Moland. "Many of the ladies are on their second careers having been bankers, teachers and office managers," says Moland. "They were ready to take on something new. They were wanting to change it up. They wanted something fun to do."
Soon, they formed friendships and a welcoming environment that earned them the name, The Red Dresser Ladies.
From the very beginning, the ladies of The Red Dresser have made the store a successful consignment shop but also a local social gathering place. A "little hometown spot," according to Moland.
Now, The Red Dresser has inspired a new location and shop called The Vintage Mercantile and upsized to a larger space at 4,200 square feet. The new space opened May 2 just as Charleston was reopening following closure due to the pandemic.
There were new social distancing measures in place, but Charlestonians and its visitors have continued to love and rally behind the store that celebrates special antique items in the historic holy city.
"It's been fantastic, our first month we have been so busy," says Moland.
Finds From Around the World
Vintage Mercantile has new items arriving daily, all with interesting stories behind them.
The stop is filled with eclectic consignment pieces that are perfect examples of why used is often better than brand new.
The pieces in Vintage Mercantile are from all over the world and they each have their own unique story that comes with them.
An ottoman from Dubai, pieces from Katmandu, Dutch tapestries, 1800s Victorian beds and more have all made their way to Vintage Mercantile.
"Recently, we've been getting a lot of items from France, including two beautiful antique twin beds, custom metal and glass tables and chairs that once graced a ballroom in a French castle," says Moland.
"People have collected these treasures from their travels throughout their lives, just magnificent things, and now they are downsizing" says Moland. "Someone recently brought a collection Tiffany lamps to sell in the store. We also get pieces from clients that are redecorating and recently, we received the entire contents of a model home."
Buy Or Sell
So, how does it all work?
"We are always looking for any treasures you would like to sell that are clean and in good condition. We welcome antique, vintage, mid-century and modern furniture, original or unique art, rugs, lighting, outdoor furniture and garden decor, and home accessories," says Moland. Simply contact the store by phone or email to discuss what you would like to consign. If you need help getting the pieces to the shop to sell, Vintage Mercantile can recommend local companies that can transport your item to the store.
To make it even easier, once a month the store offers free local pick-up and delivery days to transport your larger items.
Vintage Mercantile is open and filled with fabulous pieces curated with care and each has an interesting story.
"I love the uniqueness and high quality of the items," says Moland. "You can get something that is one-of-a-kind and so valuable at a fraction of its original price."
Vintage Mercantile is located at 422 Savannah Highway in Charleston, SC and open Tuesday through Saturday from 10 a.m.-5 p.m. For more information, visit RedDresserSC.com for a sampling of merchandise or call 854-222-3690 or email reddressersc@gmail.com