A Place for All Seasons
01 Jul 2012
Multi-faceted with local sourced fare and seasonal events is the right mix for Morgan Creek Grill's year-round success.
By COLLEEN TROY Photographs by DICKSON DUNLAP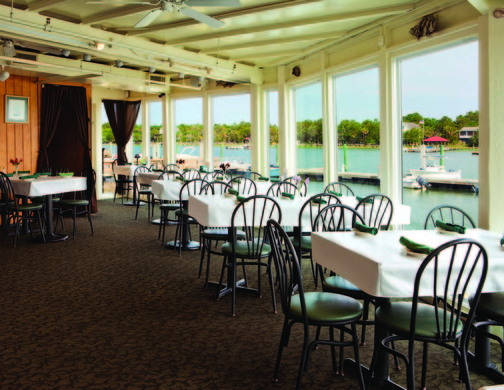 It's tough enough to manage a single restaurant, particularly one that must ramp up for a raucous seasonal business.
But things are even a bit more challenging at Morgan Creek Grill, a 500-seat restaurant that operates much more like three or four different eateries.
Arrive at the restaurant, and you'll be faced with a choice: dine inside downstairs where white table cloths and bay windows invite; head upstairs for some casual pub fare; or choose one of the various outdoor patios for drinks, apps, or a light nosh.
"Around here, we call it up, down, in or out," says Carla Pope, operations manager, whose eight-year tenure has coincided with lots of growth and change. "A guest can come here three times in one week, and feel like they've visited three different, great places," she said.
Clearly, that's the objective of Jay Clarke, former partner in Atlanticville, who bought Morgan Creek Grill in 2002, after it had struggled under other management. Starting "slowly" with about 150 seats and a highly seasonal clientele, Clarke and his crew have expanded dramatically.
Perched alongside the IntraCoastal Waterway, "The Creek" today has three-times the seating it did when Clarke took over. It has added daily breakfast service, romanced the upper deck and patios, brought in a NYC-trained chef and added bonuses like live music (the Creek employs a full-time music manager who favors fresh, local talent). Annual happenings like an oyster roast and a Wintertide songwriters event keep the place humming.
"We knew from the start we could not survive just on our good looks," laughs Pope, who knows an enviable waterside location can sometimes prevent connoisseurs from taking a restaurant seriously. "Like a handsome man or beautiful woman, Morgan Creek Grill has to have substance in order to keep people coming back," she adds.
Much of the restaurant's substance can be found in its kitchens, which are overseen by executive chef Bert Ottmers. A native of Texas Hill Country, he was drawn to the water, initially enlisting in the navy and exploring cultures and cuisines while on duty. That exploration led him to Vermont's New England Culinary Institute, and a string of increasingly challenging jobs. Landing in St. Croix in the U.S. Virgin Islands, he ultimately navigated his way to Morgan Creek Grill in 2002.
Upstairs at Morgan Creek Grill, diners enjoy classic casual and pub fare, all rendered under Ottmers' classically trained eye.
Downstairs, chef de cuisine Paul Saner holds court. A classically trained (French Culinary Institute) chef, he spent some time in the kitchen of the renowned Gramercy Tavern, working as saucier for Tom Colicchio, of Top Chef fame.
"That was just a great job, and I learned so much." One of the things he learned was the value of a great sauce in the life of a dish. That spirit has inspired him to make the downstairs offerings sophisticated and well executed.
"We never wanted to be simply a fish fry place on the water. We want this to be someplace a couple would come on their 20th anniversary, as well as a place you could bring 25 people of all ages, and know everybody was going to leave happy."
The water does inspire Saner, an avid fisherman who often commutes to work by boat, tying up on the dock outside. Much of the menu downstairs employs fish and shellfish. Upstairs, guests enjoy burgers, wraps and salads.
Prior to his arrival on IOP, Saner steered a St. Croix restaurant, where Ottmers also was formerly working. "Yep, we left paradise for paradise," he jokes.
In the islands, Saner learned a surprising fact: almost everything in the Caribbean is shipped in from elsewhere. An absence of fresh, local produce and seafood taught him to be resourceful. And the island lifestyle infused his cooking style.
Now ensconced in another kitchen by the water, Saner is encouraged by greater Charleston's foodie culture, the camaraderie of its chefs, and the growing buy-local movements. Translation: quality provisions are usually just a phone call – or fishing trip – away.
"We like to support the local growers, and the fish purveyors. We are trying to do more in the vein of the local trend," Saner said. "We see more and more that guests look for it, they like it."
And they like it year-round.
Morgan Creek Grill staffers cherish their highly loyal, local clientele, which motivates the restaurant management to institute all sorts of off-season programming. That's where the oyster roasts, music festivals, wine tastings and the like come in.
Spaces throughout the restaurant are also available for private functions. "Locals know the best time to hold a party on the top deck is fall," says Pope. "It's just gorgeous here."
Morgan Creek Grill
80 41st Avenue
Isle of Palms, (843) 886-8980
Open Daily: Breakfast 7-11am
Lunch 11-10pm, Dinner 5-10pm
Sunday Brunch 11-1pm
www.MorganCreekGrill.com