A Structural Facelift
08 Sep 2017
Axon Homes updates a home in Wild Dunes with new bones
By ROB YOUNG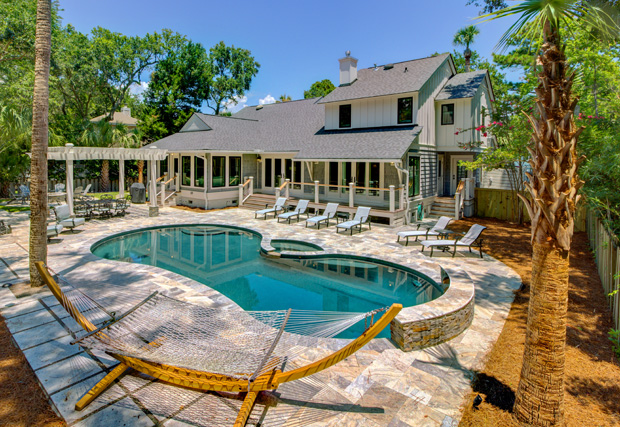 Generally, when it comes to home buying, potential owners tend to ask the same question: What do I like? But when it comes to remodeling, home owners tend to ask a different question: What don't I like?
Tim and Elaine Bolick found themselves asking this very question as they pondered their home in Wild Dunes on Isle of Palms. It was great, really. They loved the flow for the most part, the high ceilings and the home's overall spaciousness. Plus, the Bolicks' lot was grandfathered, allowing the couple and their extended family use of a personal pool. That made the decision to stay easy. "We looked at different properties, but we loved Wild Dunes and the marsh views," Elaine says.
But they wanted to open it up, too, and update the bathroom, kitchen area, and enhance the home's livability. "The three most expensive words you hear associated with remodels are 'might as well,'" she recalls, chuckling.
But with the assistance of Axon Homes and Principal Peter Oakes, the remodel was worth every penny, dime and dollar.
The Axon Philosophy
The Bolicks chose Oakes and Axon Homes on the recommendation of their structural engineer, Chris Wigginton, who owns Technika Engineering & Design. "Tim and I both felt comfortable with Pete's honesty and integrity. He was someone we immediately could trust," Elaine says. "He wasn't trying to give me pie-in-the-sky pricing. He was realistic, and we had a really good working relationship."
Oakes hails from a lineage of home builders—his mother owns an Ohio firm that averages between 50 to 75 custom home builds per year. Additionally, his father is a civil engineer and developer, providing Oakes with a comprehensive perspective of the industry. Oakes moved to Charleston four years ago for the same reasons that many transplants move to Charleston: golf and fishing. He has played golf all around the country, and the first day he arrived in Charleston, he says, "I bought a boat."
Kidding aside, Axon Homes is well attuned to the trade and various consumer needs and expectations. "Our philosophy is to deliver a great product at an affordable price, while working within the parameters set by our customers," Oakes says. The adage covers a startling spectrum of price ranges and styles from Lowcountry to coastal, to contemporary or traditional. Most were constructed in the Charleston Tri-county region, but Oakes has even built a 38,000 square foot home in Ohio, and constructed a pair of homes in the Bahamas, with price tags of $8 million and $15 million respectively.
Axon Homes stuck to its mission and philosophy while renovating the Bolicks' home. "We work with our customers," Oakes says. "In this case, they had their plans put together. When we cost engineered it, we aimed for a cost-effective quality product, and we made sure to back into their budget to make it a feasible project. It's really a beautiful home."
A Facelift Procedure
The Bolicks owned the home for 12 or so years prior to beginning the remodeling effort. It was likely built in 1983 or 1984, and faced a number of issues. "The exterior resembled the 1980s. It was almost like a Brady Bunch home," Elaine recalls, laughing. "It had a slumping roof. There just weren't many features."
Axon had its work cut out. "It was definitely unlevel in a lot of areas. The floors were pretty old, and there were moisture issues. The look of the house was outdated," Oakes explains. "We basically redid the whole thing. We put a facelift on the whole house."
Structural work is always done before aesthetics, and Oakes and his team stripped the house down to its studs to prepare for the renovation. "Structure comes first, and we do what we can not to impact the house," Oakes says. "You can move headers and beams around, that sort of thing. Here, we can put in some very large structural beams to open up the home."
Understanding the Industry
Suffice to say, too, the Bolicks know a bit about home building, or home furnishing to be more accurate. The couple own Paladin Industries, Inc., a fashion-forward, furniture company in Hiddenite, North Carolina, located in the foothills of the Brushy Mountains. The small town is about 75 miles from the renown High Point Market, the largest home furniture industry trade show in the world. In general, the area is a hub to several worldwide industry leaders in furniture manufacture and retail. The Bolicks began their careers as retailers more than 25 year ago, as the couple opened several furniture stores in the Carolinas. They transitioned to manufacturing, working alongside first-class upholstery and upholstered fabric producers. Then in 2002, the Bolicks founded Paladin, which provides customer-made furniture to its clients. The company's handiwork can be found in more than 300 international stores.
"We create international showrooms in High Point. We totally redo our showroom every six months, so I understand what it takes to accomplish something of that magnitude," Elaine says. "We can have it done in three days. It's what I call a showroom mentality, so I know if it goes smoothly or not. It comes down to organization."
The Bolicks leaned on their experience for the remodeling…and the obstacles, which were numerous. "We put in a whole new façade, and that was challenging with added dormers and the shed style roof," Oakes says. "We changed the whole entry to make it more formal."
Axon added European distressed linin flooring, and added a full bedroom and half bathroom, giving the Bolicks a 4,200-square foot home composed of 6 bedrooms and 5½ bathrooms total. The kitchen, pool area and outdoor space was reconfigured as well. Pretty much, the only original item left standing was a storage door inside the house.
Breaking Ground
Remarkably, Axon completed the home at a breakneck pace of just five months once they broke ground. The planning phase took around three months, Oakes says. "People would come by and stop and say that they watched the house go up, and every time they walked past, something new had been done, like the colors, shutters or other exterior work," Elaine says.
One of the reasons for the workflow: Axon has a firm handle on subcontractor management, negotiations and scheduling. "Working in furniture, sometimes construction folks show up and sometimes they don't," Elaine says. "Pete's subs would show up when they were needed. They did what they said they were going to do, and did so efficiently."
The Bolicks also outfitted the home with the assistance of Becca Barton, the Selections Coordinator at Axon. But it was really a team effort to meet the project's strict deadlines. "My staff helped. My whole staff really," Oakes recalls. "We were all involved. There were a lot of long nights. The whole home is just so much more livable now."
For the Bolicks, the experience and craftsmanship almost granted Oakes and Axon Homes instant credibility. "If someone asked for a remodeling recommendation, we would definitely suggest Pete," Elaine admits. "We would use him again. My husband even said that if Pete couldn't do it for a year, we would wait a year for Pete to do it."
Resources
Builder: Axon Homes, 843-410-2569, www.axonhomes.com