A Timeless Tradition
02 Nov 2021
There's magic in the air at the Lebanon Christmas Tree Farm
By Jenny Peterson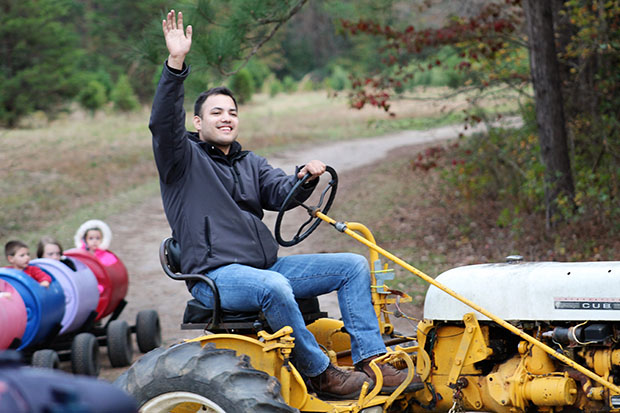 Many Christmas movie characters have attempted the feat of cutting down their own Christmas tree.
Saws at the ready, roof racks on the station wagon, the goal to infuse some holiday cheer into their family members.
One beloved tree farm in the Charleston area continues to offer the timeless tradition. Lebanon Christmas Tree Farm in Ridgeville—about 20 minutes from Summerville—is a beloved working Christmas tree farm, with thousands of Christmas trees of all shapes and sizes on over 30 acres, ripe for the cutting.
Enter through big iron gates to witness this labor of love started by local veterinarian, the late Kim Yerich in 1985, named for the Lebanon community he cherished.
Among the thousands of trees are local South Carolina Christmas trees, including the Leyland Cypress, Carolina Sapphire, Spruce Pine and Virginia Pine. The trees take five years to mature, meaning that the tree you pick this year was planted as a sapling in 2016.
It's an entire experience to locate the perfect Christmas tree, cut it down and get the whole family into the spirit.
"This is something that takes families away from using electronics," said Julianna Velarde, who is now running the farm with her husband Cesar. "I started helping my dad on the farm when I was a little girl and I'd sit on the chair and cut the rope when the trees were netted."
For those who adore the quintessential Fraser Fir and Balsam Fir, Lebanon Christmas Tree Farm ships those fresh-cut from North Carolina and stands them up in a forest setting, so families can still get the experience of choosing and cutting their perfect tree.
"It's not a Christmas tree lot; it's like you are picking out a tree from the field, that's what we were going for," Velarde said. "We ship premium, top-rated trees that are fuller and prettier."
For a lifelong Christmas tree farmer in South Carolina, Julianna is partial to the local trees grown in Ridgeville.
"My favorite has to be the Carolina sapphire; I call this the 'Lowcountry favorite' because it's native to South Carolina, it has a blueish tint to it and I love smell; it is so fragrant and beautiful, it is definitely my favorite," Velarde said.
Lebanon Christmas Tree Farms takes care of everything; providing saws and chainsaws (although you can bring your own), netting and even securing your tree on top of your vehicle.
Starting on Nov. 20, the tree farm will welcome people to the property for the 2021 season.
Julianna has built upon the tree-cutting experience over the last decade, now adding the weekend attraction "Santa's Workshop" with train rides, hay rides, hot cocoa and apple cider, a food truck, meeting with Santa and even letting children mail letters to Santa, where each and every one gets a mailed response.
"On the weekends, we have Santa, Mrs. Claus and holiday arts and crafts and I usually add more things each year, like a scavenger hunt," she said.
Many families end up picking a tree and then spending hours exploring the field around the fields among rows of planted trees, visiting Santa's Workshop and enjoying refreshments and activities.
"We have this holding station for trees when people choose and cut their trees and we always think someone cut down a tree and left it here, but really they've been spending the entire day on the tree farm. They always come back and get their tree," Velarde said.
Julianna said that seeing the same families come back each year to the Christmas tree farm is what keeps her going.
"It's so sweet to see the families who come every year and we get to know them. If we didn't see someone, my dad and I would talk and say, 'so-and-so didn't come, we better check on them.'"
This is a bittersweet year for Julianna; it's the first year Velarde is running the farm without her father who passed away in August. Her husband, Cesar Velarde, was granted November off from active-duty military to help his wife and the business.
Owning and running a tree farm is a full-time job. Pruning, watering, maintenance, pest control and more are required to get the full, bushy trees worthy of a holiday home.
"Growing up, my father taught me how to plant trees, prune them, use fertilizer, spray weed control…we were right there together drinking iced tea while doing it," she said. "People don't realize it's a full time job, it's Monday-Friday and there's always something that needs to be done on the Christmas trees—we even spray a food coloring-based product to make them more traditional green."
To keep the tree farm replenished, every January, they take inventory of how many were cut down that season in order to know how many more need to be planted.
"My dad's rule of thumb was always that we wanted to plant two trees for every one that was cut, but we have bumped that up even more because we have been busier," Julianna said. " We plant trees next to every stump we see."
True to their love for the Lebanon community, the tree farm donates a tree to the Lebanon Community Center and offers prices as low as possible, based on the height of the tree per foot, which on the tree farm can reach an impressive 40 feet tall. Garland, wreaths and tabletop trees also available.
"My dad and I always thought that everyone should have a Christmas tree and every child should be able to have fun and participate," Julianna said. They offer active duty military discounts and don't charge admission to enjoy the tree farm or meet Santa. Activities have nominal fees.
"We have thousands of people that come in each year and it's unbelievable how when my dad and I revamped the business, I was sitting on the back of his pickup truck and we were praying, 'God, please let us have just have one customer today,'" Julianna recalls. "It's unbelievable. We are so blessed with the support of the community and we feel so much love."
The Lebanon Christmas Tree Farm is located at 253 Needle Ln, Ridgeville. The season officially opens on Nov. 20 from 9 a.m. – 5:30 p.m. and will run until Dec. 12. Hours are Monday- Friday: 10 a.m.-5:30 p.m. and on Thanksgiving day from 2 p.m. - 5:30 p.m. Activities with Santa and Santa's Workshop are held on Saturdays and Sunday only as well as Black Friday from 9 a.m.- 5:30 p.m. Check their website at www.lebanonchristmastree.com and @Lebanon.Christmas.Tree.Farm on Facebook for announcements and updates.