Another Man's Treasure
29 Sep 2013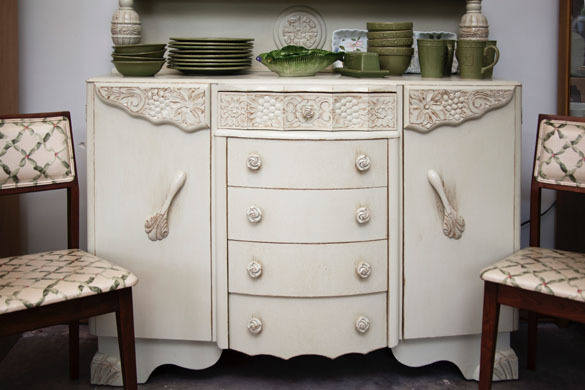 BUSINESS OWNERS ARE SOMETIMES a bit sheepish when I come to their shop to interview them, only to find a bustle of customers so thick, we can hardly fit in time to chat. But I consider it to be a testament to the good job they are doing. Such was the case when I visited Next to New, an upscale consignment shop in the Shoppes at Brickyard, featuring furniture, original art and other decor.
What struck me most when I walked inside was the diversity of the shoppers - young and established, male and female. The place obviously had something for everyone. With time on my hands before co-owners Cindy Clark and Catherine Moorehead were able to talk, I started to wander around, mesmerized by the selection of luxurious furnishings. Customers glanced at me quizzically, no doubt wondering what I was scrawling in my notebook with such fury. They had no idea that they were the source of my inspiration.
"We just never know what our customers' tastes will be," remarked Moorehead. "I love offering something fun and different. We have everything here, from antiques to midcentury to modern."
Moorehead, originally from New Jersey, and Clark, originally from Ohio, met when Moorehead worked for the previous owner of the consignment boutique and Clark rented space next door. Both having savvy business backgrounds, they saw potential in purchasing the shop together, combining their ideas and reinventing. Since that occurrence three years ago, Next to New has enjoyed a hearty following of consignors and fans - and has expanded twice to accommodate.
"We are opposites," said Clark, on their experience of being co-owners. "She's more laid back. It's a great balance."
The shop frequently offers reinvented treasures, such as an armoire that has been turned into a bar with mirrors along the insides and places to hang wine bottles. When I asked how these two ladies learned the "knack" for repurposing, the answers were simple: they taught themselves.
"You can learn a lot from the Internet and from home blogs," hinted Moorehead.
Recent trends inside include painted furniture and chandeliers, which are both aplenty. The shop also has an abundance of dining room sets, artwork, outdoor furniture, high-end sofas and more.
"Our customers are varied because we have a little of everything," said Clark. "We get retirees, young couples just starting out, even college kids." (843) 606-2715, nexttonewsc.com. — DENISE K. JAMES