Black Bean Co
29 Sep 2013
Local. Healthy. Fast.
By WENDY SWAT SNYDER » Photos by ASHLEY WALKER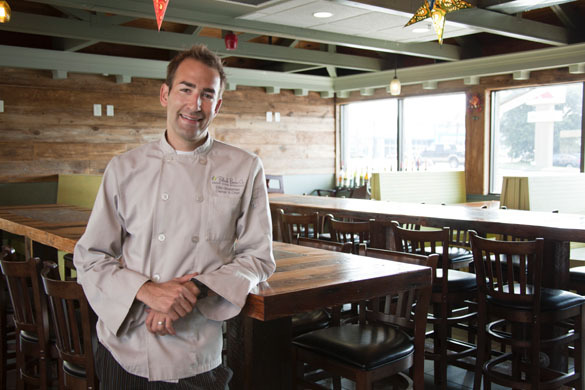 What began for Ellis Grossman as a fascination with the farm to table movement—now a mainstay of the Charleston culinary community—has sprouted into an entrepreneurial endeavor that boasts four restaurants and keeps on growing. Grossman and partner Joseph Lawlor have built their business on what they see as an "up and coming" trend in the restaurant industry. What sets their Black Bean Co. apart in this food-driven town is a novel delivery system for fresh fare—a sort of hybrid of the fast casual and casual dining eatery.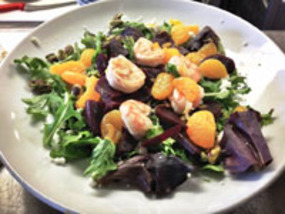 "We're trying to redefine the fast food industry with food that's healthful and reasonably priced," says Grossman, who graduated from the Culinary Institute of Charleston at Trident Technical College with a degree in culinary arts and business technology. He cultivated his interest in fast food with stints at large chains like Bojangles, where he was district operations director, and later Taco Bell. At the same time, he was developing an expertise in increasing profitability, consulting for hotels and restaurants on the side.
"Joe knew about my background as a consultant," recalls Grossman, "and came to me with the concept for Black Bean Co." A couple of meetings later, they were in development, bringing in Grossman's doctor dad, who'd always thought it a shame there were no healthful fast food options available. "He offers perspective from the medical standpoint," notes Grossman.
The team launched their first restaurant on Spring Street in downtown Charleston featuring organic, all-natural products coupled with "speedy service". Healthy wraps and salads formed the backbone of the menu—all featuring fresh, natural ingredients, and all made to order.
Grossman says the ingredients he had grown himself made the difference. "Everyone said our food tasted so much better, so I got into the farming aspect for food quality control. Plus, the average age of a farmer is 59—young people have got to step up."
Grossman's farming venture began with a half-acre plot he rented from Shawn Thackeray of Thackeray Farms on Wadmalaw Island. Today, they are partners, each working his own thirty-five-acre piece of land and selling the harvest to Limehouse Produce Company for distribution to customers throughout the Lowcountry and Columbia, Atlanta, and Miami.
Dubbing itself an "energy food restaurant," Black Bean Co. features hearty wraps like the Spring Street (one of Grossman's favorites), stuffed with chicken, turkey or tofu, hummus, heirloom tomatoes, cucumbers, homemade tzatziki, mixed greens, and sprouts. Vegan offerings make the menu accessible to all palates, with options like the mega veggie, filled with broccoli, edamame, mixed greens, carrots, sunflower seeds, shaved candied almonds, and chopped apples.
"Our food is not about calories," says Grossman, "calories are energy—your body can't function without energy—what's important is the kind of calories you eat. Our food is portion based, supplying what your body needs: vegetables and carbs, good protein—it's fuel. You don't need a huge porterhouse steak."
The newest Black Bean Co. location on Savannah Highway features a dinner menu that includes small plates, tacos, and a selection of good-for-you dishes like Carolina shrimp and quinoa, a blue cornmeal dusted chicken piccata, and vegan pad Thai. A favorite from the dessert menu is the Southern strawberry shortcake. Local craft beers, a wine list, and Sunday brunch round out the menu, and at this location, the team added a drive-through to the conveniences of takeout and delivery services.
"I created the menu and the overall operation," notes Grossman. "It's extremely difficult in the food business to understand the drive-through. At Black Bean, people drive up, order their food and pick it up at the window in under two minutes—while the staff is preparing and serving food for the dining room. It requires a lot of operational efficiencies: how the line is set up, the kitchen is set up, the natural flow of it all."
In addition to a healthful menu and fast, friendly service, the kitchen at Black Bean Co. sets itself apart from the fast food pack by making everything to order. "That's one of our specialties—to make everything fresh for every person," notes Grossman. "We serve a lot of people with dietary restrictions. If you have a nut allergy, we can eliminate them from your chicken salad."
Grossman says they also wanted to create a "fun" working environment for the staff, one in which they are able to give customers a positive dining experience. Offering opportunities for growth, the company aims to attract staffers that reflect the forward-thinking, healthful image of Black Bean Co. and its products.
The growing company's healthy approach to fast food got the attention of the Medical University of South Carolina for its new East Cooper facility, where a Black Bean Express has been installed since 2012. "MUSC came to us," says Grossman. "We competed in a concept 'war' against six or seven other restaurants, and we won. What sets us apart from other health food restaurants is the diversity of our menu. I'm not a vegan, but I wanted to approach the vegan and vegetarian parts of the menu as a challenge—I wanted to do more than a vegetable plate."
Grossman says plans are in the works for continued expansion, and to franchise the operation someday. "We want to take our concept nationwide—we'd like to have 30 stores open in the next few years."
When Grossman is not at the restaurant, he gets down and dirty at the farm, where he spends at least one full day each week working the soil with seeds that will sprout zucchini, arugula, lemongrass, kale, spinach, spring mix, tomatoes—whatever is in season.
"That's what I was doing this morning," he says with a smile, "laying plastic and adding sub-soil.
It's a great sense of accomplishment to be invested in a sustainable model—growing the product yourself and serving it to customers."
Black Bean Co.
429 King St., Charleston
(843) 277-0990
869 Folly Rd., Charleston
(843) 277-2101
1600 Midtown Ave., Mt. Pleasant
(843) 416-8561
blackbeanco.com