Success comes in pairs as Henry Eang's ever-busy Basil Restaurant sprouts a delicious off-shoot
By Stephanie Hunt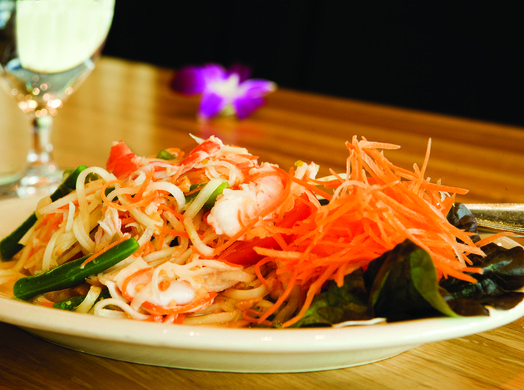 The cool retro bike that sits atop the Basil restaurant sign on King Street is the perfect inadvertent symbol for the hot spot below. A florescent work of art aglow in mod outline at night, the sign-topper may simply be a remnant from the building's former bike shop incarnation, but it hints at being whisked away on a zippy, exotic journey, which is exactly the experience of diners at Basil.
Since opening on Upper King Street in 2002, Basil has had a line out the door nearly every night. Its loyal pad thai possey are minion; its red and green curry fans flock there regularly. Before the Eang brothers imported their Southeast Asian culinary zing to Charleston, our fledgling restaurant scene suffered from a dearth of authentic, well-executed Thai cuisine. Add the fact that Henry and Chai, Cambodian refugees who fled to Thailand then the U.S. in the 1970s, have a knack for paring first-rate food with swanky, hip interiors, and you have the winning combo that has resulted in Basil's success, times two.
After such an overwhelming response to their Eastern-influenced offerings downtown, the Eang brothers decided to migrate further eastward, opening a long-awaited Mount Pleasant off-shoot in 2011, which has received a similarly robust welcome from the multitudes of Basil faithful.
"Our Mount Pleasant customers were always asking us when we were going to come east of the Cooper," recounts Henry. "We decided it was time to answer to our fans and expand. There is so much growth in that area, and proximity to Sullivan's Island and Isle of Palms makes it very attractive. We were happy to respond to our customers' request."
The newest Basil, tucked away in the Shoppes at Seaside Farms – an otherwise unremarkable commercial development, ups the ante for surburban dining sophistication. No wonder it took so long for the 7,200 square foot, two-story restaurant to open – no detail has been overlooked. The interior décor is sleek, minimal and smart, more like a hip New York dining room than a South Carolina shopping center restaurant, but the exterior may even have it beat.
An inviting waterfront courtyard dining area (facing a small lagoon) is handsomely planted with Oriental-accented grasses and greenery. Large picture windows play up the view for inside diners, and the second-floor bar is its own secluded oasis with contemporary couches and big garage doors that beckon the outside in (weather permitting, of course).
While the Eangs did all the design and actual labor themselves to open the King Street Basil, they worked with a designer to help execute Henry's vision for Mount Pleasant. "My taste is very consistent, I like simple but elegant, very contemporary and uncluttered, with a big city feel," he says. "When I designed the Mount Pleasant restaurant, I wanted to create an alluring ambiance, so whether people like Thai food or not they would enjoy being here."
While that was awfully considerate of Mr. Eang, it's hardly a concern, for the food is the ultimate draw to Basil (both locations offer the same menu, and use the same recipes; in fact, sauces are centrally made in Mount Pleasant and brought downtown). A meal at Basil is a free-fall into flavor. Big, unbashful flavor – lime, basil and lemongrass, garlic, coconut, moderated by the sizzle and pop of fiery chilies and complex sauces – and then the delicious smells as waiters deliver piping hot soups and rich curries to nearby tables.
Both Basil locations feature an "open" kitchen so diners can watch chefs execute with artful Asian precision. It all combines beautifully for a sensuous treat, whether for a light but satisfying lunch, or a leisurely, more indulgent dinner. The crispy duck is a succulent must, and the Thai Basil in various versions (tofu, shrimp, chicken, pork, beef) doesn't disappoint.
Basil Thai Restaurant
1465 Long Grove Drive, Mt. Pleasant
(843) 606-9641
460 King Street, Charleston
(843) 724-3490
Lunch Mon-Fri, 11:30am-2:30pm
Dinner Sun-Thu, 5-10pm
Fri-Sat, 5-11pm
www.eatatbasil.com