Baptism by Fire
19 Jan 2015
By HOLLY FISHER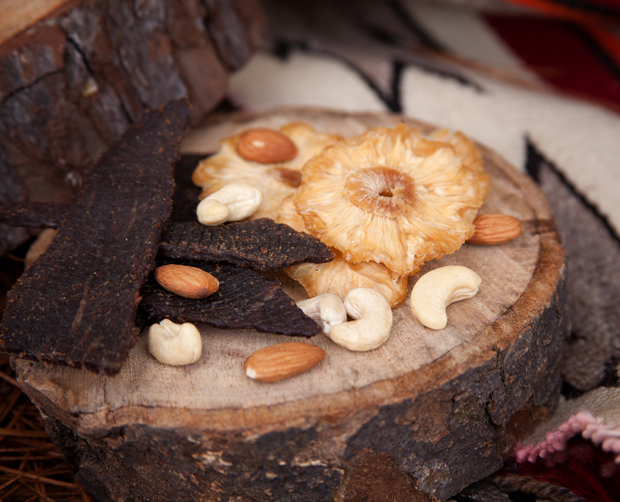 In 2008, Jason Burke and his wife Kristin moved from Tampa, Fla., for his new sales job at Blackbaud on Daniel Island. Shortly after, Burke started working out at CrossFit Discovery where his ideas about food were turned on their head. He adopted the Paleo diet – common among the CrossFit community – eating mostly meat, vegetables and nuts.
Preparing for three Paleo meals a day wasn't too hard, but Burke had trouble finding snacks that accommodated his newfound diet and CrossFit workout schedule (he lost 40 pounds, by the way). He liked beef jerky but found the pre-packaged jerky loaded with sugar.
So, Burke Googled "how to make beef jerky." Armed with Internet instructions and a $35 tabletop food dehydrator and vacuum sealer, Burke made his own grass-fed beef jerky trail mix.
Soon, people at work and CrossFit offered to buy Burke's homemade jerky. One dehydrator became six. When he wasn't working, Burke was making jerky. "I was waking up in the middle of the night to rotate the trays."
This hobby was getting a bit out of hand, Burke recalled. But the real tipping point came when Burke's wife came home from a night out with girlfriends. She unplugged the dehydrator and expressed her annoyance that all her friends asked if she'd just come from a barbecue.
Seems the Burkes didn't realize everything about their lives – including their scent – was beef jerky.
That was Burke's ah-ha moment, when he paused to wonder "what if"…what if he made beef jerky, sold it and had a little business.
That little business is now The New Primal. Products are sold in 2,000 stores around the country, from Earth Fare and Kroger to Publix and local and regional shops in Charleston and the Southeast. This year, Burke secured a significant cash infusion from investors and the business is booming.
But that transition from six dehydrators and a house that smelled like beef jerky to a fast-growing business took time, persistence and hard work.
Learning the Ropes
With a financial and sales background, Burke freely admits he knew nothing about U.S. Department of Agriculture regulations, food or retail. So he picked up the phone and called the S.C. Department of Health & Environmental Control, the S.C. Department of Agriculture and the USDA. After getting bounced around from one agency to the next, the USDA sent him a 2,000-page document.
Burke started small, renting 200 square feet in a Mount Pleasant, SC catering kitchen. He set up a basic website and started to take orders online. With virtually no marketing, SEO or social media presence, orders trickled in from around the country. The New Primal was alive.
Still working full time at Blackbaud in 2011, Burke relied on his wife and friends to help during the day, and he would package and ship orders in the evenings.
Burke's first large-scale batch – 100 pounds of beef – turned out terrible. He checked the equipment settings and tried again. Another 100 pounds of beef tasted awful.
Back to making calls and asking questions, Burke found someone at a beef jerky plant who spent more than two hours talking with him. Burke learned he couldn't take a small-batch recipe and simply double it for a large batch.
So Burke hired a food scientist to recreate his recipe for large-scale production. The process took about six months to get the jerky recipe just right.
While the recipe was being refined, Burke wondered how he could keep The New Primal brand going. He combined the "primal" concept and his love of CrossFit into The Primal Games, a sort of caveman Olympics. The Primal Games drew local competitors for three years and in 2014, Burke took a break from the event while he focused primarily on his business.
Once the recipe was complete, Burke discovered the cost of equipment to make jerky was significant. So he outsourced the food production to a facility in Utah. Once the jerky was cooked, it was shipped back to Charleston where Burke added the nuts and fruit, vacuum sealed and packaged it for shipping.
The vacuum sealed package of jerky, nuts and dried fruit might have tasted great, but it didn't look very appetizing on a store shelf. Again, with some trial and error, Burke found a way to package the ingredients loosely in a more appealing container.
Full-time Jerky
With the beef jerky recipe ready, the packaging complete and growing name recognition, Burke took the plunge. On Sept. 29, 2012, he left Blackbaud and went full force into building The New Primal.
"I took the product to every mom and pop store in Charleston – Half-Moon Outfitters, Boone Hall Farms, Queen Street Grocery," he said.
Everyone agreed to sell the jerky and by the end of the year, The New Primal was in 30-40 stores around the Charleston area.
Drawing on his sales background, Burke cold called major retailers and grocery outlets like Target, Kroger and Publix, to see if he could get the jerky on their shelves. He finally got a break when an operator at Publix transferred him to a man named Gus. Gus said they would review that food category in July, so call him back in June. Burke sent Gus some samples and waited until June.
The New Primal was hitting shelves in 10-15 stores a month, and when Burke landed a meeting at the Publix headquarters in Lakeland, Fla., he was questioning whether his product belonged on a conventional grocery store shelf. Seeing his hesitation, his wife asked, "Then what are we going for?"
That simple question lit a fire in Burke. "I felt like I gave the sales pitch of my life that day."
His passion and energy resonated with Publix and two months later, The New Primal was on shelves at 280 stores in the Southeast.
"That probably tripled what we ran at the time," Burke said. "It was our first really big win."
Next, Burke attended trade shows and landed 100 new stores at the Natural Products Expo East.
By the end of 2013, Burke had spent a year planting a seed and steadily growing his business. Products were in about 450 stores and he was in talks with grocers Kroger and Wegmans and outdoor retailer REI.
The Biggest Year Yet
Then came 2014, truly a banner year for The New Primal team. Burke spent six months seeking investors to fund the company's growth. Because the company has to buy product in advance and then sell it, cash flow has been the biggest challenge.
Burke received a significant cash infusion from investors, including local entrepreneur Steve Parker Jr., CEO and co-founder of digital marketing firm Levelwing. That investment allowed Burke to expand the staff to its five full-time employees. Last summer the company moved to a 7,000-square-foot facility on Johns Island, with office and warehouse space plus a loading dock.
By the end of 2014, The New Primal was selling 10 times the number of bags per month than it was at the beginning of that year. The product is now in 2,000 stores, including 600 Publix locations, 90 Kroger stores and all 32 Earth Fare locations. Burke expects to be in Whole Foods sometime this year, and he's in meetings with Target.
"Every day is a roller coaster," Burke said. "We have not made it by any means, but we definitely count all the wins."
The New Primal continues to grow and expand. In September, they introduced turkey jerky. And Burke is looking for additional jerky production plants to take some of the load off the plants he uses in Vermont and California. He's also considering bacon jerky and a snack food for children.
With the role of new dad, Burke is changing his focus a bit this year. And he's hoping to do less office work and embrace the lifestyle of the people who buy The New Primal products – the hikers, campers and kayakers.
It's been quite a journey from that tabletop food dehydrator to today's fast-growing company. As he reflects on the process, Burke freely admits it was "baptism by fire."
"There are things I'm glad I didn't know," Burke said. "Blind enthusiasm has led to success. Knowing what I know now, I might have hesitated."
Instead, Burke simply said "yes" to opportunities and then worked to figure it out. "You bite off more than you can chew and then chew like hell." 866-723-1386, thenewprimal.com