A Passion for Antiques
19 Jan 2015
By JOHN TORSIELLO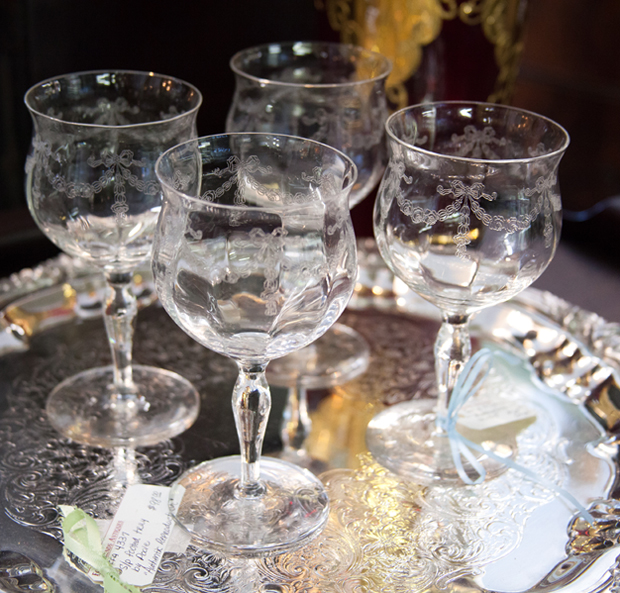 There's a place on James Island, South Carolina, just a few minutes from downtown Charleston where time has stood still. Not literally, of course. Even nostalgia must obey the laws of physics.
But, at Terrace Oaks Antiques on Maybank Highway you can dive back into the past – pre-1960 in most cases – through the ninety booths operated by sixty vendors in this 10,000 square foot bazaar of all things from the past.
Owner Camille Wish, who has been in the antiques business since 1980 and was the first vendor to set up her booth when Terrace Oaks opened its doors in 1988, is the unofficial historian of the rustic, rambling treasure trove of nostalgia.
"I believe it originally was a house," she said, adding that she's had longtime Charleston residents tell her that it was once a church, or that it was a place where they once took guitar lessons.
Wish herself is a true Charlestonian. Both she and her mother were born here and Wish is a graduate of Ashley Hall and the College of Charleston. She became interested in antiques through her father, who had a serious hobby finding and restoring old furniture.
One day he mentioned to her that "it would be kind of cool" if she went into the antique business. "I must have looked at him like 'Terrific!' Not that I knew the first thing about the antique business. Then one thing just led to another."
Today, Wish presides over a mini-empire of vendors who offer for sale items ranging from one dollar vintage post cards to an exotic hand-made ruby and diamond encrusted bracelet that's listed at just under $4,000. In between, Terrace Oaks offers a myriad of items for every taste and budget.
"We have a lot of silver, flatware and hollow ware," she said, "because people here still love it."
"We have a lot of vintage clothing, some of which represents the styles of the 1970s. We have a great, great book dealer who sells a lot of books by South Carolina authors, and he always seeks out signed first editions."
"We have a Civil War memorabilia dealer as well, and as a sideline he'll actually take customers out with metal detectors on a dig looking for lost military hardware," Wish added.
"We have plenty of other things of particular interest to men, including fishing and sports items. And, we have a lot of great vintage costume jewelry in addition to higher end estate sale items." One booth regularly displays a "wonderful and beautiful selection of linens and antique lace."
Terrace Oaks' vendors also offer African-American memorabilia, including such collectibles as slave tags and everyday ware such as salt-and-pepper shaker sets representing a black cook and a black houseman. "We never have an extensive inventory of Black memorabilia because it just flies out the door," Wish observed, "and most of the people asking for it are African-Americans!"
Terrace Oaks and its vendors have also lent their expertise to numerous Hollywood production companies who have come to the Charleston area to film.
"We rent and sometimes lend items for commercials and photo shoots, and for television series such as 'Army Wives' and movies including 'The Notebook'. It's wonderful having movie companies especially come into town because they always boost the local economy."
"It's very exciting to see one of our pieces on TV or in a movie," she said. "I always tell the dealers that they can put a little tag on their item stating 'As seen on…' whatever!"
What makes Terrace Oaks different from other shopping experiences, Wish noted, in addition to its large and eclectic selection of antiques, is a great rapport among the many dealers.
"We get along with one another. We know everybody's idiosyncrasies and we accept everyone for who they are. And, that is a huge bonus in any multi-dealer environment."
"We all have a passion for antiques and for preserving the past. That's what makes us all get along so well together."
As a long time participant in and an observer of the antiques scene, Wish said that "back in the '90s it was all about mega-collections. People were putting together large, one item collections from hand-painted porcelain to silver napkin rings to a host of other nostalgic items. Today, it's more about what makes your heart skip a beat."
"If that happens when you spot a particular item," she added, "you need to purchase it and not leave it behind, because if you do, it probably won't be there when you return hoping to get it."
It addition to its vast displays of antiques, Terrace Oaks offers shipping, layaway, a semi-annual silver restoration clinic and clock repair. The business also works closely with local designers and decorators.
But, the real fun at this handsome, temperature controlled antique emporium, is just browsing its neatly laid out booths for that one special item you've been seeking "forever." Or, that other special item you weren't even looking for but know now that you just have to have! When that happens, time really does stand still! 843-795-9689, terraceoaksantiques.com