BBQ Bragging Rights
09 May 2015
By HELEN MITTERNIGHT and JENNA-LEY HARRISON
Ask any purveyor of smoked meats and he or she will tell you the best barbecue is found under their roof. South Carolina is fifth in the country for the number of barbecue restaurants per capita, according to Estately.com, the popular national online real estate search site. And, every restaurant will preach from their own Barbecue Bible, which includes bragging rights for being the best. Here's a look at some of Charleston's finest.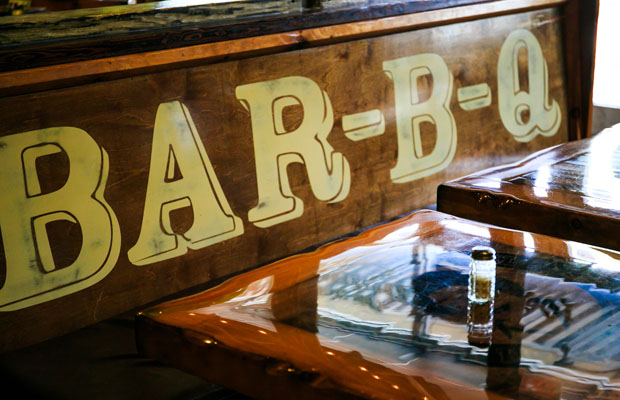 Bessinger's BBQ
What do Vince Gill, Hank Williams, Jr., Mitt Romney and LL Cool J have in common? A love for Bessinger's big flavor. Celebrities from across the country have visited the Charleston eatery and fallen head over heels for the restaurant's mustard-based sauce. Dubbed the "golden secret," the sauce has been a local staple and popular favorite of Bessinger's for at least the last six decades. But the barbecue establishment has been around much longer than that, opening shop during the 1930s. Besides great taste, the business is known for its family-run operation headed these days by Thomas Bessinger and his two sons Tommy and Michael. And because the gold sauce is such a hot commodity in the community and beyond, the family regularly mixes up a fresh 350-gallon pot for restaurant-goers. They also sell bottles of the product in certain Lowcountry Piggly Wiggly stores and IGA stores throughout the Carolinas and Georgia, allowing even out-of-state aficionados a chance to keep their pantries stocked with their favorite sauce for when the craving calls. 1602 Savannah Hwy., Charleston, 843-556-1354, bessingersbbq.com
Cumberland Street Smokehouse
Perhaps the newest barbecue joint to the Charleston scene, this downtown food hangout is named after its Cumberland Street location and is anything but amateur. Since its grand opening on Feb. 13, the restaurant has served plate-after-plate of its traditional pulled pork, both on-and-off the bun. Decorated with a cozy, rustic vibe using reclaimed wood from upstate South Carolina, the laid-back dining atmosphere mirrors the business's prime focus on the simple, old-school taste of barbecue. And while most area competitors are serving up the Carolinas' classic sweet glaze or yellow mustard-based sauce, Cumberland is also offering a Mayonnaise-based white barbecue sauce most popular in the Deep South and state of Alabama. But don't forget about drinks and dessert. Enjoy one of two bars inside the eatery—one focused solely on bourbon—and a twist on mama's Southern banana pudding, put together with Krispy Kreme donuts. Burnt-end brisket is also on the menu twice a week, along with a daily dose of dry-rubbed, smoked wings. 5 Cumberland St., Charleston, 843-641-0131, cumberlandsmokehouse.com
Food for the Southern Soul
What once was just a happy catering hobby for former insurance advisor Jimmy Hagood, is now a bustling business for him and his wife Anne Marie as they rack up ribs and awards beyond the Lowcountry. Taking top spots since the early 2000s in national food competitions for his one-of-a-kind BlackJack Mustard sauce, among other flavorful favorites, Hagood has stolen a soft spot in the hearts of barbecue junkies nationwide. Some might even say his food operation's resume boasts more honors than menu items, with his decorated cooking career and competition wins. In addition to utilizing local markets, the owners also have a family farm where they grow their own crops and harvest sugar cane for their eatery. While Southern Soul doesn't maintain a large-scale restaurant operation, it does offer products at a storefront "Cue-Osk" at Charleston City Market downtown. But food fans can also order their favorite Southern pantry staples online via the company's website. With one click of a button, a box can be delivered to any doorstep. 188 Meeting St., Charleston, 843-577-5230, foodforthesouthernsoul.com
Fountain Café & BBQ
Think back to the days of poodle skirts, diner shakes, arcade games and beach music—that's the family-friendly time period Fountain Café & BBQ attempts to create with its one-of-a-kind ice cream parlor and barbecue menu. What commenced as an outdoor food stand attached to a hardware store on Highway 17 North in 2011, the business became a full-blown restaurant in January, when co-owners Truie Timmons—head chef—and Paula Bowen transitioned the operation to its newest, larger location down the road. Timmons cooks the pork in an area behind the eatery and hand-pulls all the fat off the pig. She even cultivates her own "torch & tang" bold, smoky-sweet sauce and brown sugar rub with secret spice ingredients. All menu items are made fresh, nothing frozen, and Timmons doesn't offer customers many items she hasn't cooked herself, including her famous salad dressing varieties and pimento cheese. Coming soon the 1950s-style diner will offer a simple selection of beer and wine as well as special trivia nights for kids. 1165 Oakland Market Rd, Mt Pleasant,843-936-3196.
Home Team BBQ
There's no reason not to try this area favorite with three different joints teaming up across the Holy City region since 2006, with a prime goal to win every barbecue-lover's personal taste test. Step inside one of the eateries and be surrounded by the sights and sounds of a true Southern honky-tonk. But don't forget the impermeable scent of pork, chicken, brisket, turkey, sausage and ribs that slices through the air and is a powerful preview of each plate's flavorful spice-rub. Chefs make sure to coat all their meats with the same mix, unifying Home Team's unique taste across all locations' main menu items. The pits are always filled with no less than 700 pounds of pork butts, more than 150 racks of ribs and nearly seven times as many half-chickens and chicken wings combined. The musical stage is also a significant draw to this community hotspot, which even features a wealth of nationally-known artists throughout the year. 1205 Ashley River Rd., Charleston, 843-225-7427; 2209 Middle St., Sullivan's Island, 843-883-3131, hometeambbq.com
Jim 'N Nick's
A more than 30-year-old Southern barbecue tradition that commenced in a former dry cleaning business in Birmingham, Ala., it maintains about as many U.S. locations as years of experience. Currently, 33 restaurants span seven states, and two of those locations reside right around the corner. Father-son team Jim and Nick Pihakis started the phenomenon that's taken the Southeast and soon Midwest by storm. Jim has since passed, but his cooking counterpart is dedicated to keeping community at the heart and soul of the business by handing down Jim 'N Nicks popular "low and slow" smoked-meat recipe to franchise owners and chefs, as well as following after the philosophy of healthy, traditional flavor—flavor that starts with heritage hogs, the goal of both Nick and three fellow restaurateurs' Fatback Pig Project. The initiative ensures meat supplied to each restaurant stems from pasture-raised, heritage bred hogs raised by responsible husbandry. 288 King St., Charleston, 843-577-0406; 4964 Centre Pointe Dr., North Charleston, 843-747-3800, jimnnicks.com
Smokey Bones Bar & Fire Grill
Smokey Bones specializes in marinating and grilling with an open flame, utilizing three fire-grilled flavors including a savory-sweet brown sugar glaze, a sweet BBQ Memphis dry rub and a popular original rib glaze option. And when it comes to cooking up the right texture and flavor of pulled pork, patience is key. Customers can trust that any barbecue plate they order has been smoked overnight on 18-inch hickory logs, in one of two in-house cookers for an 11-hour period. But pork isn't the only favorite menu item at this fiery chain. Bartenders at various Smokey Bones restaurants across the country have amped up their mixology skills for bar-goers to create three specialty margaritas, including Blackberry Crush, Pom Punch and Liquid Lei. 7250 Rivers Ave., North Charleston, 843-572-3420, smokeybones.com
Smoky Oak Taproom
The Lowcountry is home to one of two Smokey Oak Taproom's across the state, where hungry customers can indulge in more than just smoked barbecue and ribs. The eatery features a variety of menu favorites available until 1 a.m. daily, from burgers and fried chicken to salad, quesadillas, chili, pizza and wings. But what makes the indigenous South Carolina restaurant's dining experience a most popular attraction for customers is the more than 45 craft beers, cocktails and beer blends it offers in combination with rock and country tunes while you dine. The Taproom's monthly lineup of local bands allows restaurant-goers to add a musical element to their beer and barbecue mash-up. 1234 Camp Rd., Charleston, 843-762-6268, smokyoak.com
Wild Wing Café
This nationally-known wing chain, which maintains four locations across Charleston County—two in Mt. Pleasant and one each in North Charleston and Charleston—offers more than 30 made-from-scratch wing-sauce flavors, including "Virgin" for the sensitive palate or newbie wing eater to tongue-numbing menu favorites like "Habanero Hots" and "Braveheart." Each flavor's degree of spiciness is rated on a chili-pepper scale—the more peppers, the hotter the sauce. Though barbecue is not a Wild Wing menu item, customers can top their wings with one of seven different barbecue-flavored sauces including a taste of Southern tradition with "Mama's BBQ" to the bold kick of "Chipotle Jolt" and the Carolina mustard goodness of "Old Yeller." The restaurant additionally features a number of non-wing items including burgers, ribs, chicken fingers and salads. 1181 Oakland Market Rd., Mt. Pleasant, 843-849-8646, wildwingcafe.com
JB's Smokeshack
Charleston native Billy Quinn took over the operations for JB's Smokeshack from his dad at the beginning of the year, and he's continuing the family tradition by taking his daughter, born September 2014, with him to barbecue competitions.
"She's already done her first barbecue competition," Quinn says. "Hopefully she'll grow up and I'll pass this along."
Best-Seller "About 90 percent of our business is buffets," Quinn says. "We're really known for our brisket, and our pulled pork is one of the only ones you can find around here that's not sauced. Our slogan has always been, 'The flavor is in the meat'."
Quinn says the brisket cooks for 12 to 14 hours with hickory wood and it's sliced, not pulled. The pulled pork usually cooks over hickory wood for 12 hours.
Secret Sauce "We make our own sauce. We make five different sauces, and we make six different rubs and seasonings for our stuff," Quinn says.
Rubs include the butt and rib rub; the fried chicken rub ("The best you can buy anywhere," Quinn says); the spicy chicken rub; the vegetable season; the steak and brisket rub; and the barbecue and chicken rub.
BBQ Passion "I grew up with my dad cooking barbecue all the time," Quinn says. "He used to cook a smoked turkey and other things, for Christmas gifts for other people. I took over from him January 1. This is all on me now, but I wouldn't trade it for anything in the world. The customers are wonderful. It's the most rewarding thing I've ever done."
Takeaway JB's sauces are available for sale in the restaurant and will soon be available through their website. Sauces include: Gold Nugget Mustard, a creamy mustard sauce; Mama's Sweet and Spicy, a mostly sweet sauce with some hickory and a little bit of heat; Upstate Vinegar Sauce, a traditional North Carolina sauce; and Hot Shot, a hotter version of the sweet and spicy.
Last Word "When people say I need a place to lie down, then you know you've done your job. When you hear them ask, 'Do you have any hammocks back there? I really need a nap'," Quinn says. 3406 Maybank Hwy., John's Island, 843-557-0426, jbssmokeshack.com
Swig & Swine
Owner Anthony DiBernardo says he had no formal culinary training, but he started cooking when he was 14 and, "in lieu of culinary school, I opted for military service and I cooked on submarines."
It was just a matter of time before he turned his passion for cooking into a restaurant, the relative newcomer Swig and Swine, which celebrates one year at the end of May.
Best-Seller "Our two number-one best sellers are brisket and pork," DiBernardo says. The most impressive dish is the family platter.
"That's all seven of our meats: brisket, pork, turkey, house-made sausage, wings, ribs, pork belly. It comes with three double-size sides. It's plenty for four people. It works out to about two-and-a-half pounds of meat."
He says his beans are popular too, as is his rotating list of pies.
"Currently, we run with buttermilk, pecan, chocolate brownie, coconut custard, Samoa pie, and the apple cheddar is killing it. Oh, and the standby is our banana pudding, which is our number-one seller," DiBernardo says.
Secret Sauce "I'm using all wood," DiBernardo says. "I don't use any electric or gas assist. We smoke basically 24-7. The smokers are manned all night long. That's not really happening anymore these days. Maybe in Texas, but not here. We primarily use hickory, oak and some pecan wood. Because the whole process is wood-fired, you get a much better bark – the crust on the outside – on the product."
BBQ Passion "I've been here since 1990, and I finally had the opportunity to go out on my own," DiBernardo says. "In doing so, I wanted to do what I was most passionate about, and that is barbecue."
Takeaway Swig and Swine makes five sauces in-house: Sweet Red; Mustard; Vinegar-based; Alabama White ("Big Bob Gibson started his operation in Alabama. The Alabama White is mayo, lemon juice and horseradish, with a little bit of cider vinegar and pepper. It's good on poultry," DiBernardo says.); and Smoked Jalapeno.
Last Word "Barbecue is the amount of time and effort, it's not a flash in the pan," DiBernardo says. "When you are cooking for somebody, it's literally a 24-hour process. What you're eating today, I started working on yesterday." 1217 Savannah Hwy., Charleston, 843-225-3805, swigandswinebbq.com
Melvin's Barbecue
Barbecue has been a family business since David Bessinger's father, Melvin, opened Eat at Joe's in Holly Hill. After a series of restaurants, Melvin's Legendary Barbecue opened in 1982. Each restaurant used the top-secret barbecue sauce recipe passed down by "Big Joe," Melvin's father. David took over for his father and still uses the secret recipe for a mustard-based sauce that his grandfather told his dad would, "make you a million dollars one day."
Best-Seller The Big Joe Pork Sandwich
Secret Sauce The famous Big Joe sandwich is soon going to be made with Duroc pig from the Compart farm in Minnesota, something Bessinger says sets Melvin's apart.
"It's the best pig you can buy. I'm getting away from commodity meats," he says. "I want to buy from a smaller, family-run business like myself. You can definitely taste the difference."
Bessinger says his mother's family recipe for macaroni and cheese and his own recipe for Country BBQ Hash over rice make Melvin's stand out.
"They've been doing hash over rice since Colonial days," Bessinger says. "It's just leftover parts of the pig you don't use…we cook it for about 24 hours…add some more ingredients…and I'll tell you it's a meal by itself."
Bessinger also brags about his Hand-dipped Golden Onion Rings: "It looks like a doughnut and customers love it."
BBQ Passion "Other places out there, they are going to say they have Duroc pork, but it's not the all-natural Compart pork," Bessinger says. "That pork is so marbleized throughout. You can't explain it unless you can taste it."
Takeaway Melvin's sells its sauces at the restaurants and over the Internet. Sauces include the "million dollar" sauce Bessinger's grandfather invented; the Southern Red invented in 1972 by Bessinger's father; Southern Hickory and Golden Spicy. Also for sale is the rub and the onion ring mix.
Last Word "I believe in treating these animals fair," Bessinger says. "I want to support people who treat these animals right and don't fill them with hormones and antibiotics." 925 Houston Northcutt Blvd., Mt. Pleasant, 843-881-0549; 538 Folly Rd., Charleston, 843-762-0511, melvinsbbq.com
Sticky Fingers
When Robert Patterson started the Mt. Pleasant Sticky Fingers, he thought he could bring something unique to Charleston. Patterson is now owner and vice president of operations of three full-service Charleston Sticky Fingers, two snack bars in Patriots Point, and an express unit in Northwoods Mall.
"When you think about barbecue, it's very geographical," Patterson says. "If you go to North Carolina, you get a vinegar-based sauce, and a lot of South Carolina is mustard-based sauce. When we started in 1992 in Mt. Pleasant, we felt like Charleston needed an authentic Memphis-style barbecue, because there wasn't one."
Best-Seller "Our ribs are by far our best seller. They're the best ribs you've ever eaten," Patterson says. "The wings are good too, and the barbecue. This is the South, you can get good barbecue in a lot of places, but our ribs and our wings really separate us from other barbecue places. We use the absolute best cut of ribs available, we use our rubs and hickory smoking process. Cooking it low and slow makes our ribs fall-off-the-bone delicious."
Secret Sauce "Everybody has their own special recipe they like to do," Patterson says. "If they are cooking at home, our sauce will make it better, but it's all about the process. If you don't know what you're doing, and you don't handle it the right way, as good as our sauce is, it won't mask the rest."
BBQ Passion "We don't really want to talk too much about the sauce, because it is really the process that makes the difference between good barbecue and great barbecue," Patterson says. "We cook all of our stuff over hickory wood over very low temperatures, and we cook every night for the next day. There's a lot of preparation, like secret rubs, just like they do in Memphis."
Takeaway Patterson says the Sticky Fingers sauces have won national competitions. The sauces are available in every major grocery store, from WalMart to Harris Teeter and Bi-Lo.
Last Word "I want to make sure people realize and recognize that we started right here in Mt Pleasant. We're a Charleston-based operation," Patterson says, adding that the operation participates in just about every local festival and community event. 235 Meeting St., Charleston; 341 Johnnie Dodds Blvd., Mt. Pleasant, stickyfingers.com
Queology
Queology gets the recipe for its sauces and rubs straight from the head of its own barbecue competitive team. Pitmaster Russ Cornette says he had been competing for about five years when Queology approached him to collaborate, and he'll compete with his barbecue against anyone.
Best-Seller "That's probably the pork and the wings," Cornette says. "They're all hickory-smoked, dry rub…the wings are flash fried after they're smoked."
Secret Sauce "Those rubs are great," Cornette says. "The flavors in those rubs won't stand out or be too forward. They have a nice balance."
The rubs include a pork rub and a chicken rub, which is "a little more salty-savory rub with some herbs in it to bring out the poultry flavor," Cornette says.
The sauces include a sweet, tomato-based Memphis; a slightly more savory tomato Kansas City; and the spiciest of the three, the Orangeburg Mustard Based sauce, which has "a good bit of vinegar," Cornette says.
BBQ Passion "I still represent the restaurant competitively," Cornette says. "The team name is Queology. I think we have 10 planned for this year. We mostly stay in the Georgia-South Carolina region."
Takeaway The restaurant is not currently selling its sauces or rubs – you'll have to eat them there!
Last Word "We may get a lot of tourist traffic with being at the Market, but we get a lot of local traffic too," Cornette says. 32-C North Market St., Charleston, 843-580-2244, queology.com
Willie Jewell's Old-School Bar-B-Q
The founders of Willie Jewell's owned Bono's Pit Bar-B-Q in Florida, and hired a woman named Willie Jewell, a woman who started out with no home or family, but who became a beloved and valuable part of the restaurant family. When the founders opened a place in South Carolina, they gave the restaurant the name of their beloved Willie Jewell, according to Laurie Langford, who owns the North Charleston location with her husband, Carl.
Best-Seller Willie Jewell's most popular dish is its beef brisket.
"You can't get anything like it in Charleston," Langford says. "And our bread pudding sells out every day. We can't keep it in stock."
Secret Sauce "We don't put any sauce on our meats," Langford says. "We dry rub our meats and let the meats speak for themselves. People will say they want 'regular' barbecue sauce. I tell them regular depends on where you're from."
BBQ Passion "Most places don't serve brisket because it's become a very expensive meat," Langford says. "My husband has been working for years to get the recipe perfect. It's the rub and the smoking. And, it's very important how you cut a brisket. You can cook it beautifully and ruin it by cutting it the wrong way. It has to be cut against the grain."
Takeaway The restaurant sells five different bottled sauces: Classic Carolina Mustard; Spicy Carolina Mustard; Sweet and Tangy ("That's by far our best-seller," Langford says. "It outsells the rest three to one."); Traditional Red Hickory; and North Carolina Vinegar.
Last Word "People will drive here just for the ribs," Langford says. "These are not the baby back ribs, these are the St. Louis cut and they're a lot more meaty. We have one woman who comes in twice a week from Georgetown just to get the ribs. They're fantastic." 8983 University Blvd, North Charleston, 843-789-3636, williejewells.com