The Queen of Lowcountry Fiction
22 Jul 2015
Author Mary Alice Monroe showcases Charleston to readers around the world
By HOLLY FISHER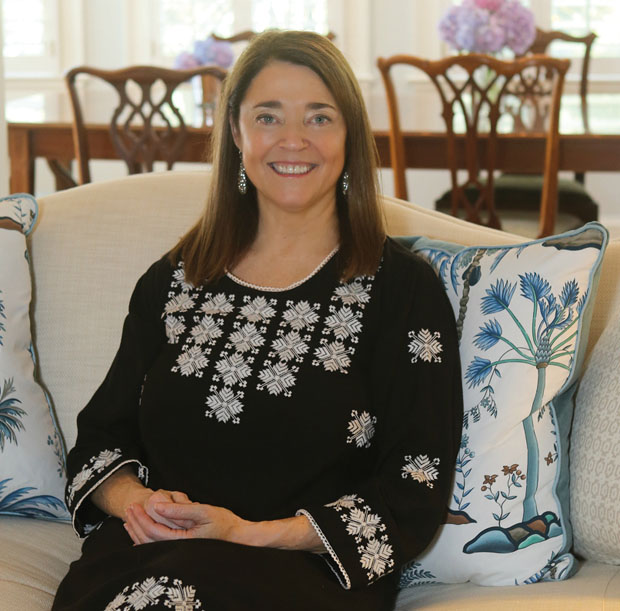 Some 300 people lined up outside the South Carolina Aquarium on a clear May evening for a chance to celebrate the release of "The Summer's End," the last book in the trilogy by Charleston author Mary Alice Monroe.
Despite 20 years as a published novelist, Monroe still worried that no one would show up. Certainly an unfounded worry for the woman dubbed the "Queen of Lowcountry Fiction." This staunch Lowcountry lover and conservationist has penned almost two dozen novels and hit the New York Times bestseller list. Yet she's completely down to earth, willing to spend hours signing books and meeting fans against the backdrop of sea turtles and fish at the aquarium.
After the May 19 release of "The Summer's End," Monroe took to the road, traveling the country on a crowded book tour of signings and speaking engagements. For three weeks, she spoke twice a day in Florida, Georgia, Illinois, North Carolina and Tennessee. She admits the schedule is physically tiring, but simply scroll her author Facebook page and you'll see a smiling Monroe, soaking up the reader interaction and appreciating the people who have launched her books onto the lists of "best summer reads."
"The Summer's End" is the conclusion to a heartwarming story set on Sullivan's Island. The first two books in the series – "The Summer Girls" and "The Summer Wind," – introduce readers to three half-sisters and their beloved grandmother, Mamaw. The sisters have returned to the family's beach house, Sea Breeze, intending to stay just for their grandmother's birthday celebration. They end up spending the summer at Sea Breeze as they deal with the ups and downs of life changes, and wind up discovering newfound courage and strength in themselves and each other.
The book is set against the picturesque backdrop of Sullivan's Island where a friendly dolphin named Delphine befriends the family early in the summer. After getting tangled in a fishing line, Delphine is rushed to a medical treatment facility. Delphine's story of connection, healing and release mirror that of the sisters and she becomes an integral character.
Telling Nature's Story
It's a lesson in nature, conservation and respect for wildlife – themes Monroe often weaves into her stories, giving readers an environmental education along the way.
"I'm a storyteller with a heart for conservation," Monroe said. "I always strive to create a story world with rich, well-rounded characters that establish a meaningful relationship with animals and with nature to make readers aware through the power of story. Stories have the power to effect change."
Monroe's desire to blend her love of nature with her writing started with "The Beach House." That book marked her decision to "write with a purpose," she said. And so began what is now her trademark method of writing about the environment against the backdrop of human story.
"The Beach House," published in 2006, explores that fragile, yet enduring bond between mothers and daughters. At her mother's request, Caretta Rutledge returns to the Lowcountry just as her own life is spinning out of control. Soon the island way of life opens her heart as she repairs the family beach house, devotes time to the sea turtles laying their eggs on the beach and reconnects with her mother. Monroe continued the story of that best-selling novel with two more books: "Beach House Memories" and "Swimming Lessons."
A Movie in the Making
Ten years after the publication of "The Beach House," the book will have a rebirth as a movie on the Hallmark Channel with South Carolina native and actress Andie MacDowell playing the role of Caretta "Cara" Rutledge.
The best part of the story is that Monroe actually pictured MacDowell as she was writing the character of Cara Rutledge more than a decade ago. Several years later after the book was published, Monroe was sitting in the Atlanta airport waiting to take a flight back to Charleston when she spotted MacDowell taking the same flight.
Monroe desperately wanted to introduce herself and tell MacDowell she was the inspiration for her book's character, but opted to let the actress travel in peace.
"It was a torturous 35-minute flight because I wanted to tell her," Monroe recalled.
After disembarking the plane, Monroe took her place to wait for her bag. Who should wind up standing next to her but MacDowell? Monroe took that as a sign and introduced herself. Monroe had no idea if MacDowell would ever give "The Beach House" a second thought, but a few months later, MacDowell got in touch.
As luck would have it, MacDowell loves sea turtles, she understood the family dynamic in the story and, of course, loves the coast of her home state. The two met several times over the course of a year and eventually Monroe could announce that "The Beach House" would be made into a Hallmark Channel Original Movie in 2016.
"It was serendipity at its best," Monroe said.
To have MacDowell, South Carolina and the turtles all in one film is a match made in heaven, she added.
Even though Monroe has written about dolphins, monarch butterflies and more, she always comes back to the sea turtles. Monroe volunteers with the Island Turtle Team, monitoring nests and hatchlings on the beaches of Isle of Palms and Sullivan's Island. She's also a director emeritus with the South Carolina Aquarium, home to the Sea Turtle Hospital, where injured turtles are treated and often released back into the ocean. In 2016, the South Carolina Aquarium will construct a new $5 million hospital on the aquarium's main floor.
"I feel honored to be a part of the ongoing effort to protect the loggerhead sea turtles," Monroe said. "Seeing a loggerhead come ashore to nest is a rare sight. But through my work with our Island Turtle Team, I've been blessed to witness this ritual several times, and it takes my breath away every time.
Who wouldn't be in awe of watching 180 million years of instinct at work?
"The females lay their eggs on the beach of their birth, carrying on the ancient life cycle on the same stretch of sand I call home too," Monroe added. "My love for sea turtles is unwavering. And, God willing, I plan to be here to walk this stretch of beach as a 'turtle lady' for many years to come."
A Drive to Write
After this summer's travels promoting "The Summer's End," Monroe will return to her Isle of Palms home to "batten down the hatches" on her next book. Due out in May 2016, this next book – tentatively titled "A Lowcountry Wedding" – revisits Mamaw and her granddaughters as one (or more) prepare to get married.
She wanted to do one more book on these women because of the readers' – and her own – affection for the characters, Monroe said. Plus, Charleston is a No. 1 wedding destination so it just made sense.
And so she will retreat to her own beach home, working around the clock into late winter. Deadlines are ever present, and weekends are for writing and re-writing.
As it is for many of her characters, the beach is a refuge for Monroe, a place to recharge after a long book tour or a lengthy stint of work on a new book. Even in her busiest seasons, she manages to squeeze in time outdoors.
"My goal is to find time for walking outdoors and connecting with nature, so I remember why I'm writing," she said. "It's about keeping me healthy and calm."
Nature and writing seem to be two things Monroe can't do without. They are woven into her character, creating in her a best-selling author with a passion for the environment and non-negotiable passion to tell stories.
"You have to have the drive to write," she said. "Even on book tour, the story is percolating in my head."
And it's a story readers will line up to experience.