How to achieve peak coastal style
By Shelby Simon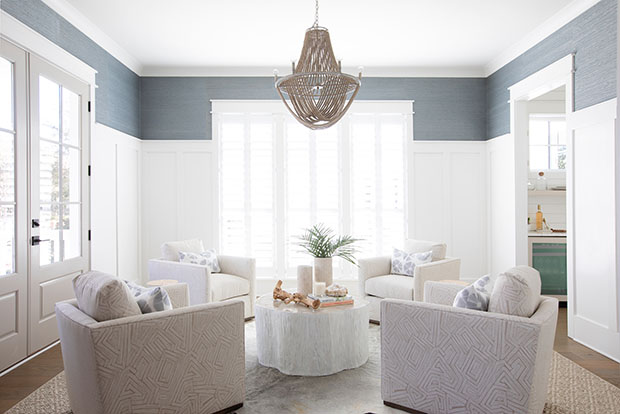 Summertime is just around the corner, and what better time to incorporate what we all love about life in the Lowcountry this time of year—a relaxed, beachy vibe.
Whether you are looking for ways to add some Lowcountry seaside flair to your space or looking for seasonal accessories for when you host loved ones for a summertime meal, local designer Megan Molten, luxury interior designer and founder of Megan Molten Interior Design in Mt. Pleasant, shares her tips on how to successfully pull off a refreshing seasonal style throughout your home, both indoors and outdoors.
Inspired by Charleston's cool, coastal colors, Molten describes her go-to aesthetic as light, bright, clean, modern and airy.
"Summer means a lot of white, always my base, and then we add in natural colors and woven textures topped with soft colors like blue and grey," says Molten. She tends to gravitate towards designing with these neutral hues at the front, paired with greenery—lots of palms, a nod to the Lowcountry—and a combination of woven materials, glass and wood accents.
For woven accents indoors or outdoors, Molten recommends incorporating rattan furniture. "Mixing and matching rattan elements throughout your home gives a subtle coastal nod," she says. It also provides a contrast against other upholstered pieces.
Another coastal decor detail to consider is repurposed driftwood, which can elevate any space with its one-of-a-kind character. Molten recommends using driftwood as a beautiful addition to a coffee table, as dining room table centerpiece, on a built-in bookshelf or even hung above a bed.
Whatever area of your home you're sprucing up, starting with a clean color palette and adding coastal art and accents can say summer without overdoing it.
"Some accessories that can consistently be updated throughout your home are things like artwork, throw pillows, accessories and greenery," she says.
Molten tends to choose neutral upholstery and add pillows in soft colors and art prints, which can always be moved around to keep things fresh and seasonal. For your porch or outdoor centerpieces, filling large white planters with large tropical plants and seasonal flowers can make a vibrant statement.
When entertaining guests, it's the little thoughtful details that can make a memorable experience. Home accessories, including kitchen items perfect for setting a summer table: cutting boards, bowls, serving trays and utensils, can be found in Molten's online shop, MeganMoltenShop.com, as well as her shoppable warehouse, open Tuesdays and Thursdays from 10-4 p.m.
"Our kitchen items are a mix of glass, woven, white and wood to help you create a collected yet cohesive look for your indoor or outdoor summer tables," Molten says. She also offers a variety of faux greenery, woven candle holders and textured white vases and planters for centerpieces. A nod to Molten's own love of collecting and decorating with local original artwork, her shop also features artistic talent from around the Lowcountry.
"I'm a big fan of indoor/outdoor living and making your spaces inside and outside your home cohesive," says Molten. She now offers full-service design services, virtual design services and an e-commerce shop for clients in the Charleston area and beyond.
Her most important piece of advice? "If you can only do one thing to make your home feel summery, paint everything white," says Molten. "It will immediately make your home feel clean and fresh."