T.W. Graham & Co.
05 May 2021
The finest seafood straight from the docks
By Wendy Swat Snyder
Photos by James Stefiuk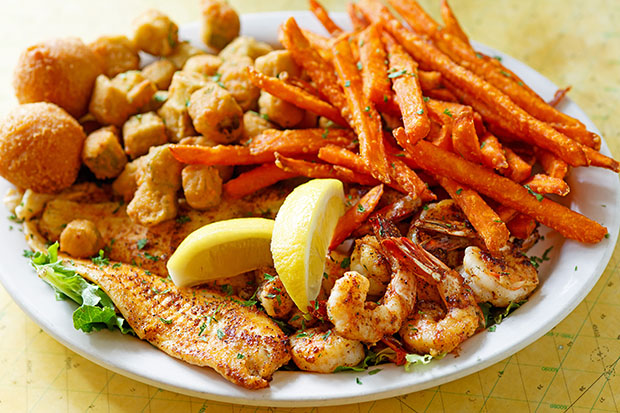 The coastal enclave of McClellanviille offers the visitor a glimpse into a bygone world where life is lived a little closer to nature and folks know their neighbors. And you need not venture any further than the tiny heart of the downtown historic district to be wowed by authentic, fresh-off-the-boat seafood served with a hefty side of Southern hospitality, courtesy of T.W. Graham & Co. Whether you've spent the day exploring a local rice plantation, boating to a pristine wildlife refuge or taking a slow stroll back in time along live oak-shaded Pinkney Street, the town's main corridor, choosing the right dining destination can add just the right touch of local color to your getaway.
In a region known for its local seafood, T.W.Graham & Co. owner Patrick Runey understands well that guests' expectations are focused on quality when stopping for a bite to eat in a fishing village.
"You can't be too far off the wall out here," says Runey with a laugh. "We try to stay simple, we do what we know, and we do it really well."
A native of Charleston, Runey maintains that while he's worked at lots of restaurants, he enjoys working for himself the best. During a stint at Wild Dunes Resort, he followed an impulse when he saw a business-for-sale ad and made a bid for T.W.Graham & Co.
"There's a point where you just have to do it," Runey says. "Failure wasn't an option—and
I wanted to be my own boss."
Closing a deal with then-owners, Pete and Claudia Kornack, was not a given, according to Runey. The couple had declined offers from other potential buyers, saying 'you're not the right people, it's a very small town—you won't make it in McClellanville.'
In operation since 1894, T.W. Graham & Co. has a history central to McClellanville's small town life—which Runey characterizes as "the other Mayberry."
"It's not always been a restaurant," notes Runey. "It began to evolve around 25 or 30 years ago. It was originally a general mercantile store, then started selling sliced meat, then cheese, and eventually wrapped sandwiches. With the waterfront right there, they decided to get a fryer and started selling seafood."
Today, the casual eatery is itself a funky repository of artifacts, with a "pirate's cove," walls and ceilings displaying all manner of memorabilia, some nautical and some not, and a suspended surf board and kayak, to boot.
"It made me feel really good when the Kornacks gave it to me," Runey shares. "I love food and I love people—I've done everything there is to do in a restaurant—I knew it was time for a change."
In the seven years he's owned T.W.Graham & Co., Runey has carried on the restaurant's legacy as a Lowcountry seafood institution, going to the nearby docks on a daily basis to survey the fresh catch.
"Pete and Claudia had a great following—there's nothing broken here. We've put our own little touch on things," says Runey, pointing to the lavish pies—key lime, coconut custard—that are made by his wife, Stacey, and his own recipes for sauces, like a unique Jamaican mayonnaise and a barbeque sauce so light it's a kiss of flavor on whatever it touches.
A core team stayed on in the kitchen after the Runey purchase of the eatery, carrying on a tradition established over decades of food service.
Chef Josh McClellan got his culinary start washing dishes as a teenager for the Kornaks, and was quickly entrusted with greater responsibilities. With the Runey sale came the same trust and friendship—a good fit for everyone.
"Packy and his wife are great people," says McClellan of Patrick and Stacey. "He takes care of each and every one of us—he fell right in to this little town, and is loved by many."
"A lot of Josh's family work the river," notes Runey of the town's founding fathers. "We sell some of their products—the shrimp, clams, oysters they gather—there's a lot of full circle right here."
Additional purveyors Runey's on a first name basis with include Carolina Seafoods, Livingston's Bulls Bay Seafood, Georgetown Seafood, Independent seafood, Lowcountry Shellfish and North Carolina-based Garland Fulcher.
Rounding out the back of house team are chef/ farmer Thomas Hodgin and "Miss Gertrude," a T.W. Graham institution.
"I work with Miss Gertrude every day," says McClellan. "She's the wind beneath my wings.
She's been a fry cook probably as long as I've been alive. Every plate we put out, she and I feel it's as close to perfect as possible—and would feel comfortable serving to our grandmothers."
Seafood dominates the menu, and the mantra, "less is more," rules the kitchen. Flavorful fillets of flounder on platters piled high with fries and McClellanville shrimp, fried or grilled to order, are lightly seasoned and dredged in an old school flour mixture that requires no further enhancements.
Starters from the fryer include calamari, crawfish tails with Jamaican mayonnaise, crunchy grouper "fingers" and local baby clams that are also offered steamed in a white wine garlic broth.
"Gert's Famous Crab Balls" are one of Miss Gertrude's many contributions to the restaurant—plump and delicious, they're her mother's recipe, loaded with local blue crab claw and back fin meat.
Hodgin, whose portfolio includes stints at upscale Charleston establishments such as Anson, Garibaldi's, Le Mistral, Le Midi and Coco's, sums it up this way: "The same care and attention to detail that I'd put into classical French cuisine goes into making shrimp and grits. The fact that it's seafood and red rice and collards—soul food—takes it back to my Sullivan's Island roots."
T.W. Graham & Co. has all the right ingredients for an over-the-top Lowcountry getaway—classic Southern seafood created with an eye on quality and a lot of love, by staff that feels like family.
T.W. Graham & Co.
810 Pinckney Street
McClellanville
843-887-4342
https://www.facebook.com/TWGrahamCO