Beachfront Bliss
05 Jul 2021
Isle of Palms home embodies coastal style
By Rob Young
Photos by Jim Somerset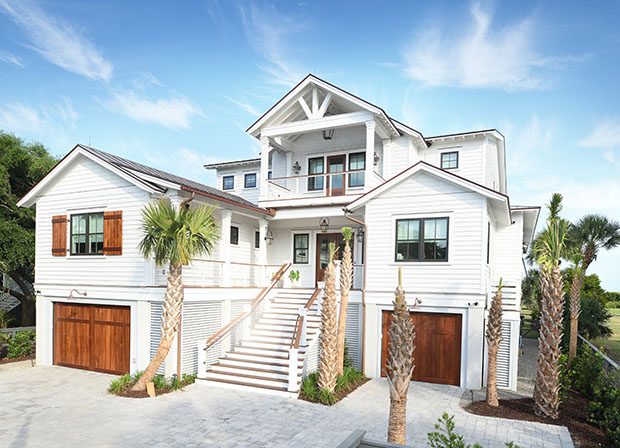 Every 4th of July, Steve and Melissa Grimshaw open their home for a week, trading stories and swapping meals with their extended family and friends. This year they've got a great conversation piece—their new beachfront home on Isle of Palms.
The Grimshaws initially embarked on a renovation of the house that was last updated in the 1990s before scrapping the idea to raze the old property to build a new 5,600 square-foot residence.
Lowcountry Custom Home Builders, and its principal owners George Gayle and Eric Peabody, went on the adventure for the new build. After 22 months, the Grimshaws moved into their home in February 2021.
"Quality was more important than time," Steve Grimshaw says. "We got the house done exactly how we wanted."
Slow and Steady
The Grimshaws always knew they wanted to head back to South Carolina. Most of their family lives near the area, making their return from Frisco, Texas, an easy decision. Steve's sister, Charleston area realtor Joanne Grimshaw, found the home and Steve and Melissa made an offer, sight unseen.
The Grimshaws initially hired Lowcountry Custom Home Builders to redo their boardwalk and handrails after another company botched the renovation.
"It was bad," Gayle says. "The lumber was bad, wet and crooked."
Lowcountry Custom Home Builders embarked on a more intense renovation focusing on the back deck, porch and other areas before scrapping the project altogether in favor of a rebuild.
"The house was built in the '50s, razed in the '70s, then rebuilt with an added tower and addition in the '90s," Melissa says.
Ultimately, the couple wanted a larger space. Their new home features an open floor plan, three bedrooms, four full bathrooms and two half-baths decorated in an airy and ethereal coastal style reflective of the ocean just outside the back door.
An additional room has two bunk beds, the bottom beds being queen sized, the uppers twins, and a fold-out queen size couch in the adjoining space.
"What George did there is spectacular. Families can have their own little area, and it could be a mother-in-law suite," Steve says.
Home with a Heart
Already, their home is filled with personal mementoes and memories. During construction, for instance, the Grimshaws asked their family and close friends to scribble their favorite Bible verses on the studs.
"Prayers of protection and blessings were prayed over our home," Melissa says. "We feel very comforted that God's love and promises are the foundation of our home."
Melissa's grandmother's bench also enjoys a place of honor within the home near the entrance.
"Many generations of conversation have taken place on that bench," she said.
Gayle suggested framing a prominent backdrop behind the bench, and artist Michael Gilbert obliged by painting a striking landscape of sand dunes.
"We finished it off with a set of sconces and the end result is just beautiful," Melissa says.
Gilbert also created a painting of the Isle of Palms connector that hangs by the front door, symbolically marking two entryways to their home; Steve counts it as one of his favorites.
Design Dream Team
This was a special project for Gayle, who grew up on Isle of Palms and attended Wando High School. He still has many local connections.
"We grew up in Wild Dunes when it was the beach and racket club," he says.
He attended the University of South Carolina for two years before returning home when Hurricane Hugo hit the area. He began working for a number of Charleston-area builders, learning the trade.
He and business partner Eric Peabody started Lowcountry Trim 17 years ago. It's a good pair. Peabody studied vocational studies for teaching purposes and has a welding and woodshop background, while Gayle has more building experience. Gayle enjoys his hands-on role.
"I'm in the field every day and can put on a nail bag if I need to," he says. "I'm not one of the contractors riding around in their SUV with a laptop."
Architect Sabrina Vogel provided the design. As the owner of SLC Architect, Vogel works with custom home builders and clients and strives to intently listen to their perspectives. She comes about it honestly. Her father owned a construction company, allowing her to learn aspects of the trade early on.
She graduated magna cum laude with a Bachelor of Architecture degree from Virginia Tech, and spent several years working for Charleston-area design firm Herlong & Associates.
"We got so many recommendations about Sabrina," Steve says. "She only takes on two or three clients at a time and we were lucky that she was just finishing up one as ours started."
Onyx Design Collaborative—Michelle Suddeth, Emily Cox and their team—helped choose interior selections, contributing to the remarkable residential space.
"They share the same office as Sabrina," Melissa says. "It's a very cool concept of women coming together to support each other."
"The design of this legacy home was very much a client-led collaborative process between contractor, architect and designer," said Emily Cox. "The homeowners had a strong vision for their dream home, and it was a pleasure to join forces to help bring that dream to reality."
"Wow" moments in the house include custom concrete laundry floor tiles from Lili Tile in a mermaid scale shape, with a custom turquoise color selected to complement the watercolor shades of the dogwash textured tile walls. Another design standout is turquoise wallpaper backing inside the built-in bookshelves in the living room.
"Lining the back of the built-in bookshelves with natural woven wallcovering is one of our favorite ways to set the aesthetic direction," Cox said. "That particular shade of rich tourmaline green was the pivotal selection to direct the remainder of the complementary fabrics and finishes."
Keeping in the coastal vibe, the outdoor wood deck flooring is a raised pedestal system of dense tropical hardwood tiles from Bison, which makes innovative rooftop decking materials. It combines form and function, allowing water to drain off quickly and efficiently.
Saunders Woodworks built many of the custom cabinets and furniture and added custom touches, like a custom vanity in the downstairs bathroom and in Steve's office, which is made using pecky cypress. The pattern of the grain continues on each of the home's door fronts.
Brick was used selectively throughout the kitchen, pantry, and dining areas to add warmth, texture, and a sense of history to the home.
"The decorative herringbone backsplash panel above the Thermador range was the perfect way to highlight the potfiller and transition to the walnut hood," Cox said.
Hitting the Water (and the green)
Other highlights include a large, screened-in outdoor area with an outdoor built-in fireplace, grill with a hood and heated pool, partially shaded by the overhang.
"You could call it a small pool or large hot tub," Steve jokes. "Either way, half the time we heat it up."
Indoors, a movie room allows Melissa and Steve to binge watch their favorites, and all three master bedrooms have private balconies. "(Gayle) made the house so solid and quiet that when you're sitting in the bedroom, you cannot hear the ocean. You'll have to open the windows."
Here's the most unique feature: A reproduction of the 3-par, 132-yard, 17th hole at TPC Sawgrass in Ponte Vedra Beach, Fla., home of The Players Championship, which offers the highest prize fund of any tournament in golf.
Built to half scale, it's an "island green" surrounded by water. "I just love that hole. It's probably one of the most intimidating holes in golf and building it half the scale still made it remarkably harder than I wanted," Steve says.
With so much to do and enjoy without ever leaving the property, the Grimshaws expect to enjoy the house for a long time to come.
"The whole project was quite a journey," Melissa said, "but the end result has been absolutely fabulous."
Steve adds, "Between George and Eric and our architect, I'd give them all five stars."
Vendors
Lowcountry Custom Home Builders LLC and Lowcountry Trim
(843) 442-3821
SLC Architect
843-532-3817
Onyx Design Collaborative
843-367-3667
Saunders Woodworks
843-884-8911
http://www.saunderswoodworks.com/
Tile
Lili Tile
Deck flooring
Bison Innovative Products
www.bisonip.com