Polish Pottery Gallery brings hand-painted history to Charleston
By Allison Bolt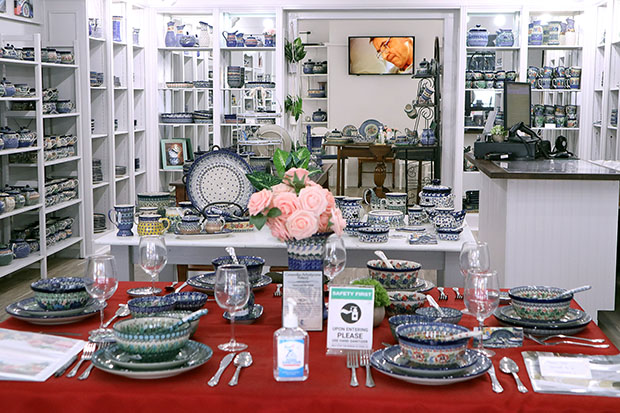 A new store on King Street is bringing the stunning tradition of Polish pottery to Charleston. Jack Faires, owner of the Polish Pottery Gallery, discovered Polish pottery when he was in the military. While stationed in Germany, he began bringing a few pieces of pottery back to the U.S. with him. He received so many compliments on the pieces he brought home that he began wondering if the pottery would sell stateside.
After 10 years of trying to get the proper licensing, Faires began distributing Polish pottery to about 800 shops around the United States. Soon, Faires started thinking about opening a brick-and-mortar store.
His relative, Avery Clontz, grew up in Charleston and knew that King Street was the perfect spot to bring Polish Pottery to the Lowcountry. In 2020, the Polish Pottery Gallery opened its doors with Faires as the owner and Clontz as the sole-proprietor and manager. They get new arrivals from Poland several times a year and sell items at a variety of price points.
Clontz is at the store every week along with staff member Grace Shaffer, a pottery enthusiast. The duo are always happy to talk Polish pottery with customers.
Hand Painted
All of the pottery is delicately hand-painted in a small town southwest of Poland called Bolesławiec.
"The reason why we absolutely love Polish pottery is because not only are our pieces intricately designed and hand-painted, but each and every piece—from the toothpick holders to the large bakers—can go into the microwave, dishwasher and oven," says Clontz.
"When the artists initially fire these pieces, they go into the kiln at around 4,000 degrees so your 400-degree oven will work perfectly. The colors stay vibrant for as long as you have your piece, thanks to the protective overglaze they put on the pottery. Every single piece is different because it's all hand-painted. There are hundreds of painters and each one has a different way of interpreting the pattern that's shown."
Polish Pottery Gallery has many different classifications for the unique hand-painted patterns they carry. In broad terms, customers can choose from two groups of patterns: traditional and Unikat.
"Our traditional patterns have more hand-stamp work and basic designs like blueberries, fall leaves, flowers and much more. They are the staples of pottery that we like to keep in the store," Clontz says.
Unikat pieces, however, are much more elaborate.
"In Polish, Unikat means unique," said Clontz. "All of our pieces are unique but the Unikat designs include much more brushwork and attention. Some of our Unikat pieces are more expensive due to the experience of the designers and painters. Each one has the initials of the painter, painter number and even the signature of the person who designed the pattern on the bottom. They are truly one of a kind."
These unique and stunning patterns are painted on a wide range of pottery items, from a blue poppy painted rolling pin to a red floral Unikat seasonal Christmas tree. Polish Pottery Gallery carries playful bakeware, kitchenware, dinnerware, home decor, serving pieces, tea and coffee mugs, sets, seasonal items and unique gift ideas.
Clontz says their most popular piece is the War Soup Bowl which has a beautiful pattern and also has a unique story behind it. The bowl is modeled after a small-fired clay bowl that Polish citizens tied to their waists during WW2 when food was sparse. Whenever the community soup was ready, they had their bowl with them.
The War Soup Bowl is just one of countless unique pieces of history that the Polish Pottery Gallery has brought to King Street.
"Bringing Polish pottery to the area is such a joy because not many people realize that Polish pottery exists and it's important to keep culture and history alive," says Clontz. "Our mission as the Polish Pottery Gallery of Charleston is to inform the community that they can have functional ceramic dishware and still be able to display it as art in the kitchen. The Polish have perfected this process. It really brightens your kitchen as well as your mood when you see all the bright, fantastic colors in your home. Here we call it, 'useful art.'"
To learn more, visit the shop at 180 King Street or visit www.polishpotterygalleryofcharleston.com when you can shop current inventory. The store can ship anywhere in the U.S. with a $10 flat shipping fee and offers free shipping for orders over $100.