Beat the Heat
05 Jul 2021
Frozen drinks, unique milkshakes & more
In the dog days of summer, it's essential to stay cool with a swim, a breeze or a cold drink. Check out these unique cold treats around Charleston that you can enjoy while out, or while at home, on these hot and steamy days.
By Monica Kreber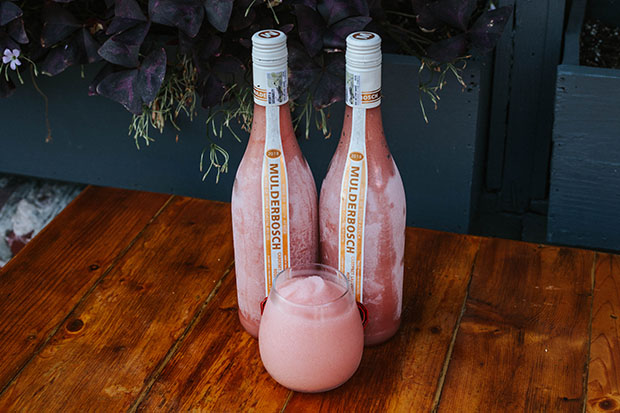 Alcohol-infused frozen treats
Various locations
Adults get excited for these "cocktails on a stick" sold from Booze Pops, Woody Norris's fleet of trucks.
Booze Pops offers alcohol-infused popsicles made with premium alcohol; content levels vary from six to 15 percent (depends on the popsicle).
Popular flavors include organic mango with rum, watermelon lemonade, sunset on the rocks, blackberry pomegranate gourmet wine popsicle, footlong pina colada and guavaberry. Frozen martini popsicles include a frozen cosmo. Feeling like a party? Try the "high roller" options with three shots of alcohol inside.
A new triple-layered rum popsicle that will debut this summer is called a Threezer, with three flavor options: Red, White and Boysenberry; the Orange Vanilla Cream and the Strawberry Colada.
"Our entire menu is designed by our customers," Norris said.
Booze Pops also offer jello shots, kids' ice cream and free bottled water, along with a safe place to wait for a ride home.
Trucks are located downtown at 424 King St, 246 Meeting St, 584 King St, 6 Anson St., and on Folly Beach at 114 East Artic Ave. Booze Pops will also add routes in neighborhoods via Facebook requests.
Learn more at boozepop.com.
Frosé all day
Sullivan's Island & Isle of Palms
First came rosé, and then came the frosé.
The Co-Op Frosé and Eatery is known for serving its flights of frosé at its two locations on Sullivans Island and the Isle of Palms.
Owner Jess Patterson said they have probably served more than 50 flavors of the frozen beverage, but this summer the Co-Op plans to dabble in some flowery flavors, like hibiscus, lavender and violet.
"The flights are extremely popular," Patterson said.
While the frosé in general is its biggest attraction, customers can also get frosé-to-go in a 16-ounce sealed container that Patterson said is probably the restaurant's biggest sellers.
"People love the fact that they can leave with it and take it home," Patterson said.
The Co-Op offers breakfast and lunch with about 30 menu items; in addition to the sandwiches and salads, the restaurant offers smoothies through a partnership with Hustle.
Learn more at thecoopsi.com.
The freshest Island beers
Enjoy at home
Harriot's Islander Ginger Beer, available at all Harris Teeter locations, is made using a Turks & Caicos recipe passed down through generations.
"Alcoholic ginger beer is the most dominant drink in our culture in the Turks and Caicos; it's hand-prepped with the freshest ingredients," said Georgia Dunn, President & CEO of Harriot's lines of products, whose dad's side of the family worked in the salt industry in the islands.
Today, Harriot's Island ginger beer (named for her grandmother Harriot) is made in small batches at Thomas Creek Brewery in Greenville, hand-prepped using the highest quality produce, and shipped across the Southeast. New flavors include Harriot's Hard Lemonade made with whole lemons and a Mango Mimosa.
"One of my greatest childhood memories is when the boats would come in loaded up with fresh produce and my grandmother would feel each mango and pick the ripest ones," Dunn said. "This is a way to share my family's culture and tradition."
Visit www.harriottslegacy.com for recipe cards and to read more of the company's history.
-Jenny Peterson
Artisanal gelato
Pop-ups around Charleston
Paula and Phil O'Reilly know nothing beats a fresh, frozen dessert.
What started as an interest in establishing an ice cream shop in Mt. Pleasant resulted in the pair learning how to make artisanal gelato and sorbet made with fresh, locally-sourced ingredients.
Paula now creates custom gelato for weddings, corporate, private events and celebrations.
"I want my gelato to be meaningful when it shows up at someone's life event," she said.
Oh So Gelato is not currently available in retail but it offers deliveries on pre-announced days and for special orders. Their gelato cart will also make an appearance at local events for individual servings and pints to-go. Paula's two most popular flavors for delivery are Stracciatella (a traditional Italian chocolate chip flavor) and Toasted Marshmallow, which has "a cult following," Paula said.
Delivery orders can be placed by calling Paula at 843-847-8158 or by visiting Oh So Gelato on Facebook and Instagram. Learn more at ohsogelato.com.
Crazy milkshakes
Folly Beach
The bigger the ice cream, the bigger the smile.
Stephanie Mahan's has three daughters (aka "the three little monkeys") and they love ice cream – the sweeter, the better.
Mahan opened Three Monkeys on Folly Beach inside the Irish pub, St. James Gate, located on 11 Center St. with eight flavors of "crazy shakes" using Wholly Cow Ice Cream as the base flavor. Mahan adds her own pizzazz; her daughters love the Worms & Dirt shake, made with Cookies & Cream ice cream, vanilla frosting, crushed Oreos, gummy worms, a Hershey's Cookies 'n' Cream mini bar and an Oreo cookie.
They also have an ice cream called a "99" that's a hit – a super creamy vanilla soft serve in a cake cone served with a Cadbury Flake. She's added a donut to the top of a shake before.
"It's been the most gratifying thing I've done in a while," Mahan said. "People are just happy to be around ice cream." Follow Three Monkeys on Instagram and Facebook a three_monkeys_folly.