Dockside Dining
05 Jul 2021
Tie up to the dock at these waterside restaurants
by Elise DeVoe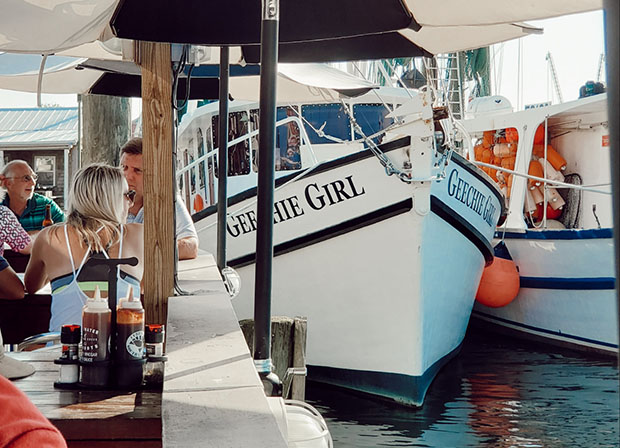 In the summer, there is nothing more quintessentially Charleston than pulling up to a restaurant on a boat for lunch or for dinner after a beautiful day on the water. Tie up to the dock of these waterside restaurants and take in the unmatched views while grabbing a great meal.
Diners by land are also welcome.
Charleston Crab House on James Island
45 Wappoo Creek Dr, Charleston
@charlestoncrabhouse
This James Island waterfront staple on Wappoo Creek is so boater-friendly that you can bring in your freshly-caught cleaned fish and they will cook it up for you! Wappoo Creek, the waterway that separates James Island from West Ashley, is popular with boaters and near two boat ramps. Tie up your boat and enter dockside for Southern staples like the "Carolina Platter," which features variety of fried and grilled seafood with Carolina grits and collard greens and an extensive menu of burgers and sandwiches. Crab legs are also a feast not to be missed. Diners can take in the waterfront view from the large dining room windows or on the deck, a perfect spot to enjoy their variety of frozen cocktails. 11:30 a.m. – 10 p.m. seven days a week.

Bowens Island Restaurant
1870 Bowens Island Rd
Charleston
@bowensislandrestaurant
Bowens is known for their fresh seafood and unparalleled sunset views of the back side of the Folly River where you can take pictures on the dock. They are located just five minutes away from Folly Beach, but a lot of people may drive by and miss this hidden gem at the end of a long dirt road (look for the large hand-painted sign along Folly Road). Bowens Island is famous for its locally harvested oysters, fried shrimp, hushpuppies, Frogmore stew and cold beer. Bowens Island has been operating for over 70 years and is a must-try waterside restaurant. Every seat at Bowens Island's elevated dining area offers a great view of the water. You can even watch the kayakers from Charleston Outdoor Adventures as they come on and off the water. Tuesday-Saturday 5-9:30 p.m.
California Dreaming
1 Ashley Point Dr, Charleston
facebook.com/CDcharleston
California Dreaming is located directly on the Ashley River right across the bridge from downtown Charleston. The building is so massive that you can actually see it from downtown. If you are arriving by boat, they have a slip ready for you. They have been serving the Charleston area since 1987 and their floor-to-ceiling windows offer a panoramic view of the water. They are known for their she crab soup and fried seafood platter. They also have an outdoor bar that wraps around the restaurant that is perfect for sunset sipping. Enjoy cocktails perfect for summertime like their frosé or a frozen daiquiri. The restaurant opens at noon Saturday and Sunday; opens at 4 p.m. Monday-Thursday. Open until 9 p.m. weekdays and until 10 p.m. Friday & Saturday.
Wando River Grill
33 Nautical Lane, Mt. Pleasant
@wandoriver
The Wando River waterside restaurant caters to patrons for dine-in or waterside to-go due to its proximity to the adjoining Wando River Marina that serves boaters, including fuel. Wando River Grill in Mt. Pleasant, off Hwy 41, is a summer destination, with a sand volleyball court, waterfront gazebo, corn hole sets and lounge chairs. Their seasonal menu features local seafood, small plates, soups, salads and entrees. They offer indoor and outdoor patio dining and they have an event space upstairs called "The Anchor Room," which can accommodate groups of over 100 people. Kick off your meal with their homemade pimento cheese fritters served with their house bacon jam dressing and mixed greens. For an entree, try their fresh caught local fried flounder served with red rice and coleslaw. Friday and Saturday 11 a.m. – 10 p.m.; Sunday 11 a.m. – 7 p.m.; Thursday 3 – 9 p.m.
Boathouse at Breach Inlet
101 Palm Blvd, Isle of Palms
@boathouseatbreach
Right over the bridge between Sullivan's Island and Isle of Palms sits the Boathouse. Their rooftop bar overlooks Breach Inlet, where you will almost always spot dolphins. If you're looking for light bites after a day at the beach, their bar menu includes appetizers like sweet corn hush puppies and fresh seafood items like shrimp cocktail and seasonal oysters. They also have happy hour from 3-6 p.m. featuring $3 beer, $4 house liquor and $5 wine. For dinner, they have a wide variety of seafood options and they're known for their "fish boards." For the fish board, guests can customize their choice of fish, preparation, and sauce. After you enjoy your dinner, make sure to head up to the rooftop for the sunset. Bar opens Monday-Friday at 3 p.m.; dinner starts at 5 p.m.
Saltwater Cowboys
130 Mill St., Mt. Pleasant
@ saltcowboys
The rooftop at Saltwater Cowboys is home to some of the best views of Shem Creek, especially at sunset. Their cocktails are made for summertime with refreshing flavors and a few frozen options. They have added a Gazebo bar in order to keep up with the summer crowds and so more people can enjoy the views with a cocktail in hand. If you get hungry, you can't go wrong with their Trash Can Nachos. The wait staff will pull the "trash can" mold off of the nachos tableside, which makes for a stunning presentation. Enjoy this magnificent tower of cheesy goodness with stunning views in the background. 11 a.m. – midnight seven days a week.
The Kingstide
32 River Landing Dr., Daniel Island
@thekingstide
Daniel Island's newest seafood and only waterfront restaurant is a two-story behemoth with stunning views of the Wando River, a short walk from the public boat landing on Daniel Island where you can dock your boat and take the stroll. Their rooftop bar and spacious patio is a more casual atmosphere where patrons can enjoy tropical cocktails and fresh seafood. The dining room is a bit more formal with more menu options like full seafood entrees and seafood towers for the whole table to enjoy. The first floor was designed with the waterfront views in mind and features a lot of windows so no matter where you sit, you will always have a great view. For an extra special evening, save yourself the drive and take the ferry from Waterfront Park in downtown Charleston that runs Thursday through Saturday (visit www.diferry.com for complete schedule).

Tavern & Table
100 Church St, Mt. Pleasant
@tavernandtable
Whether you're looking for happy hour drinks and light bites after a day on the boat or a full sit-down dinner, the trendy Tavern & Table has you covered—whether you arrive by boat or land. Their spacious patio and open-air concept create the perfect atmosphere to enjoy the views of the iconic Shem Creek in Mt. Pleasant. Kick off your meal with one of their signature appetizers like their burnt end mac and cheese or dynamite shrimp. Their peel-and-eat shrimp platter tastes especially fresh when you can enjoy it while watching shrimp boats go by. To complement the food, sip on one of their seasonally-driven cocktails that are barrel-aged in house. 11 a.m. – 11 p.m. seven days a week.
Marina Variety Store Restaurant
9 Lockwood Dr, Charleston
varietystorerestaurant.com
Marina Variety Store Restaurant along the Charleston Harbor has been serving one of the best waterside breakfasts in Charleston since 1963. They are a bit under the radar for tourists, but locals flock here for a no-frills Southern style breakfast. Before you cast off for the day, enjoy their signature omelets or eggs benedict while admiring the Ashley River. Watch the boats sail along the harbor while you treat yourself to their stuffed French toast and sip on a mimosa made with prosecco and fresh squeezed orange juice. They are also open for lunch and dinner serving seafood platters, po boys, and southern specialties like their Bear Island shrimp & grits. For a dive bar experience, check out Salty Mike's directly below and enjoy a beer with a no-frills waterfront view. Restaurant hours 7 a.m. – 9 p.m. Wednesday-Saturday; 7 a.m. – 3 p.m. Sunday. Salty Mike's open 1 p.m. – 9 p.m. Friday and Saturday; 2 p.m. – 6 p.m. Sunday, Wednesday and Thursday. Both closed Monday and Tuesday.