Beauty Underfoot
30 Mar 2013
You can't go wrong with fine rugs. They make updating a room easy, and provide a comfortable place to walk on. We ask the experts what to look for when selecting a fine rug.
By DENISE K. JAMES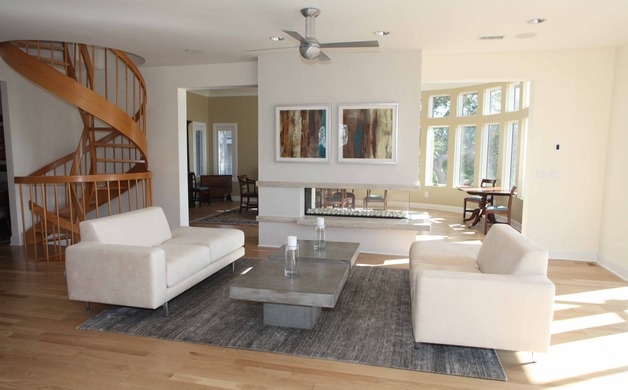 Like many young men and women who are reared in the tradition of small business, Edward Shogry learned to love what his family believed in at a young age. Born in Pittsfield, Massachusetts, Shogry's family has been passionate about the repair, cleaning and caretaking of fine rugs since 1912―a tradition that has continued through the generations to present day Charleston.
"He (Edward) took what he had learned as a young man in Massachusetts and opened the business, here in Charleston, based on his knowledge and experience," explains John Kammeyer, Edward Shogry's son-in-law.
Together with his own son, Kurt Kammeyer, and wife, Victoria Shogry Kammeyer, John continues to grow the family business, which is dedicated to the preservation and love of Oriental rugs. Victoria learned the trade from her grandfather and her father, so she has a keen sense when it comes to spotting the latest trends and new ideas. This is a good thing, since she handles the design and style aspect of the business, and has a tremendous feel for what the customer wants.
As one of the premier Oriental rug dealers and cleaners in the United States, Rug Masters of Charleston has established a name in quality, selection and service. Victoria is one of only a few experts in the country that can repair fine rugs by reweaving the damaged section.
The history of Rug Masters is an interesting one―initially, the business focused particularly on the cleaning and repair of fine rugs, not necessarily on sales. The original location on Calhoun Street was a bustling center for rug love.
"We did not have nearly the space, nor the resources, we currently have in our location today," explains John, inside the present location at 1001 Morrison Drive.
"We had some sales in the original location, once I came on board in the late 1970s, which we wanted to provide as a new "dimension" to the business. Then, after Hurricane Hugo destroyed the Calhoun Street site in 1989, we built this one and expanded our offering of fine rugs."
And when the Shogry-Kammeyer family talks about rugs, it's not just lip service. For generations, they've taken their education on Oriental rugs seriously, a trademark that clients have come to expect and trust.
"Those who are interested in purchasing a fine rug come to us for quality, honesty and dependability," remarks John.
A stroll around the expansive showroom of beautiful rugs is a lesson in how the styles and fabrics of rugs can vary, yet all share the important aspect of quality. Kurt was kind enough to give me a quick lesson on the different "looks" the rugs can take.
"You have your traditional styles," he explains, first showing me what pops into one's head at the term "Oriental rug"―the rich blend of color and pattern fit for the most luxurious of rooms.
"Then you have what are known as "transitional" Oriental rug styles. These are a bit more natural-hued and muted. They are easy to work with in terms of decor. Third, you have what are called "modern" takes on the Oriental rug, which are more involved with colors and patterns than the transitional rugs, less muted and more balanced."
All of our rugs are made of the finest threads―mainly silk and wool, which is important when it comes to quality and longevity. The Kammeyers believe that a rug should last for decades, which is why they only sell, and care for, the finest rugs.
"We cannot sell a rug to you that we don't feel comfortable about cleaning and helping you maintain for years to come," declares John.
"The cornerstone of our business is cleaning and repair; I cannot stress enough how caring for these rugs is the truest way to gain knowledge about them."
Kurt takes me to the back of the house, where the rugs are tenderly cleaned in an enormous space that reminds me of a carwash, but for rugs.
"This facility is one of the only ones dedicated to cleaning Oriental rugs in the United States," Kurt tells me. "One important aspect of our process is the drying. We hang each rug inside our drying chamber, where they are heated and become bone-dry in six hours. If a rug is left damp, it will rot. We probably wash between 5,000 and 6,000 rugs per year."
The origins of the Oriental rugs for sale within their showroom include locations such as Turkey, China, Iran, India, Pakistan, Afghanistan, Egypt and Morocco. Interestingly, the patterns can hint where the rug was sewn.
"There are symbols within the rugs that have significance to the weavers, and colors can have significance as well," explains John. "For example, in a rug from Iran or from Turkey, color has meaning."
Rug-lovers who are searching for that perfect hue can rest assured that practically any color is achievable, along with the desired quality, through a visit to Rug Masters.
"We like to stress to our clients that you can buy long-lasting quality with the colors you want," says John.
"Today's consumer can get colorful, fashionable rugs almost any place―but those don't tend to last. Ours do, and that is why our business has lasted for generations. It's one thing to simply sell a product, and it is another thing to understand it." 843-723-2155, rugmastersinc.com.