Black Wood Smokehouse
06 Mar 2018
French technique meets traditional barbecue in this new South Windermere restaurant
By WENDY SWAT SNYDER » Photos by JAMES STEFIUK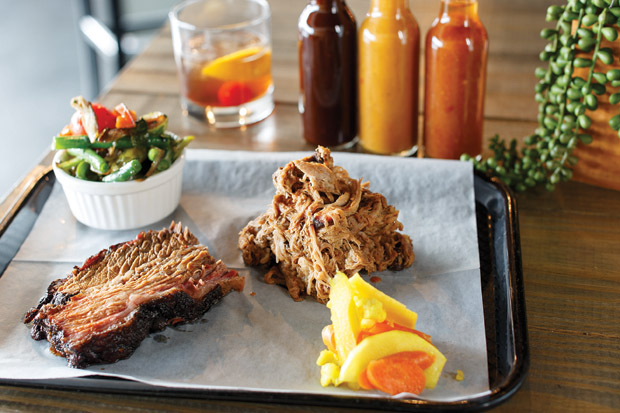 Chef Joseph Jacobson didn't hesitate for a minute when the chance to open a barbecue place fell into his lap. He had always dreamed of owning a restaurant and quickly stepped into a project in Charleston's West Ashley neighborhood, where he made Black Wood Smokehouse a reality. The fact that his new eatery would come to be in the footprint of the Med Eatery—icing on the cake. His earliest memories are of family dinners at its earlier iteration, the iconic Med Deli, and his first foray into the hospitality business was there, working as a busboy.
"In my mind I would imagine resurrecting the original Med Deli," Jacobson says with a smile. "It was the first place I remember being served a mesclun salad. I still have a roll of the original paper they used to cover the tables."
Another irony: Jacobson's love of all things pig, a fact that drew plenty of parental consternation while growing up in South Windermere—little Jerusalem—as he calls it, "because I'm a Jewish boy cooking a lot of pork."
Jacobson's passion for cooking extends well beyond pork, drawing on influences as diverse as his grandmother's elaborate Friday Shabbat dinners and a beloved nanny's Southern classics, such as fried chicken and ham-laced mac and cheese.
"We were tight—she was like my second mother," he says, adding that she also taught him Geechie, a dialect of South Carolina's Sea Islands.
Claiming cooking has always been "almost second nature" for him, the Lowcountry native honed his culinary skills hands-on, without the benefit of formal training. His credentials include several stints at various times at Oak Steakhouse, where he got his start as a server's assistant and eventually worked his way up to chef de cuisine by the age of 21. "It was a crazy experience," he notes with a hint of pride, adding, "Oak was new then and the hottest restaurant in Charleston."
It was there that the young chef became skilled at butchering and aging meats. He would be invited by Oak's former executive chefs Brett McKee and Jeremiah Bacon to cook at the James Beard House several times. Other credentials include the Carolina Yacht Club and Oak's Columbia, SC, sister restaurant where his wife, Allison Jacobson, was assistant general manager.
In early 2017, husband and wife joined forces, partnering in what has been a labor of love in a community ripe for a smart, comfortable eatery like Black Wood Smokehouse. They've poured their energies into renovating the property on a shoestring budget, doing much of the work themselves, and the results are exactly what the neighborhood needed.
"Our goal is to have a warm, inviting atmosphere and service with locally-sourced, quality product," explains co-owner/ general manager Allison.
"To succeed we have to be more than a smokehouse," notes Jacobson. "We cater to what the neighborhood wants."
In agreement, Allison adds, "We kind of shocked the area by doing something unexpected in a strip mall."
Indeed. Unexpected is the sleek styling of the restaurant and bold black and white logo Allison designed. The name Black Wood Smokehouse pays homage to her mother's maiden name, Blackwood, while tying in with "a little twist on the smokehouse theme." Inside the eatery, an invitingly lit bar, rustic woods, live plants, cozy booths and community tables pop against fresh white walls.
"The renovation was all about simplicity, and the design is reflective of that," notes Allison.
Quality rules in the kitchen where product is ordered in small quantities to ensure freshness and ingredients are never frozen. Pouring out classics like Heritage Farms Cheshire pork spare ribs with consistently fine results is the restaurant's centerpiece: a Friedrich 400-pound carousel smoker, designed and built in North Carolina, fed with oak, cherry, apple and hickory woods.
Jacobson puts his own spin on smokehouse specialties, melding French technique with traditional barbecue to "make it a little cleaner."
"Now I appreciate the spicy vinegar-based flavors of North Carolina barbecue," explains Jacobson, who grew up a fan of the local thickly-sauced variety. "We want to let the flavor of the pork shine."
During a recent visit, we were treated to the highly recommended tasting board, a meaty tour of the smoker consisting of pulled pork, sliced brisket, pastrami, turkey, house-made sausage and a bonus chef's choice protein which may be a portion of crisp North Carolina duck leg confit or house-smoked bologna. Eighteen hours in the smoker produced beautiful bark on the brisket and all meats were moist and tender. Tasty sides included smoke-kissed collards and Geechie Boy grits prepared sans cheese to let the flavor of the hand-milled heirloom corn shine.
The shrimp and grits dish showcases South Carolina shellfish paired with house-made tasso ham, onions, peppers and cream.
Another favorite was the tomato pie—a comforting individual crust filled with warm tomato in a cream reduction sauce and topped with cheddar cheese and tender micro greens.
Vegetable and salad dishes rotate with the seasons, changing based on ingredients available in the local market. The dessert list includes a classic banana pudding, nanny's caramel pound cake and locally produced Cirsea ice cream.
The local sourcing philosophy carries through into their beverage program, headed up by Beverage Director Remington Baird.
"We hand-make all our juices and mixes with produce from Charleston farms," says Baird, whose approach to mixology is to put a "funky twist" on the classic cocktail. "Nine of our eleven on-tap beers are from local breweries and we carry spirits from local distilleries, such as Southern Dixie Vodka, Revival Bourbon and Striped Pig Rum."
With a superior staff both front and back of house and 'que that raises the bar, Black Wood Smokehouse is a local standout, well-serving a community it calls its own.
Black Wood Smokehouse
90 Folly Road, Charleston
843-789-3722
blackwoodsmokehouse.com