Charleston at Night
06 Mar 2018
If you're looking for fresh ideas for a night out, here's what's happening in the Holy City after the sun goes down
By JENNA-LEY JAMISON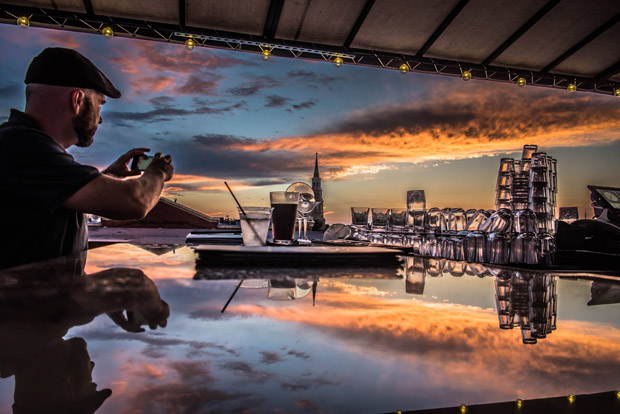 Here in Charleston, there's never a good reason to sit bored or lonely at home. Step outside your doorstep and explore the sights, sounds, tastes and hospitality that entice at every turn. With no shortage of art, history, music, mystery, seduction and charm, you'll be sure to keep the night oil burning and not waste a minute planning your next evening out.
Art Galleries & Art Walks
If you're a fan of all things colorful and creative, or have a need to explore the abstract for inspiration, then an evening out strolling the Holy City's top art galleries is the attraction for you. Hosted four times a year on Friday, the Charleston Gallery Association Art Walk is an event that will stimulate your right brain and give attendees a chance to view, on their own time, the Lowcountry's top work from dozens of hip galleries and exhibits. Many innovative pieces and locations are part of Charleston's historic French Quarter. Even better, it won't cost a dime to participate in the festivities; and wine sipping and mingling with artists and fellow participants is strongly encouraged. charlestongalleryassociation.com
Charleston Fun Park
One of the Lowcountry's top family theme parks, this adventurous Mt. Pleasant destination is known to draw in crowds and send them home with lasting memories. There's no shortage of fun activities—whether you're looking to go-kart, collect arcade tickets and a stuffed animal prize, rock climb or shoot paintball. But don't forget to try a game or two of the popular pirate-themed mini golf, where the course is littered with exciting and challenging obstacles. Try your best to claim a hole-in-one putt-putting under a waterfall, through a cave or over a bridge. Whether you secure the family win or not, you're sure to spark your imagination and exhaust your inner child. 843-971-1223, charlestonfunpark.com
Bulldog Ghost Tours
Are you in the mood to learn about the eerie mysteries threaded throughout Charleston history? Grab a warm body to hold next to you and open your mind to the spirit world beyond, as you venture through one of a variety of nighttime tours sure to engage your goose bumps for days after. From centuries'-old graveyards to a 215-year-old, haunted jail; backstreets and dark alleyways; and the city's Powder Magazine arsenal, whichever site(s) you choose to visit will perplex you and spur you to sleep with the light on. Prepare to hear stories of criminal behavior, brothels, scandalous affairs and their infamous characters who refuse to leave their once-earthly home. If you need alcohol to help you survive the spooky tales, opt for the haunted pub crawl. 843-722-8687, bulldogtours.com
Charleston Symphony Orchestra
You don't have to travel to Broadway to treat your auditory senses to a world-class symphonic performance. For your next date night or simple weekend outing on the town, throw on that fancy black dress or sports coat and head to the new Charleston Gaillard Center to finally experience what everyone's raving about. With a rich history dating back to the early 1800s, the now 24-member orchestra—which frequently performs with the select audition group the Charleston Symphony Orchestra Chorus—is directed by Ken Lam and is known for musicians' myriad of pieces from a plethora of time periods and cultures, as well as community concerts and statewide performances for schoolchildren. 843-723-7528, charlestonsymphony.com
Charleston City Night Market
Support local artists and vendors not just during the day but also every Friday and Saturday evening—April through December—as the Holy City's special Night Market tradition continues. For four hours both nights, the historic market comes to life to give locals and tourists alike a chance to spend time perusing more than 100 vendors' rare creations and refreshments—all made locally. Take home a souvenir beach painting, personalized silhouette, pottery or glass art piece to remind you of an epic honeymoon and family trip—or simply celebrate the allure of the city where you reside. If shopping's not your thing, pull up a chair and tap your foot to the market's live music as you sit and watch the magic of the night unfold. thecharlestoncitymarket.com
Cinebarre
Movie-watching just got a bit more exciting with this Mt. Pleasant entertainment hotspot. Eat, sip and unwind as you watch that heartthrob, next superhero installment or romantic story unfold on the big screen. You'll also find a number of local filmmakers' indie short films here. And don't fret if you forgot to swing through a fast-food joint for dinner beforehand. Cinebarre is an all-in-one date locale, with a fully stocked bar in the lobby—yes, that includes adult beverages! Also, the fare ranges from appetizers and entrees to fancy desserts. One perk? Get in before 6 p.m. and pay just $9 for a seat; or checkout that new movie any Tuesday and pay just $6 for a ticket. 844-462-7342, regmovies.com
Historic Dock Street Theatre
Take a trip to Charleston's historic French Quarter and watch thespians in their natural element inside the locale for the nation's oldest theatre. Shortly after its initial construction in the early 18th century, the facility succumbed to a blaze, and the Planter's Hotel was built in its place. The current theatre now operates inside the refurbished hotel, where both the father of John Wilkes Booth once stayed and the black Civil War hero Robert Smalls found work. Due to another costly renovation by the city a decade ago, the theatre now boasts innovative technology and lighting and is known for hosting Spoleto Festival shows and more than 100 performances annually by its resident theatre. 843-577-7183, charlestonstage.com
Fear No Easel
In an era where amateur painting and sipping bubbly has become a popular combo for friendly hangouts and celebrations, Mt. Pleasant offers such a hotspot of its own with Fear No Easel. Grab a date or group of ladies and find yourselves armed with paintbrushes and drinking glasses—for wine or beer—at your next laid-back outing. With seasoned artists helping jump-start your creative juices and guiding your work, there's no need to use your lack of experience or memories of fifth-grade art class disasters to shy away from the canvas. Classes average about $35 per person but return customers can earn discounts through a special "Picasso Points" system. 843-284-3327, fearnoeasel.com
Frankie's Fun Park
Book a milestone birthday party, corporate get together, or family weekend hangout at this North Charleston amusement site with batting cages, a jam-packed arcade, mini golf, go-karts, a rock wall and bumper boats. Unwind from the workweek and relish in a carefree day without cell phones and emails cramping your style. Challenge a sibling to air hockey or feast on burgers for dinner, fulfill your need for speed on the track or face your fears and experience the Drop Zone ride. And don't rush on the fun; the park is open until 10 p.m. most nights and midnight on Friday and Saturday. 843-767-1376, frankiesfunpark.com/charleston
Henry's House
This Charleston brick tavern is the ultimate swanky venue for entertainment, where customers can find a casual hangout for finger food and live jazz music. But don't just sit inside all night; take a trip to the popular rooftop bar and dance lounge where the drinks don't stop 'til you're satisfied. Sip your favorite liquor, move your hips and view the beauty of the historic downtown setting. But Henry's is just as notable for its mark on state history. It boasts being the "oldest, continuous restaurant" housed in the Palmetto State, according to its website, and decades later it continues to hold its own for anyone craving a mixed vibe of classic and contemporary. 843-723-4363, henryshousecharleston.com
Mynt
Eclectic. Chic. Modern. The mood here is just right for young adults to let loose with their girl squad or bachelor buds—but don't forget to check your outfit before walking in. The dress code's not strict but it keeps patrons in check, and looking good. So look no further than this Calhoun Street bar and nightclub for daily drink specials, colorful cocktails and other delicious eats to jumpstart your next memorable dinner date, dance party or weeknight happy hour. And did we mention there's karaoke, live music and even $1 tacos on Thursdays? If you're not moving your hips or sitting at the fully-stocked bar, go lounge on the patio or find a cozy seat inside on one of the zebra-printed chairs or mint-colored cushions.
843-718-1598, myntsouthcarolina.com
Party at the Point
One of the area's hottest summer concert series, Party at the Point will hook you from the start and each week keep you craving more music, camaraderie, and beer. Hosted by local rock radio show 105.5 The Bridge, the oceanside shows at Mt. Pleasant's Charleston Harbor Resort and Spa will keep your toes in the sand and hands in the air as you move your hips, wave your lighter and unwind to bands covering classic artists like Journey, The Grateful Dead and Dave Matthews. For just $7 a show, there's no excuse not to join the revelry. The series starts in April and runs through June. 1055thebridge.com/tag/party-at-the-point
RiverDogs Baseball
Batter, batter, swing! One of the Lowcountry's favorite sporting event, there's quite possibly no better place to be on a warm spring or summer night than watching RiverDogs baseball at Joseph P. Riley Jr. Park. So throw on a T-shirt, jeans and a ball cap and sit back in the stands—or in a private box seat where you can keep the beer, nachos and popcorn coming all game long. This minor league farm team for the New York Yankees plays in the class Single-A South Atlantic team, and every match-up is known to light up the stadium with music, cheers and fan smiles. And who wouldn't want to watch a team co-owned by Hollywood funny-man Bill Murray—often spotted among the crowd. 843-723-7241, www.milb.com/index.jsp?sid=t233
Stingrays Hockey
Three-time winner of the coveted Kelly Cup and frequent qualifier for the Eastern Hockey Conference League playoffs, the Stingrays have been a Charleston attraction since 1993, and a proud affiliate of the Washington Capitals. The players score big in the hearts of fans, as well as on their home ice at North Charleston Coliseum. The Stingrays are also celebratory of local groups like military service members and veterans and first responders, hosting special nights honoring them. Even four-legged friends are welcome once a year through the Charleston Animal Society-sponsored event Pucks and Paws. 843-744-2248, stingrayshockey.com
Sunset Cruise
There's little else in the area more romantic and relaxing than touring the historic Charleston Harbor at sunset. Find the one that makes your heart skip a beat and plan a date night for two on the water. Enjoy dinner and a show on the 90-minute adventure, surveying the Ravenel Bridge against the skyline, Fort Sumter and other treasures as your boat guide narrates local knowledge and fun facts. Rekindle those butterflies or create a new family memory while exploring your hometown or vacation destination. SpiritLine Cruises & Events offers this service. Free to children 3 and under. You can even cruise at a group rate with 15 or more people. 843-722-2628, spiritlinecruises.com
The Alley
Take your bowling hobby to the next level inside this popular hangout, voted by Travel & Leisure as "one of America's coolest bowling alleys." Order a round of margaritas and French fries and keep the strikes coming. If you're 21 and older, it's your time to shine after 9 p.m., when the facility caters to adult fun. During your breaks from knocking down pins, be sure to check out one of a number of classic arcade games like Ms. Pac-Man and NBA Jam. Also try your hand at the pinball machine or challenge a stranger to some friendly hoops. On Wednesday, stop in for free game play 5-8 p.m. followed by live trivia. 843-818-4080, thealleycharleston.com
Black Fedora Comedy Mystery Theatre
Treat yourself to a good scandalous, scare—or a night of laughs—inside this Church Street theatre, the only place in Charleston to experience live comedy mystery theatre. Darryl & Sherry Wade, who own and help produce the original performances, have an entertainment background and expertise in entertaining all ages. Each two-hour performance invites the audience to help solve a humorous, puzzling case—perhaps over an appetizer, dessert or chilled beer. Take the spotlight, if you choose, and join actors in bringing the crowd's imagination to life. The theatre even boasts a new crowd-pleaser "Sherlock's Other Brother by a Southern Mother!" But remember to peruse the shoppe on your way in or out to find mystery-genre books and gifts for purchase. 843-937-6453, charlestonmysteries.com
The Pour House
A mecca for music and art, this Maybank Highway locale is a chill spot for satisfying both passions—with fresh, filling fare. See an array of talented musicians in a close-up venue where you truly feel a part of the show. Hide away with fellow Charlestonians as you together enjoy one of the best local places to spend your time and money at night. Did we mention some nights are free or just a $10 cover? Whether you're looking for jazz, blues, funk or rock, your ears will like what it finds here. Also step outside on the back deck for a similarly hip and eclectic vibe, along with one of the tavern's two full-service bars and a second performance stage. 843-571-4343, charlestonpourhouse.com
Rooftop Bars
Stars Restaurant—Rooftop & Grill Room
You can't go wrong with a rooftop bar—with a 360-degree view—and one of the widest selections of international tap wines, specialty cocktails and craft beers. Sip and mingle at the reclaimed Tigerwood bar or lounge in the wicker furniture perfectly placed for the best views of the Holy City. Best of all, you can enjoy Stars' rooftop all year long with space heaters that offer comfortable evenings for everyone. 843-577-0100, starsrestaurant.com
The Rooftop
Overcome your fear of heights for a breathtaking seat in the sky at this trendy bar atop the Charleston Art Hotel, The Vendue. Whether you're lodging or just visiting for the evening, staff won't discriminate. So order a cocktail, glass of wine or beer and take a selfie above the buildings. Gaze upon Charleston's illuminated downtown nightlife and bask in the upscale environment surrounding you. 843-577-7970, rooftopcharleston.com
Pavilion Bar
Leave the kids at home and put on your heels and nice dress slacks for a whimsical night out at "Charleston's Rooftop Oasis," a high-class place to eat and sip your favorite alcohol—all from a seat towering high above downtown. Snack on a fancy tuna tower or decadent dessert and find out why you live in one of the top cities in the world. 843-723-0500, marketpavilion.com
Aqua Terrace
You'll feel like you've arrived—at home, that is—at first step onto this exclusive outdoor patio above the Marriott hotel. Complete with cozy couches and other lounge furniture, and tables featuring private fireside décor, it's all about what kind of bubbles fill your glass and relaxed dining. Aqua Terrace is the only roof-top bar that offers a peaceful view of the Ashley River and marina. 843-723-3000, aquaterracecharleston.com
The Cocktail Club
On top of the Charleston eatery, The Macintosh, this luxe lounge is the perfect spot for indulging on handcrafted cocktails and finding modern but historic, eye-catching décor made from exposed brick, salvaged doors and reclaimed wood. Travel another level up to find the rooftop terrace, complete with a garden used for drink garnishes. Pop in for weekday happy hours 5-8 p.m. or a special bourbon happy hour on Hump Day. 843-724-9411, the cocktailclubcharleston.com