Cocktails and dreams
By Joy Farrae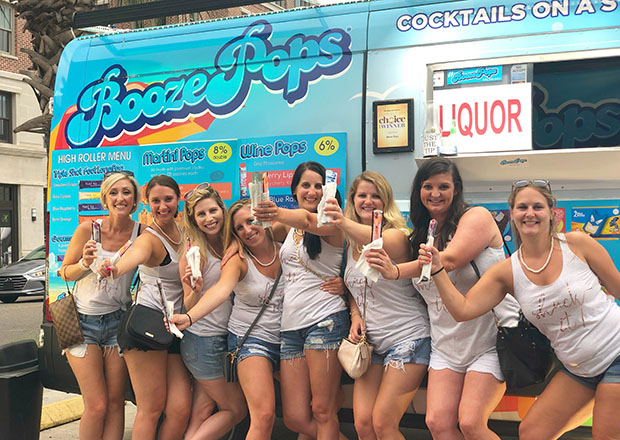 Ice cream trucks have a way of bringing people together.
That was precisely the intention of former US Army mechanic Woodrow "Woody" Norris when he founded Booze Pops. He envisioned families and communities gathering together, enjoying the quintessential summer treat from a roaming ice cream truck - but with a twist to America's favorite summer pastime.
Coming out of military retirement, Woody had a dream to invest in a business to support his two daughters. The idea for Booze Pops started at a birthday party where the host offered guests something unexpected - a popsicle infused with alcohol.
Woody thought it would be the perfect adult treat to sell from an ice cream truck, and once he realized that no ice cream sellers were offering anything similar, he did what any budding entrepreneur would do: he bought an ice cream truck.
In 2016, after getting legal permits to sell frozen alcoholic popsicles under the category of food, and a few truck rides though local neighborhoods, the lines started.
"We're changing the way the game of ice cream is handled," says Woody. "I went through neighborhoods with the intent to make this family friendly. Everyone from little league coaches to housewives – there was a line out the door."
Booze Pops have been disrupting the frozen treat street business ever since with cocktails on a stick, or "popsicles for grownups" with novelty flavors such as Strawberry Daiquiri Wine Pop, Cosmopolitan, Watermelon Lemonade Martini and Grape Sangria.
Booze Pops also offers plenty of non-alcoholic summer treats for the whole family. The product comes from top distributors around the country.
Booze Pops trucks can be seen on designated corners in downtown Charleston and Folly Beach for customers to grab and go, and Booze Pops are also available inside the North Charleston Coliseum. Trucks can be spotted at local concerts and festivals and franchised locations are already set up in Myrtle Beach, Columbia and coming soon to El Paso, with preference given to veterans and military franchise owners.
Private events such as weddings, family reunions and work parties are also gaining popularity as a fun alternative to traditional desserts.
Booze Pop's popular flavors are crafted by the patrons and new menu items are added frequently.
"We test flavors with customers and only keep the ones they like," says Woody who puts a call out on the company's social media pages for fans to come try the latest selections, such as Mango Peach Bellini, which was added to the menu after positive feedback.
Seasonal flavors (think alcohol-infused apple cider in the fall) are coming soon and frozen dog treats are also in the works for furry family members.
After serving eight years in Iraq, Woody is serving the community in another way. Booze Pops has put 125 people to work in Charleston since opening, including many veterans. Woody also values those who serve. On-duty police officers receive free (non-alcoholic) ice cream. Military, teachers, EMS, and police always get 10% off. Additionally, a free bottle of water is available for anyone, whether paying customers or not, and brides-to-be get a free booze pop if the accompanying bachelorette party is purchasing treats.
Since Booze Pop's first neighborhood ride-through to its many trucks and franchisees today, Woody's dream to "bring communities together one booze pop at a time" certainly rings true for this Veteran-owned business. Just ask the thousands of customers - including celebrities - who have enjoyed this refreshing and delicious new way to indulge in a favorite frozen treat. boozepop.com

Where to find Booze Pops:
246 Meeting Street, Charleston SC