Southern food & hospitality
By Wendy Swat Snyder
Photos by James Stefiuk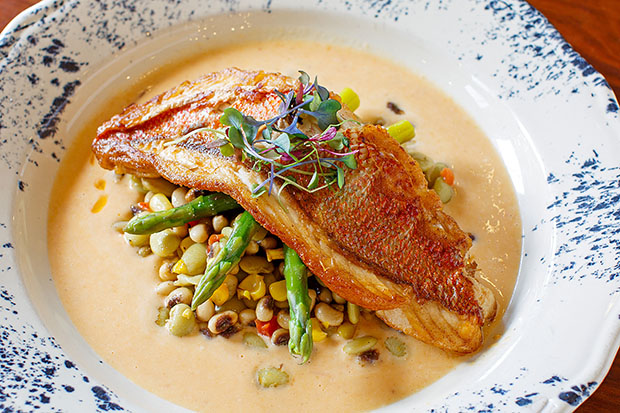 My recent visit to Pawpaw was full of surprises. The new-to-us eatery has been holding its own on Charleston's other restaurant row—competitive East Bay Street—for nearly three years.
With a menu that's straightforward—standards like chicken fried steak and collard greens dominate—I was curious about the place's staying power. What's Pawpaw doing to keep locals and visitors returning for Southern comfort food in a town known for its cuisine? Seated in an expansive, light-flooded dining room, my guest and I soon found out.
We were surprised to see Pawpaw executive chef Sherif Elkhyati bounding across the dining area, welcoming us with outstretched hand.
"I love to be in the dining room, not just in the kitchen, I want to make sure the guest is happy. I love to be in touch with the tables," says Elkhyati, whose passion for cooking was ignited in his mother's kitchen in Alexandria, Egypt.
"I can remember going to the market with my mom, and she would teach me how to pick the perfect produce or fish," notes Elkhyati, who went on to attend the culinary arts program at Northampton Community College in Pennsylvania but states he is mostly self-taught.
His South Carolina journey includes a stint as executive chef at The Inn at the Crossroads in Lake City where he oversaw the hotel's food and beverage operations. Prior to that he was co-executive chef at Victor's in Florence. He shares cooking memories and expertise in a monthly column he still writes for The Florence Morning News.
That respect for local ingredients—about 80% of the Pawpaw menu is locally sourced from producers like Lowcountry Shellfish, Crosby's Seafood Co. and Limehouse Produce—is the link between Elkhyati's Mediterranean cooking style and the restaurant's Southern slant.
"Sometimes you just connect—chef to owner—I thought he was great," said Keith Jones, who shares Pawpaw ownership with William Upson. "It's such an important ingredient for the mix of the entire restaurant."
Chef and owner share the same vision for the menu: dishes composed of a few ingredients, very well executed—and not over complicated.
Case in point: Crowd pleasers since its opening, Pawpaw's buttermilk biscuits are fluffy perfection served with pimento cheese, wildflower honey butter and strawberry jalapeno jam. Simply Southern and delicious.
"I think the menu is beautiful," notes Elkhyati. "I did not build it myself—I've just added a few twists."
Twists include substituting Italian mascarpone for the typical cheddar cheese that is often added to grits recipes. He adds that visitors come to Charleston looking to experience foods native to the South like grits and collards, and Pawpaw strives to present the best examples of those foods to the guest.
Elkhyati says he hopes to add more dishes to the menu that reflect his cultural origins, such as kebabs, and blend them with Southern cuisine, such as Charleston Gold rice.
"The wood grill here is perfect for preparing kabobs—I love it," he says with a laugh.
"Everything tastes better on a wood grill," concurs Jones, adding that Elkhyati's ethnic specials have been very popular.
Pawpaw director of operations, Heather Greene, says both co-owners are Southern food proponents and derived the name Pawpaw from a fruit tree that grows near Jones' North Carolina mountain home.
She notes it's also a nickname in the South for a favorite grandpa.
Southern charm spills over into the restaurant's dining areas: Designed by McMillan Pazdan Smith Architecture, the spacious interior's modern industrial theme blends old Charleston brick and timber beams with clean whites and wood tones.
Soaring ceilings outfitted with crisp spotlights and contemporary chandeliers crafted by Savannah, Georgia-based Sabenati, create an artisanal Lowcountry vibe. Cozy booths, the bar and community tables complement a variety of dining options that include tables with glimpses of the open kitchen and sidewalk seating as well.
We ordered a few of the top-selling dishes for which the restaurant is known, starting with a Southern staple, hushpuppies. The plump orbs were large and light, with a satisfying crunch to the exterior and fluffy interior flavored with bacon, cheddar and a just-right touch of jalapeno heat.
Next out was a nicely spiced blue crab dip served with housemade potato chips that stood up to the dipping task. Blue crab cakes followed, served with a lovely remoulade. A crunchy exterior yielded to solid crab flavor with a perfect touch of heat.
Tuna carpaccio was a refreshing surprise, if not very Southern. The tiny bites of very fresh fish were dressed with a flavor-forward vinaigrette and cilantro. The whole experience was cooling and an enjoyable palate cleanse as well.
An entree of wood grilled grouper was cooked perfectly and served with the best succotash I've ever tasted. Elkhyati says he uses a vegetable stock to enrich its flavor. Adding to the delicious mix were andouille sausage and a preponderance of black eye peas.
Another Pawpaw original we sampled was the free-range fried chicken. It was a perfect Southern plate of well-seasoned, crunchy white meat served with sweet collard greens and a lavish pile of potato purée slathered in white gravy.
The chicken fried steak we tried was a newcomer to the best seller list, and a well-deserved one at that.
"We use a prime filet for the dish," notes Jones. "It's very unusual—you can cut it with a fork. It's something I wanted to do for a long time. I grew up in Texas eating chicken fried steak."
With the right mix of Southern hospitality front of house and a talented kitchen in back, Pawpaw is filling a Charleston niche with panache, and the team promises more surprises on the horizon.
PawPaw
209 East Bay St.
Charleston, SC 29401
843-297-4443
www.pawpawrestaurant.com