Matters of the Heart
05 Jan 2020
The latest buzz in heart health
By Tommy Santora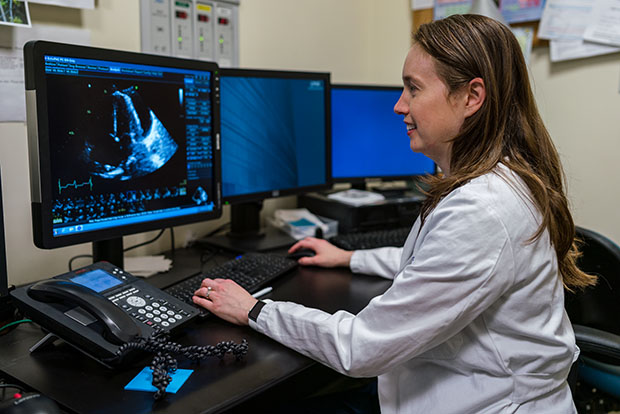 Although the battle by cardiologists against traditional cigarette smoking still persists, the emergence of vaping, especially among younger people, is becoming an alarming trend to the medical community and one that could lead to medical problems, including heart disease.
The American Heart Association, in its recently released white paper, "The Science about Vaping Dangers, and What We Don't Know Yet," reported that the AHA is funding $20 million of new research to understand how vaping and nicotine affect hearts, brains, lungs, and blood vessels. One out of every four high school students is vaping and more than five million teens use e-cigarettes, more than double the number two years ago.
Those statistics are a concern to Dr. Amanda Northup, a cardiologist with the Medical University of South Carolina (MUSC).
"While we don't know as much as we should yet about the cardiovascular effects of vaping, we do know that some of the chemicals and flavors from vaping and e-cigarettes can be toxic and harmful to lung tissue and heart muscle cells," Northup said. "Some patients are even rationalizing that e-cigarettes help them quit smoking, and that they're good alternatives; that's a misnomer; there are better, healthier ways to help you stop smoking altogether, and smoking is a big factor in heart disease."
Proactive Measures to Avoid Heart Disease
Smoking and tobacco use are one of six factors cardiologists use to evaluate patients for possible heart disease, according to Dr. Patrick Looser, an interventional cardiologist on the medical staff of Trident Medical Center in Charleston.
The other factors are blood sugar, blood pressure, and cholesterol levels, diet and weight, and exercise.
"There are many proactive measures adults can take to prevent heart disease, such as maintaining diets high in plant-based foods, fruits, vegetables and fish; and very low doses of processed foods," Looser said. "Stress reduction, social bonding, maintaining relationships with family and friends, and exercising about 30 minutes a day can also be preventative factors."
Northup adds that people, in addition to lifestyle changes, should see their primary physicians at least once a year, have their blood pressure checked regularly and their bodies checked for diabetes, kidney disease, and high cholesterol levels and receive flu shots on a timely basis.
"They should also only drink alcohol in moderation, and watch calories eaten versus calories burned, maintaining healthy diet and weight," Northup said.
Health.gov recommends 1,600 to 2,400 calories per day for adult women and 2,000 to 3,000 calories per day for adult men. The AHA estimates 15 percent of adults have optimal risk factors across the six domains or indicators Looser discussed.
Heart disease is the leading cause of death of Americans every year, according to the Centers for Disease Control and Prevention (CDC), and 30.3 million adults (12.1 percent of the population) are diagnosed with heart disease.
While age and family history can affect risk for heart disease, according to the AHA, risk is higher if you are a woman over age 55; man over age 45; father or brother had heart disease before age 55; and mother or sister had heart disease before age 65.
Diagnosing Heart Disease
One of the latest medical advances, said Looser, to help diagnose heart disease, is the use of the coronary calcium scan, or heart scan, an X-ray test that provides pictures of your heart that can help your doctor detect and measure calcium-containing plaque in the arteries.
Plaque inside the arteries can grow and restrict blood flow to the muscles of the heart; measuring calcified plaque can allow the doctor to determine if medications or lifestyle changes are needed before any symptoms occur.
"We have various methods, guidelines, and scoring systems that help us treat patients before anything bad may take place, and that's a very useful mechanism we didn't have years ago," Looser said.
There are also differences that men and women may experience when they think they are having issues with the heart.
Northup said women may attribute symptoms such as shortness of breath, nausea, vomiting, abdominal pain, reflux, muscular skeletal chest pain, microvascular dysfunction, or problems with smaller arteries; while men may have more of the frequent palpitations or "common crushing chest pain like an elephant is sitting atop their chest."
Surgical Advances
One of the biggest changes in surgical advances for treating heart disease issues, Looser said, is the move from open-heart surgeries to more minimally invasive techniques to treat cardiovascular disease.
For example, small incisions can be made the right side of the chest compared to surgeons cutting through the breastbone, which may result in less pain and a quicker recovery for many people.
Another example of a minimally invasive surgical procedure is repairing the valve without removing the old, damaged valve. Instead, it wedges a replacement valve into the aortic valve's place. Somewhat similar to a stent placed in an artery, this approach delivers a fully collapsible replacement valve to the valve site through a catheter.
Once the new valve is expanded, it pushes the old valve leaflets out of the way and the tissue in the replacement valve takes over the job of regulating blood flow.
"These advances have helped in our treatment of the older generation who may be at high risk when undergoing an open-heart surgery," Looser said. "It's exciting to have these medical advances and techniques, and everyone should consult with their cardiologist to determine the best method and procedure available to treat their issues."
About Dr. Amanda Northup: Dr. Amanda Northup is a cardiologist with the Medical University of South Carolina. After completing an undergraduate degree in biology at the University of North Carolina at Chapel Hill, she attended medical school at the Medical University of South Carolina. She went on to complete her internal medicine residency and fellowship in cardiology at the Medical University of South Carolina, as well. She is passionate about patient education and prevention, especially regarding women's cardiovascular health, as heart disease remains the leading cause of death for women in the United States. "I always wanted to become a doctor as long as I can remember. Mom was a pharmacist, and I always hung out with doctors and shadowed them. I was a paramedic in college, and that's where I solidified my decision to go into cardiology, seeing the gratification of rescuing people out of chest pains and heart attacks."
About Dr. Patrick Looser: Dr. Patrick Looser is an interventional cardiologist on the medical staff of Trident Medical Center. He is board-certified in cardiovascular disease, internal medicine, interventional cardiology, and nuclear cardiology. He earned his medical degree from Georgetown University School of Medicine. Dr. Looser then completed his residency at The Mount Sinai Hospital/Icahn School of Medicine and completed a cardiology and interventional cardiology fellowship from Weill Cornell Medical College in New York. He provides diet/lifestyle counseling and tobacco cessation counseling. "I am a big advocate in teaching preventable methods to keep people from suffering from heart disease. I knew I was going to be a cardiologist when I was a medical student in a Washington, DC, lab and they were pioneering angioplasty (unblocking of a blood vessel) to treat cardiovascular disease. I have always enjoyed working with my hands and have an interest in the latest surgical advances to treat heart disease patients."