Breakfast All Day
03 Nov 2022
The Junction Kitchen & Provisions is a jewel in Park Circle
By Sophia Rodriguez
Photos by Kate Blohm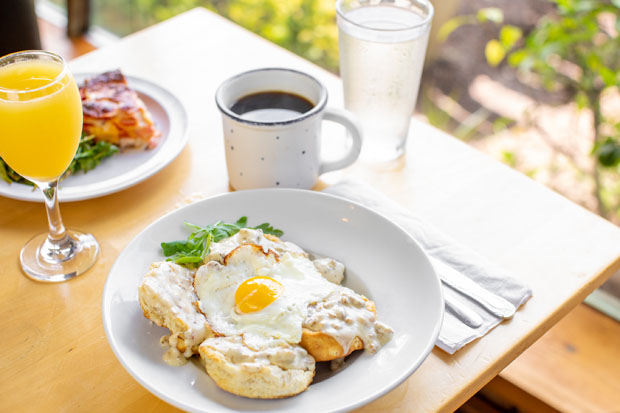 If you stop in for breakfast at The Junction on a weekday, you might be surprised at how full it is. No one's typing away furiously on a laptop; very few people are even glued to their phones. Instead, patrons are engaging in lively conversations, waving hello to new people coming in the door and enjoying the eclectic bohemian vibe. It has the comforting, welcoming quality of the "Cheers" bar, albeit in a lighter and brighter setting.
This relaxed, jovial mood is by design. Even the name reflects that.
"Our name derived from our want to create a community-inspired eatery. 'Junction' means a point where two or more things are joined—a place where the neighborhood could come and meet and greet and have a communal vibe," said owner Kimana Littleflower. "Almost all of my staff have always lived within a mile or two (of The Junction) and are a big part of that community feel, too."
This eatery, a perennial favorite for locals and tourists alike, was a massive upgrade to the development of Park Circle. When Littleflower and her ex-husband, Legare Queen, first moved to the area in 2006, there was little by way of restaurants.
"We also saw the need for fresh groceries and provisions provided to our area. Hence the idea for The Junction Kitchen & Provisions," Littleflower said. "We were also veteran food and bev people who generally ate breakfast around noon or 1 p.m. before a shift. We could only find breakfast all day at IHOP or other chain spots that were a far drive from Park Circle," Littleflower said.
So, when a former pizza joint on Spurill Avenue came up for sale in 2015, Queen and Littleflower felt it was high time to bring the gospel of "breakfast all day" to the area.
His decade-plus working at Jestine's Kitchen and her 16 years at Holy City Hospitality made them uniquely qualified to tackle the Park Circle culinary scene. The well-traveled pair infused their love of worldly cuisines into the original menu. Over time, the food was injected with a decidedly Southern flair.
"I've always described our menu as 'American eclectic' — everything is a little familiar, but with a bit of a twist to keep it interesting and inspired," said Littleflower. Although the menu is updated once a year, there are signature mainstays. You'll always be able to enjoy fried sweet tea chicken paired with French toast and the mocha-dipped "buzzed doughnut" with coffee-rubbed bacon. Rosemary maple syrup is featured in several of Junction's breakfast and lunch dishes, tying the sweet-and-savory menu together nicely.
The Mexican Hash is another popular dish, topped with black bean pico and jalapeno honey chutney. Its vegan cactus portobello version is enjoyed by patrons, many who aren't even dedicated vegetarians. Littleflower says the energy salad and her mom's tomato pie will always have a place on the menu.
Littleflower and her team use local foodstuffs as much as possible. Wishbone Heritage Farms eggs, Vertical Roots hydroponic lettuces, Marsh Hen Mill grits and tomatoes from Johns Island are standard players on the restaurant's menu.
That dedication to local products is evident in the drink menu, too. The Junction has a coffee bar along a side wall with adorably mismatched mugs and locally-roasted Junction Blend coffee from Riptide Coffee Roasters.
The take-out fridge contains several varieties of One Love Kombucha. And all the craft beers are local. Littleflower is proud that, "most are brewed within a half-mile of us—Natural Blonde and Fat and Juicy Bloody Mary mixes, to name a few!"
The Junction has certainly experienced changes brought on by the COVID era. They've moved away from most of the provisions they used to offer, although you can still get whole tomato pies to go. The portable dividers Littleflower put up to protect diners were only recently moved out of the way. And the Ms. PAC-MAN™ / GALAGA™ Class of '81 arcade console has returned to its rightful place by the front door.
When Queen left in 2017, Littleflower's role suddenly included head of menu creation.
"I certainly don't refer to myself as 'chef,' as I'm old school, and that's reserved for people with the papers and training," she says, laughing. "But I have found that I love discovering and creating new food styles and flavor profiles."
These days, she is happy to flex those skills at the monthly Get Lit Book Club, a collaboration with Itinerant Literate, a Park Circle book shop. Littleflower creates three courses, paired with spirits, that correlate to a chosen book. The Junction has also started booking private evening events onsite, and she thoroughly enjoys creating customized menus for guests' special events.
"We opened up on Spruill Avenue in 2015 with a ton of trepidation," she said. "But Park Circle has always supported us, and we are ever so grateful to be a part of this community. The Junction is the epitome of a small local restaurant business. I am a solo owner. No in-house designer or outside investor to keep the cash flowing. We were built by many loving hands over the years and continue to thrive with the support of our amazing staff that are so personally invested in keeping The Junction a community entity."
The Junction Kitchen and Provisions is located at 4438 Spruill Ave, North Charleston SC. www.restaurantji.com
Follow on social media @thejunctionkitchen