Home for the Holidays
03 Nov 2022
We've taken a few of our favorite nostalgic dishes and spiced them up a bit for your holiday tables.
Recipes and Photos by Kaitlin Gooding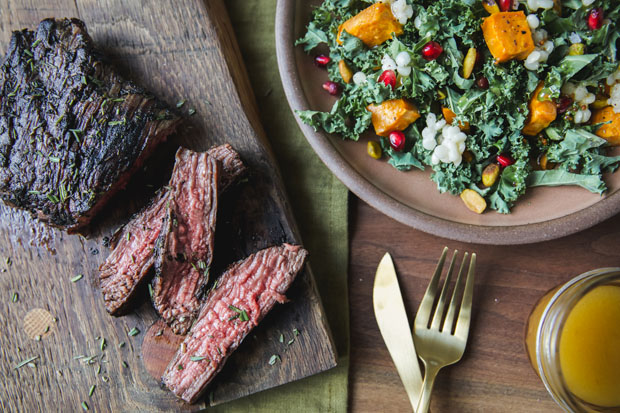 The holiday season in the south is steeped in family traditions, including classic recipes that are cooked each year. But perhaps in 2022 you'll want to strut your stuff and enhance that tried and true flavor profile. The same – yet just a touch more tasty. We've taken a few of our favorite nostalgic dishes and spiced them up a bit for your holiday tables. Here's what we're thinking: Consider adding Gouda scalloped potatoes (an ode to warming comfort food) to your holiday dinner favorites. On the big morning, you'll want to enjoy these pumpkin-gingerbread pancakes with just the right holiday spices.
When opening gifts around the tree, our jammy cookies taste a bit like childhood for the kids, and pair well with our peppermint-style White Russians for adults. And whenever your family serves its big holiday meal, the herbed, crusted steak and crunchy kale salad add the perfect touch of indulgence to the festivities.
Come to think of it, that White Russian might also be just the thing when you've kicked back to relax after the big event. Cheers to the cook!
Gouda Scalloped Potatoes
Serves: 5-6 as a side dish
Ingredients:
4 large russet potatoes, peeled and thinly sliced

9 x 13 pan, greased with butter

1 garlic clove, minced

dash of cayenne pepper

1 cup chicken broth

8 ounces Gouda cheese

1 tbsp salt

1 tsp ground black pepper

1/4 cup heavy cream

2 tbsp butter, extra to grease the pan

1.5 tbsp all-purpose flour

1 shallot, thinly sliced

1 tbsp thyme leaves

1 ounce Parmesan cheese
Directions:
Preheat the oven to 350 degrees. Liberally grease the 9x13 baking dish with butter.

In a saucepan on low heat add the garlic, shallots, cayenne, salt, pepper, butter. Stir in the flour until well combined. Add the cream, thyme, and the broth. Bring the mixture to a simmer. Cook for about 5 minutes.

Arrange the potatoes into the baking dish in a row so that they sit upright. Continue this until you have four rows and the dish is covered. Pour the cream mixture over the top of the potatoes. Top it off with the Gouda cheese and Parmesan. Cover with foil and add to the oven to cook for thirty minutes.

After thirty minutes remove the tin foil and cook for another 20-30 minutes in the oven uncovered. Allow the potatoes to cool before serving.
White Christmas Cocktail
Serves: 2
Ingredients:
2 oz vodka

2 oz Kahlua

1.5 oz peppermint schnapps

3/4 cup milk

1/3 cup peppermint candies, crushed

1/3 cup white chocolate

rosemary for garnish
Directions:
Melt the white chocolate in the microwave. Add a dash of milk if it is too thick. Stir till nice and smooth. Dip about a 1/2 inch of the top of your glass into the hot melted white chocolate.

On a plate add the crushed peppermint candies, and dip the white chocolate-rimmed glass into the candies to coat. Set aside to dry.

In a shaker add the vodka, Kahlua, schnapps, and milk with ice. Shake the mix.

Add ice into the prepared glasses and pour the strained mixture over top. Garnish with a rosemary sprig. Cheers!
Pumpkin-Gingerbread Pancakes
Ingredients: 10-12 pancakes
2 cups all-purpose flour

1 tbsp ground ginger

2.5 tsp cinnamon

1/2 tsp allspice

3/4 cup of canned pumpkin

1/4 tsp baking soda

1 1/2 tsp baking powder

2 eggs

1 1/3 cup milk

1.5 tbsp butter, melted (extra for greasing the skillet)

Your favorite syrup to drizzle on top
Directions:
In a medium-sized bowl combine your flour, baking powder, baking soda, and all your spices.

In a separate bowl, add the eggs, pumpkin, milk, and butter. Whisk until smooth.

Mix the dry ingredients into the wet until well combined.

Grease a large skillet and allow it to get hot on the stove. Pour about 1/4 cup of batter on the skillet and cook for 1-2 minutes on each side or until lightly golden. Grease the pan in between pancakes.

Stack the pancakes, top with a drizzle of syrup, and enjoy!
Jammy Cookies
Servings: 15 cookies
Ingredients:
2 cups all-purpose flour

2/3 cup sugar

2 eggs

1.5 sticks unsalted butter

1 tsp baking powder

1/4 cup unsweetened shredded coconut

1/2 tsp vanilla extract

pinch of salt

Strawberry or cherry jam
Directions:
Preheat oven to 350 degrees.

In a large bowl combine the eggs, vanilla, butter, and sugar. Beat together until smooth and creamy.

In a separate bowl add the flour, salt, baking powder, and coconut. Combine the ingredients and slowly pour into the wet mixture.

Add water if the mix is too dry or flour if it is too sticky. Create one inch balls and place on baking sheets covered with parchment paper.

Use your thumb to press a 1/2 inch hole into the middle of the cookie. Fill it with your favorite jam.

Add the cookies to the oven and cook for 10-15 minutes or until lightly golden.
Crunchy Kale Salad
Serves: 3-4 servings
Ingredients:
1 cup Israeli couscous

1/2 bunch kale (about four cups) chopped and massaged, thick stems removed

1/2 cup pomegranate seeds

1/2 cup roasted pistachios

2 cups sweet potatoes, peeled & cut into cubes

1/2 cup Manchego cheese, shaved (can add more if desired)

1/4 tsp salt

Salt & pepper to sprinkle

1 tbsp olive oil
Dressing:
1 1/2 tsp apple cider vinegar

1 tsp Dijon mustard

1/4 cup olive oil

1/4 cup maple syrup

2 tsp Greek yogurt

1/4 tsp salt
Directions:
Preheat the oven to 350 degrees. Begin by making your dressing. Whisk together all the ingredients for the dressing in a small bowl and set aside.

Add the sweet potatoes to a bowl and toss in olive oil. Lightly sprinkle with salt and pepper and mix well. Add the sweet potatoes to a baking sheet with parchment paper and add to the oven to cook for 20-30 minutes or until soft and golden brown. Remove from the oven and add to a large bowl.

Add two cups of water, couscous, and 1/4 tsp salt to a saucepan and bring it to a boil. Reduce the heat to medium heat and let it cook for about 10 minutes and then drain through a strainer to remove any remaining liquid. Add the couscous to the sweet potato bowl.

Add the massaged kale into the bowl, along with the pomegranate seeds, pistachios, and Manchego. Drizzle the desired amount of dressing over top and toss all the ingredients together.

Plate the salads, sprinkle with salt, and serve.
*This recipe can be a stand-alone dish. It pairs well with the herb-crusted steak as a side dish, or can be topped with the steak for a main. It's very versatile and great to accommodate holiday guests with different options.
Herb Crusted Steak
Serves: 3-4
Ingredients:
1 1/2 lb flank steak

2 tbsp soy sauce

2 tbsp chopped fresh thyme

2 tbsp chopped fresh rosemary

2 tbsp chopped fresh sage

1 tbsp olive oil

2 garlic cloves, minced

1/2 tsp fresh ground pepper

Salt (to taste)
Directions:
Add your steak to a bowl and brush with olive oil and soy sauce on both sides.

In a separate bowl add your herbs, salt, pepper, and garlic. Mix well. Rub the herb mix all over the steak. Cover the bowl and allow it to sit for at least two hours in the refrigerator.

Prepare your grill (medium high heat). Place a cast iron pan on the grill and allow it to preheat for about five minutes. Grill the steaks in the pan to desired doneness, about 2-3 minutes per side, for medium-rare, depending on the thickness.

Transfer steak to a wood block and allow to rest for 10 minutes. Cut across the grain of the steak in 1/2 inch thick slices.

Add slices to a dish to serve as a main course or top the kale salad with steak to serve.