Burning Bright
06 Nov 2020
Ash + Vine candles are free from toxins and harsh chemicals
By Sarah Ravits
Photos by Aleece Sophia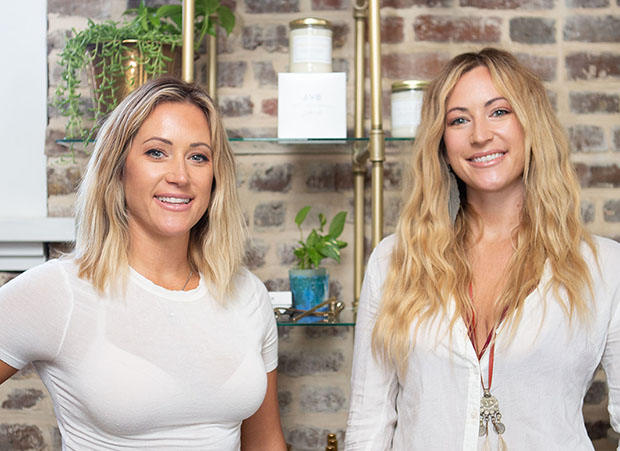 Jennifer Hanna and Jerri Hanna, twin sisters from Charlotte, North Carolina, launched Ash+ Vine Botanicals with a mission to bring non-toxic, eco-friendly and deliciously scented candles into people's lives.
They experimented with their first candle-making session about six years ago, partially in response to Jennifer's young son, Jase, then 2 years old. He had been breaking out into mysterious rashes and suffering from skin irritation and they couldn't figure out why at first.
"I started really paying attention to chemicals in detergent and other household goods," Jennifer says. Once she figured out the toddler was sensitive to chemicals, she started to make some of her own goods so she could monitor what their household was consuming.
Jerri was already an avid candle fan, and the sisters think that her usage of burning mass-produced candles in her home had contributed to the toddler's allergies. Until they began to conduct research, they had both been unaware of various harsh chemicals and irritants that often go into mass-produced candles.
"I had this idea to make my own candles," says Jennifer. "Most candles have bad carcinogens and toxins. It wasn't hard to come up with a recipe. I use clean oil and make them as eco-friendly as possible."
They experimented with a variety of scents, and now with 16 different options to choose from — plus seasonal favorites and limited-edition scents — Jennifer says "there's a scent for everybody."
Candles have also been shown to have positive effects on mood and help reduce stress, and that's also a factor the sisters consider with their holistic, handmade approach.
The Ash + Vine candles are available in a variety of scents, including Ginger, Lemon, Himalaya and Holy City—the latter of which pays tribute to Charleston. It's described as a "versatile scent that embodies aromatic pleasures reminiscent of the islands" and infuses cedarwood, patchouli, black pepper and pimento berry.
Another holiday bestseller during this time of year is the White Birch, which incorporates earthy pines and wood, under a base of tonka and musk—reminiscent of a Christmas tree farm or a crisp morning hike.
In the early stages of their business venture, they sold the candles, as well as body scrubs and other homemade, organic products, at local music festivals in and around Charlotte, before they eventually relocated to Charleston four years ago.
Once they arrived in Charleston, Jennifer says she began to put even greater effort into getting the business to take off and working on the candles instead of body products. "I took it more seriously, got an LLC and really started focusing on branding," she says.
Jerri helps her with manufacturing—the sisters make the candles at their house—and they have a brick and mortar shop downtown. They also sell their wares at about 20 other boutiques, gyms and yoga studios in the Charleston area. Generally the candles sell for $36 each, and the Hannas say that another quality that sets them apart is how long they last; they burn for about 104 hours.
"People will reach out and be like, 'OMG, I've never had a candle last that long!'"
They also frequently offer discounts and promotional codes through their website and social media. Online sales have also taken off. They shut down their store for eight weeks earlier this year because of pandemic mitigation measures, but their website, says Jennifer, "was blowing up."
She also was able to focus on email marketing and since then, they've been shipping candles nationwide. But, she is looking forward to selling the wares at festivals and markets again because she also loves interacting with customers.
In the meantime, she says she is going to be focusing on Instagram marketing, and she is considering setting up a subscription service, because people get hooked on the Hannas' products.
"I love engaging and talking to other people and bringing awareness about the ingredients," Jennifer says "More than making money, I wanted people to be aware of what they're doing and what they're consuming. These are simplified, clean and pure.