Calling Cassique Home
03 May 2019
Owner Peter Slone Revels in His New Abode
By Rob Young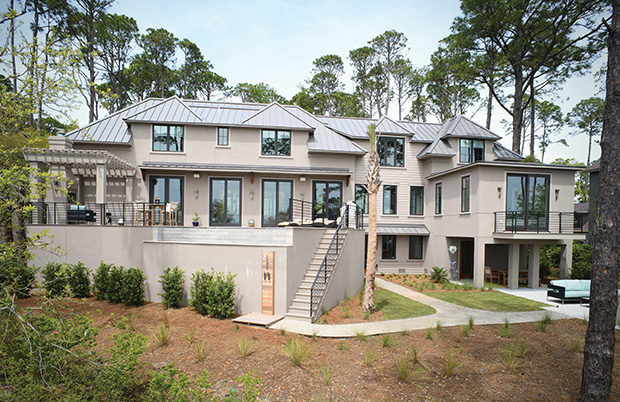 For many, the Cassique community on Kiawah Island represents bucolic surroundings and cool sea breezes. For Peter Slone, it represents home.
Slone moved into his dream house just two days before Christmas last year, enjoying the spoils of a project that began 15 months earlier in July 2017. He had a great partner for the ride: Peter Oakes of Axon Homes, a custom builder based in Mount Pleasant who serves the tri-county region.
"One thing about Oakes is his honesty," Slone says. "It's not a commonplace virtue among builders here."
Finding equilibrium
Slone, a senior vice president at a Washington lobbying firm, began the journey toward his current residence 12 years ago when he started visiting the South Carolina coast for extended weekends. Gradually, the trips evolved into a whole week or ten days at a time, and Slone got to work exploring different neighborhoods. Having grown up in a rural Connecticut town of just 2,000 people, he longed for an authentic locale for his next home. Weary of strip malls and homogeneity, he finally found his ideal on Kiawah. "We had no idea this many people were living here," he says. "On Kiawah, it's far enough from the maddening crowds yet close enough to everything cosmopolitan that is Charleston. It's a perfect equilibrium."
Slone paired with Kiawah Island Real Estate agent Gordon Hillock, spending a couple of years searching patiently for the perfect home. Though he told Hillock he had no interest in building, he was soon convinced by his agent to take one last look at a vacant site on the island. "We climbed up in the observation tower, which ended up being one lot away from us. My daughter and I looked at the ocean, and we both started crying," Slone remembers. "We heard whispering pines and the waves lapping on the beach. It was very spiritual."
Family tree
Slone choose Axon to build the home based on his relationship with Oakes. They quickly formed a trust and a common vision. Additionally, Oakes' background impressed Slone. Oakes' mother owns an Ohio firm that averages between 50 to 75 custom home builds per year. His father is a civil engineer and gave Oakes a solid introduction and education of the trade. "I grew up in the family business. My dad was an independent pharmacist, and I'm biased toward smaller businesses, where it feels like a family. With Peter's mom and dad, I liked that there was a family tree," Slone says. "He impressed me with his build and quality of work; he didn't skimp. He helped me understand high-quality construction. For instance, if you put $25 door knobs from Home Depot on Andersen sliders, it's going to denigrate the entire aesthetic."
Slone was very much involved throughout the entire process. "If we called him, he would catch a flight, stay three to four hours, then fly back," Oakes says. "Many times, we just need help determining the right materials for the house: trim details, countertops, appliances, hardwoods."
It was a learning process for Slone — the project marked the first time he had built a home from scratch. "I learned to be smart about overseeing the project without micromanaging," he says. "We had open dialogue about the project, and many times we would FaceTime to discuss details so we could do it in real time. It had to be a two-way conversation. From the beginning, I told him I wasn't going to second guess. There weren't going to be change orders, and I asked him to just consult me on critical design components of the house."
Slices of home
The home rests on nine-tenths of an acre, overlooking the marsh. Extensive views of the glittering Atlantic are undoubtedly the highlight of the residence. "The fact that, in every room, you can look out and see water is absolutely amazing. The house is done to the nines," Oakes says. "The vistas are so spectacular that if every room of the house didn't have views, it'd be criminal."
The best view of all might be from Slone's study, which also features an Italian desk with leather inlays, in the unique shape of an amoeba. "If you have to work, this is the perfect place," he says.
As for his other favorite features, the floating staircase and the kitchen quickly come to mind. The main living room flows into the dining room and then the kitchen, anchored by an elegant center island. "I know that no matter how you try to steer people to the formal areas, invariably they end up gathering in the kitchen," Slone explains. "We went overboard on the kitchen appliances, and if you're looking north out of the front of the house, it's a sweeping view to the ocean. That was the real core design concept."
And Slone loves to cook, evidenced by not only the upscale kitchen appliances but also his outdoor Neapolitan pizza oven. "Every Sunday, many of the neighbors like to go around and look at the houses being constructed, and I could tell everyone wanted to ask me about the pizza oven," Slone says. "So I've invited them to come over for a pizza party. Everyone gets to pitch in and help out. It's something that's very novel."
With good cheer
The project wasn't without its challenges. "The roof framing got crazy. The barrel-vaulted ceilings were extremely hard to get perfect," Oakes admits. "We had tough roof pitches, and to get the barrels to look correctly, it was not easy.
Sometimes materials lagged, too. "A lot of people will get swayed by the personalities, but then they never show up again," Slone says. "You have to budget emotionally for those hiccups, but I knew we had a project foreman we could trust, and we had a good builder with the integrity to tell us about these constraints before they would happen."
Slone plans to use the 4-bedroom, 4½- bath home as a vacation retreat for the next couple of years, until he retires. Afterward, he and his fiancée plan to live there full-time. Now, looking back, he remains grateful to the team behind the home. "More than anything in life, if you can't do it in good cheer, it's not worth it," Slone says. "Construction has highs and lows, and it is agonizingly frustrating sometimes, but all of it tends to fade in the rearview mirror. I always found Peter and his team to be cheery, respectful and resourceful. He would never hide anything from me. Even if they had to sheepishly deliver bad news, they would do so."