The Dining Experience they Deserve
03 May 2019
Restaurants for Mother's and Father's Day
By Jenna-Ley Jamison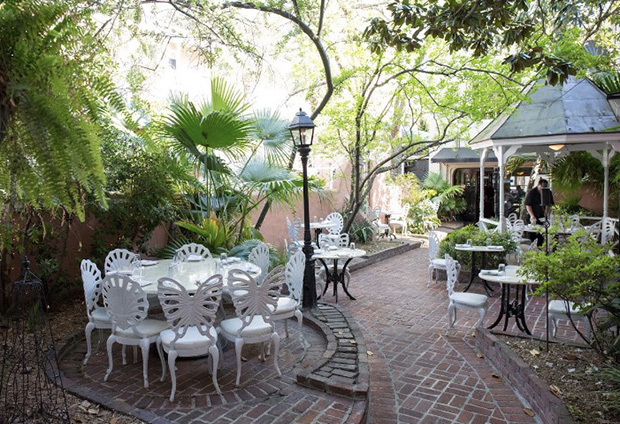 Celebrate two of the top people in your life with a memorable meal out on the town. The Holy City has no shortage of dining spots with fresh fare and handcrafted drinks that'll make Mom and Dad swoon on their special holidays. Show your appreciation for their years of selfless sacrifice and make a reservation soon for lunch, dinner or brunch.
Mother's Day
The Palmetto Café
Celebrate Mom by taking a family trip to downtown Charleston to find out why this Meeting Street hangout is the perfect dining spot to enjoy weekend brunch (chocolate chip Belgian waffles!) or weeknight dinner with your favorite lady. Located inside the Belmond Charleston Place hotel, this luxurious café not only serves up good kitchen eats but also sets the laid-back mood you crave—a trickling fountain and lush greenery, creating an elegant ambience that'll fool you into thinking you're on vacation. 843-722-4900, belmond.com
SpiritLine Cruises
Treat mom to a luxurious waterway tour of the Charleston harbor or dinner cruise, complete with an elegant three- or four-course meal that will show her your heartfelt appreciation for her unconditional love. Together, learn about the area's unique past and historical landmarks along the refreshing ride. Settle into the relaxing rhythm of live music, admire a pink-orange sunset and search for dolphins dipping through the harbor waters. For two-and-a-half hours, forget life's stresses as you sip on drinks from a full-service bar. spiritlinecruises.com
Hall's Chophouse
Whether it's the eatery's popular Sunday Gospel brunch, fresh seafood, extensive wine list or succulent steaks that tempt you to visit, Mom won't be disappointed—especially if you toast to her special day with a bottleful of bubbly. It's all about hospitality here, satisfying customers and serving up meals and memories to make your special occasion and dinner outing memorable. Revered as one of the Holy City's famed places to feast on fancy food, sip on tasty drinks and tap your toes to music—the live piano is a favorite feature—this King Street spot will make you stay a while. 843-727-0090, hallschophouse.com
82 Queen
Get in touch with Charleston's natural beauty and unique past with reservations at this historic, upscale dining locale. Choose an outdoor courtyard table—a giant Magnolia tree in sight to set a peaceful ambience—and feast on Southern staples, fresh seafood or weekend brunch. Comfort food fills the menu, and the bar boasts a unique twist on a classic bloody mary—Old Bay seasoning, giving it the perfect punch to awaken the taste buds. Or choose to treat the family's leading lady to a happy hour outing, available at the bar weekdays from 3-5 p.m. 843-723-7591, 82queen.com
Tavern & Table
Head to Mount Pleasant's Shem Creek for waterfront dining at Tavern & Table, featuring an outdoor patio area for family to gather and engage all the senses while they eat. Suck down a cold beer, wave to passing boats, or pose for a selfie in front of a backdrop of birds and other sea life. Splurge on the queen of the family with a post-church brunch and be sure to order her up a sorbet mimosa and cast-iron sticky buns, or stop by during dinner and share in the fun of cracking open crab legs with a colorful sunset serenading your Mother's Day celebration. 843-352-9510, tavernandtable.com
Fleet Landing
Show thanks for Mom's priceless role in your life by spoiling her with some of the Charleston region's freshest seafood. This menu boasts waterway catches from right around the corner, and the view is one of the highlights, thanks to the historic naval building's large windows leaving no seat lacking a panoramic harbor shot. Feast on peel n' eat shrimp with a colorful cocktail or martini. Stop by for any day for lunch or dinner and brunch on the weekends—perhaps some crème brulee French toast will make Mom feel special? 843-722-8100, fleetlanding.net
Eli's Table
Indulge her palate at this Meeting Street dining spot, where she's sure to enjoy a hearty crab cake or staple Lowcountry shrimp 'n grits entrée. Surprise Mom with a hearty breakfast, lunch, dinner or brunch and inspire her with the menu's bold flavors, all cooked in a kitchen focused on fresh, local ingredients. Don't forget to order her favorite red or white wine from the eatery's extensive vino list — or maybe it's Eli's unique bacon bloody mary or "memorable mojito" that'll relax her on her special holiday. 842-405-5115, elistable.com
Swamp Fox Restaurant
Named for a Revolutionary War hero, this King Street hangout is tucked inside the Francis Marion Hotel, a Charleston landmark since the 1920s. But whether or not you're lodging overnight, surprise Mom with an elegant Mother's Day date night where live jazz piano will surely bring a smile to her face. Fork up fine fare with a window view of downtown life or chat about maternal memories over social hour's complimentary hors d'oeuvres or kitchen's popular "Farmers Market Dinner." 843-724-8888, francismarionhotel.com
Opal
Throw on a cocktail dress and let your family whisk you away to Mount Pleasant on your favorite May holiday, dining in an elegant eatery with modern vibes. The eclectic menu highlights meals inspired by California and Mediterranean fare— including housemade pastas, like rioja cavatelli with veal meatballs, a customer favorite. Indulge in charcuterie plates, juicy steak, pan-seared duck and fresh seafood pulled from local waterways. Warm up your palate with little-neck clams or cold-water oysters, then dive fork-first into the honey-glazed salmon entree. 843-654-9070, owensdininggroup.com/opal
Father's Day
Indaco
Craving food from the Mediterranean motherland where homemade pasta, hand-tossed pizza and vintage wine make a full-course meal? Reserve seats for the family inside this rustic Upper King Street locale. Find out why Italian cuisine has never tasted better than when it's prepared inside this wood-fired kitchen, which offers an open view for patrons to watch magic being made, including handcrafted salamis and sausages. Dine with Dad at a large community table inside the open dining area, or sip housemade sodas piled around an outdoor patio table.
843-872-6828, indacocharleston.com
Sesame Burgers & Beer
Stop by any one of three locations—Mount Pleasant, West Ashley and North Charleston—and fill Dad's belly with burgers! Whether he's gone vegetarian or is asking "Where's the beef," Sesame has the perfect choice to satisfy his craving. Choose from a menu offering classic beef patties or one crafted with turkey, chicken or elk. From black bean burgers to keep that waistline trim to unusual toppings such as peanut butter and banana, the whole family can wash down each bite with a local brew on tap — or a milkshake if they're under 21. 843-884-5553, sesameburgersandbeer.com
Craftsman Kitchen & Tap House
Looking for a no-frills place to please Dad's craving for local brews and American fare? Look no further than the 50-plus taps of local and rare brews served at this Tap House. Customers can expect a rotating food menu with seasonal changes—think finger foods like a cheddar cheese burger or one topped with beer pickles. But don't fret if you can't get your old man down to East Bay Street before dinner hour ends; come on over for "fourth meal"—the kitchen known for pumping out good eats when other local watering holes are closing. 843-577-9699
Dockery's
If food and beer plus music equals dad's love, then plan your next family outing at Daniel Island and be ready to make Father's Day the best one yet. Bathe in sunlight and capture the beauty of the outdoors with your papa and choose a patio seat. Start with a sharable order of sweet corn fritters or jalapeno-stuffed chicken, then consider a main course like the wood-oven lasagna or smoked brisket paired with apple butter. Whatever dish you opt to feast on, each is made from fresh, local ingredients—even the greens are grown onsite! 843-471-1130, dockerysdi.com.
Eleve Rooftop Restaurant & Lounge
This June, be sure to pamper Dad's palate in this posh garden spot atop the Grand Bohemian Hotel. Marvel at the sky-high view and a menu known for French-inspired cuisine with a "gypsy twist." Each meal is concocted with fresh herbs grown onsite and artfully plated. With classy chandeliers hanging over your heads and the bar glowing in vibrant chartreuse, the décor creates a modern, upscale vibe. Sip a custom-made Kessler blend, and pop fire-roasted oysters for an appetizer. Be sure to complete the evening with a chocolate lava cake or other decadent dessert. 843-724-4144
Prohibition
Hang out in this vintage-inspired bar on Upper King Street where rustic décor, evidenced by wood-paneled walls and the "bourbon barrel ceiling," helps recreate America's 1920s Prohibition era. But the mood is just one part of this eatery's boast-worthy cocktails and cuisine. Unless it's to feast on your New York strip or 5-course chef tasting menu, you might not even stay seated if live entertainment is in the house. Snag a snip of a Moscow mule then shuffle over to the dance floor— they even offer lessons—ready to soak in the band's foot-tapping jazz, swing or soulful blues. 843-793-2964, prohibitioncharleston.com
Charleston Crab House
Stop suppressing that craving and head over to the Crab House with dad and the gang. Find the location nestled within the food mecca of downtown Charleston, or take a lunch break from the heat of the beach inside their spot on James Island. Both kitchens serve authentic seafood with the six-legged crustaceans the focus of multiple dishes. Kickstart your meal with crab-stuffed mushrooms or fiddler crab cakes, then dive into your pick of raw bar favorites or steamed dishes for your main meal—the soft shell crab and Lowcountry crab cakes are among customer favorites. 843-795-1963, charlestoncrabhouse.com