Capturing the Light
22 Jul 2015
The fine art of Carl Turner
By JASON A. ZWIKER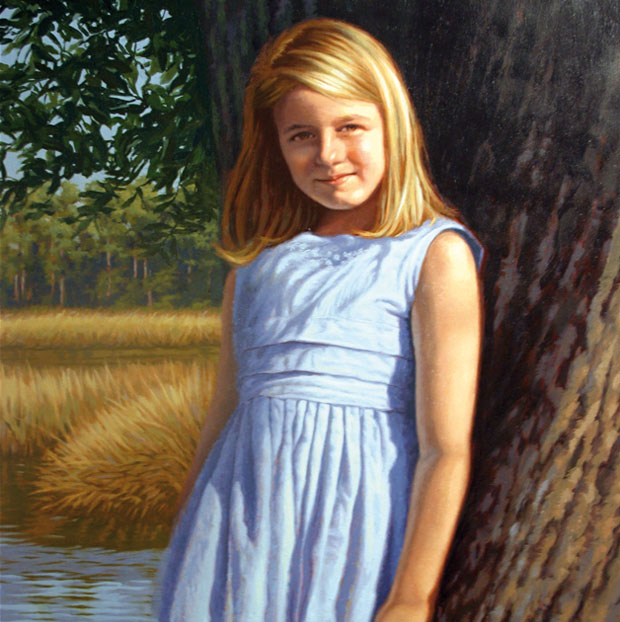 One day, there he was: a typical seventh grader, just walking into the lunchroom. Then, he noticed his first grade teacher, Mrs. O'Shields, leading her class down the hallway. They might have simply exchanged hellos. Instead, she stopped her class and said, "This is the boy who drew the picture that's above the blackboard."
Those simple words changed everything for him.
"Until that moment, I'd simply taken it for granted that everyone drew," Carl Turner says. Growing up, he'd often watched his mother, a talented artist herself, sketching Hollywood stars as a way to relax at the end of the day. "I thought art was just part of everyone's daily life."
But being recognized and remembered for his art by a former teacher who'd kept and showcased his work for years made him stop and think. By the time his friends began deciding what colleges and majors to apply for, his mind was made up. Art would be his life.
He took the first step toward making that dream a reality by studying fine art at the former Atlanta College of Art. After graduation, the realities of making a living came into play and he found his path to becoming an artist taking a few unexpected twists. A chance reply to a help wanted ad that his wife pointed out in the newspaper earned him the acquaintance of wildlife expert Harold "Red" Palmer, who entrusted him with the care of his exotic animals. That experience led to further work at the Atlanta Zoo and Columbia's Riverbanks Zoo. All the while, he was building his portfolio and his reputation as a freelance artist.
"Being an artist is both a blessing and a curse," he says with a laugh. "It's a blessing in that we get to be artists. The curse is in trying to make a living as an artist."
"I never had the desire to be a starving artist. I wanted a family and a home. Commercial art provided me the opportunity to do that."
He worked for many years as an illustrator, designer, and art director. Projects for SCETV, freelance work around Columbia. One of his favorite projects was designing the children's wing of a hospital. Along the way, he studied under fine artists Daniel Greene and Sam Adoquei in New York.
In 2002, after a long, successful career, he moved to Charleston with the specific intent of returning to his roots in fine art. What he found, early on, was that he had made a very wise choice. The sun-washed beaches, deep history, and lush Lowcountry landscape inspired him immediately. He began painting fishing boats, palmetto trees, and sea island homes almost as soon as he became acclimated. "There's just something about the Lowcountry that gets into your blood," he says. "There's a quality of light I find here at certain times of the day. I'll be in a particular place when the light is perfect and in that moment, I'll know. Those moments are the spark that makes me want to paint. You have to fall in love with something in order to paint it."
Along with his landscapes and commissioned portraits, he is also building a new body of work inspired by his travels in India and his personal meditation practice. These Metaphysical Allegories, as he's titled the collection, explore the nature of light. "I'm not asking the questions that a scientist would ask, questions about the mechanics of light, but other questions," he says. "We find ourselves in this world, conscious of ourselves. What's the nature of all of it? In these paintings, I'm trying to convey that same sense of questioning."
Recently, his painting, The Language of the Birds, was accepted into the 2015 Piccolo Spoleto Juried Art Show at City Waterfront Gallery. "The idea is based on an ancient saying about how knowing the language of the birds means knowing the secret of the universe," he explains. Another painting in the series, Learning to Fly, is about spiritual initiation, about starting anything totally new, taking a leap into the unknown. "After studying and preparing, there comes a point where you just have to take it to the next level."
"Being juried into the show is a great honor. It tells me that there is something in there people are recognizing and responding to," he says. "That is an important thing for an artist to know at any stage of his or her career."
At this point in his career, Turner has found three ways of expressing his art. Painting landscapes and other personal art projects, including his studies of light, painting portraits, and interior design art projects such as a recent mural he was commissioned to paint in I'On.
He also teaches art at the Artist's Loft in Mt. Pleasant, something he enjoys very much for the social aspect. "So much of what we do as artists is solitary. We also need the fellowship of being around other artists so we can share what we've learned through the years. That's rewarding in itself." carlturnerart.com