Carmella's Cafe & Dessert Bar
04 Mar 2016
When you're Italian, life is about two things: food and family
By TERI ERRICO
Photos by JAMES STEFIUK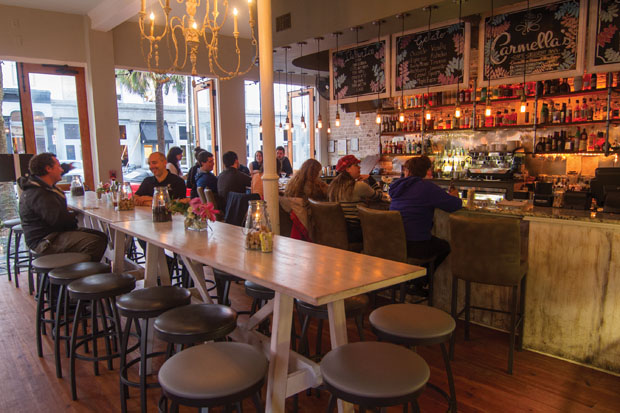 And in a way, that's exactly what you get at Carmella's Italian Café and Dessert Bar on East Bay Street. All day long, regulars come together with friends, with tourists, with strangers just waiting to be family, sipping their espresso, eating their Italian pastries and enjoying lively conversation in this idyllic café.
Perched on the corner of East Bay and Cumberland Rd., Carmella's is a mix of modern meets historic Charleston charm. The sleek hightop table and cozy couches mesh perfectly with exposed brick, large windows and open doors overlooking a bustling downtown. It couldn't be a cooler, more relaxed place to gather, to drink and to eat.
"Being Italian, food is a part of who you are," notes Brian Solari, who co-owns with the café's builders, The Blanfords. At Carmella's you can savor warm baguettes and homemade Italian ices and pastries, but you won't find any replicas of the same saucy plates you're accustomed to at other Italian joints. Carmella's is about more than that. "It's the attitude when you come in here, the relaxed atmosphere. It's more of the Italian idea of bringing people together and putting them into a place where they can have a great time," says Solari.
The reason so many people are thrilled by Carmella's is because there's something for everyone, no matter the time of day, or your style. There's meats and premium cheeses, which you can pair with wines, there's Stromboli and coffees, local beers and gelato. You can even sit at the bar and chat with the friendly staff while you watch them make a delicious sandwich, such as The South Philly Stromboli, which is salami, soppressata, fresh mozzarella and fontina.
Café-goers especially love Carmella's Drunken Shakes—aka alcoholic milkshakes. The most oft ordered Drunken Resurrection, a mix of Van Gogh double espresso, espresso and whipped cream, but you can't go wrong with a Shank n' Bacon, which combines cathead pecan vodka, buttershots and maple bacon gelato. Follow either down with widely acclaimed desserts of Peanut Butter Passion or Sicilian Rum Cake and you have a pretty fabulous night.
Solari has been in the food-and-beverage industry for 24 years, and was raised by a family immersed in it—and totally supportive of his endeavors. In fact, in keeping things family-oriented, Carmella's is named after Solari's grandmother. "My family has a history of doing Italian delicacies in south Philadelphia. So between desserts and pizza and Italian ice, which was our main item, food was a part of my life," Solari says, adding that Pops Water Ice in Philly was his passion and why he wanted to get into this business.
The successful business owner, who opened Carmella's in October 2014, also credits his uncle, Chef Dennis Raffa, with inspiring his culinary dreams. His uncle found his inspiration from his own mentor, world-renowned pastry chef Biagio Settepani, and you'll be excited to know some of his recipes are at Carmella's—but don't expect Solari to tell you which ones!
So what brought Solari down South? In 1993, his mother moved to Charleston from South Jersey, and he loved the style of the city so much, he followed suit two years later. Today his entire family is involved in the business. His proud parents visit often, his mother-in-law works behind the counter, and his wife Tiffany and sons Miles, 3, and Maxx, 1, are mainstays—mostly because Miles can't get enough of the chocolate milk shakes and cookies!
While Solari enjoys the diversity of Charleston, he felt the one element that was missing was an Italian café. "I thought, 'What a great opportunity for me to come in and bring what I think works perfectly in this town!'" Originally the idea wasn't to have a bar, Solari explains, "but to have the best coffee and espresso—which I believe we have—to have a pastry case, and to do gelato, Italian ice and some soft serve. But when I saw the size of this space, I thought I could do a lot more."
Solari brainstormed how he could mesh together Charlestonians love of drinking with their love of sitting back and enjoying life, but the concept is open-ended, allowing the ability to change and continuously satisfy a diverse crowd. Carmella's has a great lunch gathering that comes to enjoy the savory sandwiches. Then there's the happy hour crowd and the awesome after-dinner crowd, which Solari loves. Carmella's is non-stop, but it's also a place to—stop.
"People are just thrilled when they come in because they don't feel rushed. I have regulars who come in every single day, they grab a cup of coffee and stand around and talk." Solari continues, "My goal is to be the spot that people, especially after dinner, can come to as a secondary location... When you go to dinner and sit down, you have your reservation, your time, and after a little while they're looking at you funny and need you to get out so they can turn the seat over. Well we're the kind of place where if you want to go have an interesting time, but don't want to feel like you're being rushed, you can come before or after and just have a relaxing atmosphere."
Kick back in the cushy benches with a coffee, gather with friends at the high top over dessert, or dine al fresco on the patio with a cigar and wine. It's as comfortable and as friendly as home, because when it comes to this Italian café, new friend or old friend, you're all family.
Carmella's Cafe & Dessert Bar
198 East Bay St., Charleston
843-722-5893
carmellasdessertbar.com