Where Spring is served family style
Recipes and Photos by KIM BYER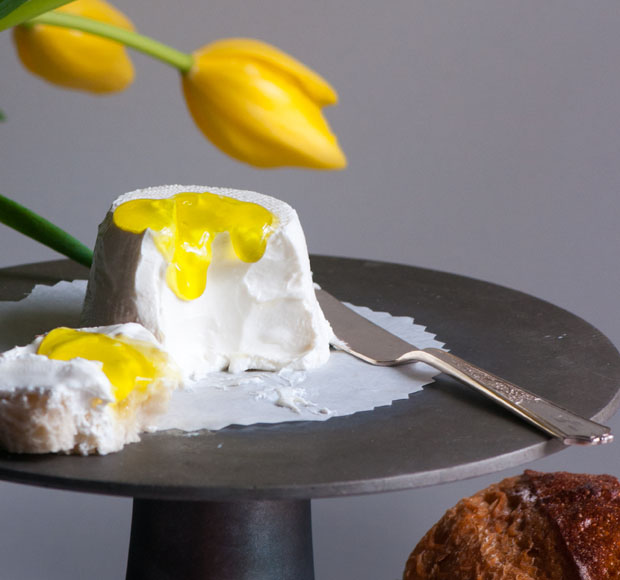 Spring in the Carolinas is a promenade of sunny days, seersucker suits, and stunning azaleas that hover above the grass like giant pink parasols in an Easter parade. Streets are canopied with trees whose blossoms spin in the wind like ticker-tape confetti. On Easter, churchgoers can be seen spilling onto the sidewalks in a kaleidoscope of pleated and pressed paisley and floral. It's as if Mother Nature herself is orchestrating the gala.
Indoors, the Easter pageantry is equally splendid. Vivaldi, Alabama Shakes and Adele rotate randomly on the playlist. Spring peas and asparagus are being sprayed clean in colanders. Rectangular casseroles, dozens of deviled eggs and mounds of mint and parsley crowd the kitchen island. Table linens are smoothed and lined with hand-painted China, silver soupspoons and salad forks. And cakes and confectionaries are unveiled as works of art.
The Carolinas come alive on Easter with a celebratory spirit and reverence for their diverse, yet essentially Southern traditions, beliefs and blessings. Family styles may differ, but one standard stays true: We put on our best.
Now, have a seat before the food gets cold. It's time to eat.
Fresh Goat Cheese with Mint Jelly
Yields 1 cheese ball (Note: This goat cheese recipe results in a young tasting, lemony and tart cheese. For a more complex flavored goat cheese, purchase a quick-start culture or a culture growing kit from an online cheese monger. Many kits come with cheese molds and butter muslin.)
Goat Cheese
1 quart pasteurized goat's milk
1/2 cup (plus extra, if needed) fresh squeezed lemon juice, at room temperature
Kosher or sea salt, to taste
Optionally add herbs such as chives, thyme, dill, parsley or freshly grated garlic
Mint jelly
1. Heat pasteurized goat's milk to 180 degrees.
2. Remove from heat and slowly add lemon juice. Milk will begin to curdle.
3. Gently ladle milk into a colander (lined with several layers of cheesecloth) set atop a large bowl or stockpot.
4. When the cheese reaches the consistency of slightly dry cottage cheese (1 to 2 hours), transfer to a bowl and salt to taste. Herbs and/or garlic may also be added.
5. Optionally, cheese may be left inside muslin and placed inside a cheese mold for a few additional hours for a slightly firmer cheese.
6. Serve with mint jelly.
Spring Pea Soup with Coconut and Ginger
Yields 6 cups
2 tablespoons butter or ghee
1 tablespoon coconut or olive oil
1 leek, separated, washed and chopped crosswise
1 shallot, minced
1 clove garlic, minced
1 tablespoon of freshly grated ginger
1 bay leaf
1 cup fresh peas
1 cup additional mixed spring vegetables such as snow peas, zucchini, asparagus, broccoli or greens of choice
1 1/2 cups coconut milk
4 cups (homemade or good quality) chicken or vegetable stock
Chopped mint, parsley, cilantro, lemon zest, and/or extra virgin olive oil (all optional)
1. Melt the butter in a large stockpot or saucepan; add the oil, and sauté leek, shallot and garlic for 10-15 minutes or until soft.
2. Add ginger, bay leaf, peas, and additional vegetables and cook for another 3 minutes.
3. Remove half of the vegetables from the pan and reserve.
4. Add stock and coconut milk to stockpot, bring to a boil and simmer for 5 minutes.
5. Remove bay leaf and puree with a hand-held blender.
6. Return the reserved vegetables to the pot and reheat.
7. Transfer soup to tureen or ladle into individual bowls. Before serving, sprinkle with herbs and lemon zest. Add a drizzle of olive oil.
Radish and Raspberry Salad
Serves 6
2 cups cilantro microgreens (or similar)
1 cup fresh raspberries
6 medium radishes, sliced paper thin
2 carrots, sliced with a peeler, lengthwise into ribbons
2 oranges or tangerines, divided into segments
2 avocados, seeded and sliced crosswise
1/2 teaspoon Dijon mustard
1/4 cup flavored sweet vinegar, such as Champagne, lemon, orange, or pear
1/2 cup good quality extra virgin olive oil
Kosher or sea salt and freshly ground pepper to taste
1. Add all vegetables and fruit, except avocado, to a large bowl.
2. In a small bowl, combine Dijon mustard with sweet vinegar. Slowly drizzle in oil while whisking vigorously. Season with salt and pepper.
3. Immediately before serving, add avocado and toss all ingredients in a large bowl with enough vinaigrette to moisten salad.
Golden Roast Chicken with Lemon, Garlic and Thyme Potatoes
Adapted from Barbara Kafka & Genius Recipes
Serves 6-8
1 large roaster chicken (minimum of 6 pounds), innards removed
3 lemons, halved
4-6 garlic cloves, peeled
1/2 cup good quality butter, divided use
8-10 small-to-medium Yukon gold potatoes, quartered
Fresh thyme
Kosher salt and freshly ground black pepper, to taste
1. Place oven rack on second level from bottom and preheat oven to 500 degrees. (Note: all ovens vary in their ability to handle this high temperature. Before cooking, pre-test your oven to ensure it will not smoke. Allow your chicken to reach room temperature, if possible.)
2. Coat the outside and inside cavity of the bird with butter, salt and pepper. Stuff the chicken with lemons, garlic and herbs.
3. Place the chicken breast side up, into a large roasting pan and surround it with quartered Yukon gold potatoes, also seasoned with salt, pepper and butter.
4. Roast chicken for 10 minutes per pound or until the juices run clear. After 15 minutes, gently move bird to keep it from sticking. Stir potatoes.
5. Remove lemons, garlic and herbs from cavity. Gently transfer the chicken to a platter. Toss and coat the potatoes with the au jus before transferring them to a bowl.
Pound Cake with Candied Lemons and Lemon Shrub
Cake
2 sticks butter (room temperature)
3 cups sugar
6 eggs (room temperature)
3 cups all-purpose flour
1/4 teaspoon baking soda
1/4 teaspoon baking powder
1 cup sour cream
3 teaspoons lemon extract
Confectioner's sugar (optional)
Candied Lemons
2 lemons, thinly sliced
1 cup water
1 cup sugar
Lemon Shrub
Liquid reserve from candied lemons
2 tablespoons white balsamic or Champagne vinegar
Handful of chopped mint
1. Preheat oven to 300 degrees; spray a tube pan or bundt cake pan with a flour baking spray.
2. Thoroughly cream butter and sugar; add eggs, one at a time, and mix well.
3. In a separate bowl, mix together the flour, baking soda and baking powder, then add (about a cup at the time) and slowly mix into the creamed mixture.
4. Add the sour cream and the lemon extract. Mix well, but don't overbeat.
5. Pour into the prepared pan and bake for 90 minutes. Allow the cake to cool completely before removing from pan.
6. To make the candied lemons, dissolve the sugar into the water by bringing the temperature to a boil. Lower heat. Gently place slices into simmering liquid for 15 minutes. Remove lemons, reserving liquid for shrub. Cool and dry completely before placing onto cake. If desired, sift confectioner's sugar over cake.
7. To make the shrub, add vinegar to reserved candied liquid. Before serving, add chopped mint. Pour over cut slices of cake.