Celebrating SEWE
05 Jan 2020
Long-time SEWE leader reflects on festival's past and thriving future
By Holly Fisher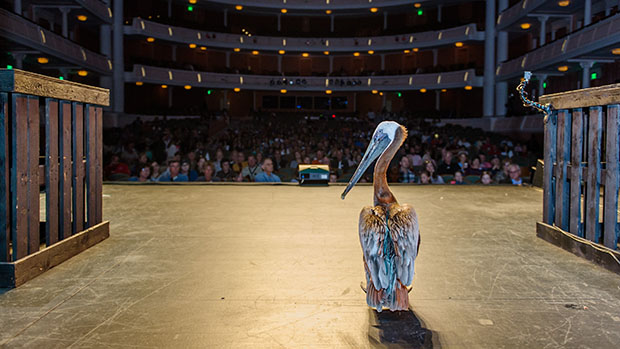 If you've ever cheered on trained Labrador Retrievers at Brittlebank Park, watched a birds of prey demonstration in Marion Square or admired wildlife artwork at Charleston Place, you can thank Jimmy Huggins.
Huggins is the long-time leader of the Southeastern Wildlife Exposition. His dedication and leadership have turned SEWE – as most locals know it – into a premier festival highlighting conservation, art and animals. It's a combination that draws both locals and visitors from all around.
Held on President's Day weekend each year, SEWE is hailed as the kickoff event for Charleston's busy springtime tourist season. In 2019, SEWE reported record attendance of more than 45,000 people as well as increases in ticket sales, food and beverage sales and weekend art sales. The three-day event pumps $50 million into the local economy.
Yet, many years ago, SEWE wasn't the profitable event it is today.
The first festival was in February 1983, long before Charleston was a No. 1 tourist destination. Huggins was involved early on as a volunteer, managing the sales staff during the festival. His wife was a teacher and they would tap other teachers to volunteer for the weekend. At that time, Huggins, a former Army helicopter pilot, owned a construction business as well as a production and advertising company.
Today, SEWE is a thriving festival, but in those first years, it was struggling financially. To keep the festival alive, real estate developer Joe Griffith and then-Mayor Joe Riley put together a group that would guarantee the finances to move the festival forward.
They asked Huggins to run the Expo. He agreed to oversee the event for one year. That was 1987.
SEWE's Staying Power
As Huggins prepares to lead his 33rd festival in February, he reflects on the incredible growth of the event and its place in Charleston's history.
In its early days, SEWE attracted 4,000 to 5,000 visitors and about 100 exhibitors. Events were at the Francis Marion Hotel, Hibernian Hall and many other downtown Charleston locations. For the last several years, SEWE has hosted outdoor events in Marion Square and at Brittlebank Park. The hub for the art exhibition is at the Charleston Place Hotel.
Huggins credits the SEWE board of directors and a youthful staff full of ideas and a willingness to embrace technology and social media for the event's continued growth. Plus, Charleston's worldwide popularity doesn't hurt.
"People like to come to Charleston," he said. "Every time we get a new accolade, we get 100 new people. We give people a reason to come to Charleston in February."
The city's growth has helped keep SEWE not only alive, but thriving. Back in 1987, there were a dozen similar festivals around the country, Huggins said. Now, there are just two or three and they are a fraction of the size of SEWE.
"This show, over the last 10 years, has grown exponentially," said Huggins, who was executive director until 1998 when he transitioned into the role of president and CEO.
Something For Everyone
While the SEWE staples remain – art, conservation and sporting – the event has added new attractions, pre-event VIP offerings and a family-friendly atmosphere at Brittlebank Park.
This year, SEWE will host "A Big Night for Small Works," an exclusive celebration that highlights the small details that make a big impact, from pocket-sized pieces of art and mini bites to grand displays and illusions. And a signature gala and art preview party brings together supporters, artists, exotic wildlife and a live auction of sporting art and experiences.
The offerings run from black tie galas to conservation and wildlife demonstrations perfect for families looking to enjoy a day outdoors learning about birds, reptiles and how to protect these delicate species. Animal expert and conservationist Jack Hanna will bring his live animal demonstrations to the festival again this year.
"There really is something for everyone," Huggins said.
The SEWE Life
The variety makes it tough for Huggins to land on a favorite aspect of the festival. While he loves the expanded offerings at Brittlebank Park, he's also a big fan of the art exhibits. It's his appreciation for wildlife and the sporting arts that drew him to SEWE in the first place. His Summerville home is filled with sporting art, many of which have been gifted to him by SEWE artists over the years.
His wife, Beth, works six months of the year coordinating the festival's VIP programs. A lot of the couple's conversations revolve around SEWE. "It's everything we do," Huggins said. Even the couple's trips include stops at art galleries related to the festival, he said.
The 2020 featured artist Jason Tako from Dover, Pennsylvania. He specializes in wildlife art, landscape art and plein air painting. His piece, "The Road Less Traveled," has been selected as the featured painting and subject of the official SEWE 2020 poster.
Tako is in the unique category of being one of the few plein air artists who paints animals from life, and one of the few wildlife artists who paints en plein air.
"I have only understood that drawing and painting from life was the best way to learn," Tako says.
The soul of his artwork has its origins in the wetlands and prairie areas of Minnesota.
"Heading outdoors long before sunrise, I would spend hours in a duck blind just watching and listening," Tako said. "Those moments are with me to this day."
After more than three decades of living and breathing SEWE, Huggins said it's tough to even think about not being a part of the festival. But retirement is on his mind. Yet, even then, he expects to still be involved in some way. SEWE is such a part of his own history.
He recounts the early days of trying to find suitable venues. He recalls the 1990 SEWE – just a few months after the devasting Hurricane Hugo – when they wondered how they would pull off the festival.
After the recession in 2008, art sales took a dip. And, of course, every year he worries about the forecast. From heavy rain to ice storms, bad weather can greatly impact ticket sales and attendance.
The last three years, SEWE has been blessed with good weather. Huggins said beer is the real barometer. Sunny skies and warm temperatures mean a spike in beer sales.
The ups and downs. The ebbs and flows. They all culminate in a passionate career and a lifetime of rewarding opportunities.
"Through the years, I've had all these experiences," Huggins said. "What could be a more perfect job? I come to work every day enjoying what I do. It takes the 'job' out of it."
Bio:
Education: University of South Carolina, The Citadel
Family: Wife, Beth, two daughters, two stepdaughters, an 11-year-old grandson and 7-year-old granddaughter
Hometown: Born in Sumter, S.C., but grew up in Summerville and graduated from Summerville High School
Want to Go?
The annual Southeastern Wildlife Exposition is Feb. 14-16. A three-day general admission ticket is $50. One-day tickets for Friday and Saturday are $25 and $20 on Sunday. Children 10 and under are free. Purchase tickets and get a full schedule of events at sewe.com.