Love in the Lowcountry
05 Jan 2020
Delightful happily-ever-after love affairs in Charleston's history
by Suzannah Smith Miles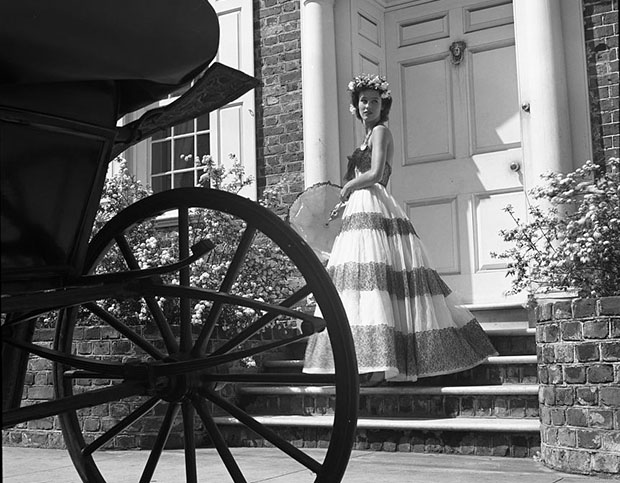 The story goes that in 1829, when 15-year old Maria Whaley of Edisto Island caught the attention of a dashing young New Yorker named George Morris, her father went ballistic. Colonel Joseph Whaley would not have his daughter involved with a Northerner!
To keep the two apart, Whaley even went so far as to ask his Edisto neighbors to stop allowing Morris into their homes as an overnight guest. The undaunted Morris simply got a tent, camped out nearby and met his lady-love on the sly to go horseback riding together.
Whaley eventually put an end to these shenanigans by packing Maria up and sending her to Madame Talvande's "Seminary for Young Ladies" at 32 Legare Street in Charleston. The school was famous for its rigid propriety. Marie would be guarded by Madame Talvande's ever-watchful eye and the school's high walls.
Ah, but love won out. On March 8, 1829, "with love laughing at all boundaries," Maria scaled the high wall around the school (the now-famous "Sword Gates" would not be erected for another ten years) and the two eloped to St. Michael's Church and were married. Maria then dutifully climbed back over the wall and returned to school.
An article in the May 12, 1941, News & Courier recalled this famous affair. "A few days later excitement reigned when a coach drew up in front of the then wooden gate and word was sent in that 'Mr. Morris had called for Mrs. Morris.' Madame Talvande denied all knowledge of Mrs. Morris; the young man was invited in; the young ladies were assembled and when Madame inquired if any of them were Mrs. Morris, the blushing damsel stepped timidly forward, was handed to the coach, and drove away with her husband."
One wonders how Maria's father reacted when he found out about their marriage. The liaison was ideal. The Morrises were no ordinary "Yankees." George's grandfather was Lewis Morris, a signer of the Declaration of Independence. Their home, "Morrisania," was an expansive, elegant 2,000-acre estate overlooking the Harlem River (today's South Bronx.)
More to the point, George's mother was Ann Elliott, the daughter of wealthy Lowcountry rice planter William Elliott, Jr.
The matchup between Colonel Lewis Morris and Ann was another grand affair to remember. The two met in 1782 while Lewis was an aide-de-Camp to General Nathaniel Green and they were bivouacked on Kiawah Island. Ann was ten years younger but accomplished and charming. She was also an ardent patriot. When Charleston was occupied by the British, Ann defiantly wore a bonnet decorated with thirteen small white plumes, one for each state of the newly formed United States. For this and other acts of patriotism she was dubbed "The Beautiful Rebel."
Anne had inherited huge tracts of land from her father, including rice plantations on the Edisto River. Given her wealth, some gossips speculated that Lewis had married Ann for her money. In actuality, Lewis was wealthier than Ann. Even before they tied the knot Lewis legally relinquished most of his rightful claims to Ann's fortune. At his death in 1824, Lewis left Ann his entire estate at Morrisania as well as their Hope Plantation near Jacksonboro. These lands eventually were left to their children, including the elopers, George and Maria, who were now happily-ever-aftering with four children of their own.
Loving Porgy
One of the most beloved of Charleston affairs is the story of Porgy, a crippled street peddler, and his love for the beautiful, drug-haunted Bess. The two characters in George Gershwin's famous folk opera "Porgy and Bess" are as well-known as their stomping grounds, "Catfish Row."
Porgy and Bess are fictional of course, characters adapted from the novel, Porgy, by Dubose Heyward. While there was a real Porgy in Charleston during the 1920s, a man named Samuel Smalls called "Goat Cart Sam" because of his unusual mode of transportation, he was no folk hero. Smalls was a gambler, in constant trouble with the police for everything from stealing to attempted murder. If there was a Bess in Smalls' life, there were likely several. Smalls was a notorious womanizer.
The real love story here was between Charlestonian Dubose Heyward and his wife, New York playwright Dorothy Hartzell Kuhns. The two met in 1922 at the prestigious artist's retreat, the MacDowell Colony, in New Hampshire. These two brilliant minds immediately meshed. It was love at first sight that resulted in their marriage a year later.
It did not take long for Dorothy to encourage her talented husband to give up his insurance company job and start writing full-time. The two co-wrote the novel, Porgy, published in 1925.
Porgy was a groundbreaking success, critically acclaimed for its honest depiction of African-Americans in real-life situations instead of the usual vaudevillian stereotypes. The book caught the eye of composer George Gershwin and a new love affair was born—this time between Gershwin and the Sea Island Gullah culture.
After Gershwin made the decision to write a folk opera around Porgy, he came to Charleston to collaborate with the Heywards. During the summer of 1934, exploring the neighboring Sea Islands from their beach retreat on Folly Island, the Heywards introduced Gershwin first-hand to the people, language and rhythmic tempo of the Gullah tradition. The result was "Porgy and Bess," first performed in 1935. It remains a happily-ever-after story that continues to enlighten and entertain, 85 years later.
The Adams Family
And finally, we consider the 1727 "Brady Bunch" marriage of Elizabeth Adams, widow of Captain David Adams, and Wadmalaw Island planter John Jenkins. Elizabeth came into this marriage with her own four children—David Jr, Mary, Hannah and Nathaniel Adams. Jenkins, also a widower, had five children of his own—Ann, William, John Jr., Joseph and Christopher Jenkins. As if nine children were not enough, after Elizabeth and John married, they had four more children together—Thomas, Elizabeth, Richard, Benjamin and Charles Jenkins—making a total of fourteen children in their household.
This large family became further solidified when young David Adams Jr. married his step-sister, Ann Jenkins, and John Jenkins, Jr. married his step-sister, Mary Adams. That is a lot of happy-ever-aftering, one which carries on even today as their many descendants continue to divide and prosper.